CCHMSC
Monthly eNewsletter
July 2018
out Now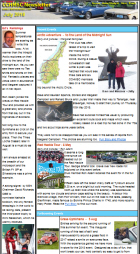 Sign up now for your eCopy
Grass Gymkhana - 5 Aug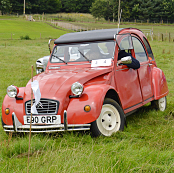 The 2018 Gymkhana is designed as a day of fun, that won't break your carh Held centrally, so easy to get to from across Scotland makes this a date to put in your diary.

Features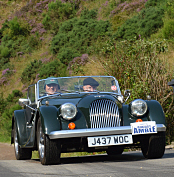 A series of roads less travelled
The Amble'18 will see a relaxed start with a morning run into some of Scotland's most scenic panoramas and a visit to an area many will never have visited before.
Full details, Regs and Entry from organiser David Ross
mail@dmross.co.uk
Note - Not an MSA accredited event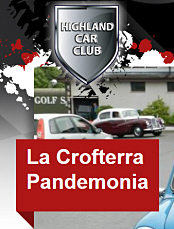 Highland Car club La Crofterra Pandemonia will be held on Saturday 1st & Sunday 2nd September 2018. Start and finish at Fairways Leisure, Inverness.
Classic Events
This column will publicise other classic car events around Scotland. If you would like your event featured here then email details to
events@caledonianmsc.com
Regs out soon
See also the NESCRO website
Grass Gymkhana - 5 Aug
The inaugural running of this test of skill and manouverability around a grass field in 2017 raised a smile on everyones face. With the experience gained we have more in store for the 2018 event. Designed as a day of fun, that won't break your car, held centrally so easy to get to from across Scotland makes this a date to put in your diary. Regs Entry Form

Nathalie McGloin presents F1 trophy
A strong signal by MSA Chairman David Richards CBE to nominate Nathalie McGloin, the only female tetraplegic in the world to be racing cars, present the third-place trophy to Kimi Raikkonen, which he warmly received. It demonstrated the energy our motorsport puts in to make the sport available to all.
Also featured in the pits was Billy Monger, who lost both lower legs in an horrific accident racing in F4 at Donnington in April 2017, and is already back at the wheel of a race car.. He joined Lewis Hamilton, Sebastian Vettel, Kimi Raikkonen at the Silverstone F1 event Full Story
MSA Extra - July 2018 Edition
The latest edition of the MSA Newsletter with all the latest news and features from the MSA.

Read the newsletter online, or download pdf copy
Arctic Adventure - 10 to 31 May 2018 The Full Story
During a casual conversation last winter a plan was hatched that would see three cars and six CCHMSC members take on a memorable trip beyond the Arctic Circle.

Dave and Maureen Spence, Donald and Margaret Campbell and Ranald Bruce and Louise Wall made their way to Tananger, near Stavanger, Norway to start their journey on Thursday 10th May 2018.

Dave had excelled himself as usual by producing an excellent route book and maps which were loosely based on a road trip he had done in the '70s and two scout trips some years before.

We were not to be disappointed as you will see in the

RSAC Three Lochs Classic - 19 August
This welll loved event returns on Sunday 19, with its well known 'wee' route for veteran cars and the full route for others. This year will start from the Morris Equestrian Centre Meikle Mosside, Fenwick, Kilmarnock KA3 6AY. Regs out soon. For more information contact Jonathan Lord at jcl30@btinternet.com or call on 07774 788844.


Bo'ness Saltire Trophy - 1 September
The Bo'ness Saltire Trophy on 1st September will be a Clubman event and open to all members of Saltire Rally Club. The Start & Finish will be at the Scottish Railway Preservation premises in Bo'ness.
Competitors will be provided with a Road book giving all route information. The route is around 120 miles with four PCA style tests and a number of Regularities. Entry Fee is £55 which includes 2 lunches. Regulations and Entry
Graham Couser 0770 4357703 saltiresecretary@gmail.com

Welcome to the CCHMSC website. The club runs rallies and tours for historic and sporting cars of all types. You don't need to have a Classic or historic car to join the club. We have plenty of drivers looking for navigators, and marshals are always in demand. [more].

Easy to join the club, download an application form and send it off [Member Application]


CCHMSC GDPR Policy

CCHMSC has updated its data privacy policy, in line with MSA recommendations. You can review at

data privacy

Updated 20 July 2018
Webmaster