2019 events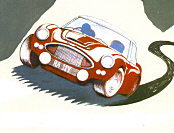 Calendar of events for 2019, for the club.
Hopefully you will find all or some of the events a good reason to get your classic on the road and see a bit of Scotland.and beyond.
Full details and Regs etc for CCHMSC events will appear closer to the time of each event. Keep looking at this website for more information.
We will also list other club and classic events and shows as we hear about them.
Penty to choose from for classic motoring.

If you would like to join the Club download the application form now.

2019 Events
Below is listed the latest view of the 2019 events calendar, for your club. Some dates may change as more information is obtained but a good start to plan your classic mortoring diary for next year.
Border Reivers - 7 April
Last year we took you back to Roman times with the tour along Hadrian's wall. This year we continue our journey back in time taking you across the area frequented by the marauding Border Reivers in the 13th century.

We will drive some little-known roads that explore the Scottish Borders from west to east, broadly following the Tweed watershed, passing along and across some old "drove roads". Club members and organisers Ranald Bruce and Louise Wall use their knowledge of their once home area to create this great route, which includes a few surprises



The Red Hackle Tour - 5 May
Our tribute tour to the Black Watch returns to their homeland Perthshire and surrounding counties. Organiser George Shand has been seeking out more new roads heading out of the start at Perth into new territory. Challenging roads and spectacular scenery are the trademark of this event and the 2019 route will be no exception.

NEW for 2019


Hills Dales and Passes - 8 & 9 June
Following our theme of 'Hills and Passes' we venture into new territory, renowned for its steep climbs and stunning passes, the Yorkshre Dales and the Lake District.

Gathering at Gretna, familiar to those from our International Autoecosse days, we will head south east into the Dales, crossing the north Pennines, and the Cumbrian mountains to reach our overnight halt. Our second day takes us deep into the Lake district, climbing some stunning passes with outstanding views from the 'tops'. Full Details


NEW for 2019

Caledonian Economy Run - 7 July 2019
Our sport lives in a time when care of the environment and a balanced eco system is paramount. You only need to look at the future where electric cars will eventually become the norm, and fossil fuel cars will become ever more scarce. Our classic cars are no exception.

To show how efficient our cars can be this 'Economy Run' will see if you can cover the route in as fuel efficient way as possible without the need to call in for fuel on route.

Starting in Lanarkshire, the route round East Ayrshire and Lanarkshire will be set at an average speed to test the driver's ability to balance economy driving with keeping to time, while the navigator keeps the driver from straying 'off piste'! A real challenge for the crew and car.


Grass Gymkhana - 4 August
These tests of skill and manoeuvrability around a grass field in 2017 and 2018 raised a smile on everyone's face. With the experience gained we have introduced more activities in a larger field, thanks to George Shand and his friendly farming neighbours. Designed as a day of fun, that won't break your car, held centrally so easy to get to from across Scotland, makes this a date to put in your diary.





Continental tour - Die Berge von Deutschland
24 September to 9 October
We have climbed the French Alps, several times,on the Trans Alpina's, the mountains of France into the Pyrenees on Les Montagnes de France, and the Dolomites on Dolomiti Sfida.

For 2019 we take the biennial trip to the continent to the 'Mountains of Germany'. We gather in Belgium near the famous circuit at Spa. After a visit to the circuit we head across Germany with visits to include Nurburgring, Dresden, Prague, Salzburg and Hockenheim Circuit (Jim Clark Memorial). Organiser Dave Spence has worked hard to create a great tour, with many places and sights to see.
Clyde Valley Rally - 29 September

For 2019 we will seek out more country across and beyond the Clyde Valley. Organiser Ralph Forbes spotted some great roads when doing the 'recce' for past events, and put them in his pocketbook. These will form a new route for this great event at the end of our season of tours.

Classic High Tea - 1 December
End of the touring year for members to get together to chat about their year of classic motoring, and what is happening next year, at the Royal George Hotel in Perth.
Publisheded 14 January 2019
Webmaster