1974 Fiat 128SL Coupé - Monte Ready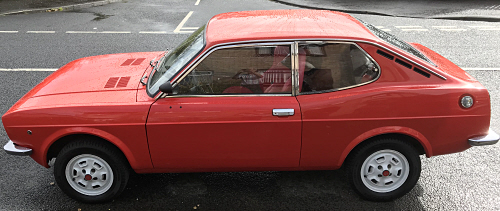 First registered 28 June 1974 in Genoa 1100cc Coupé

Registered UK Feb 2014 @ 51508Km (32005ml)
New MPH speedometer fitted on import - Current reading 3647 miles
New:-
5 speed gearbox
Shock absorbers
Sport seats
Seat belt harnesses
Radiator recored matrix
New exhaust front twin pipe & rear
Trip meter
4 Commadoro Alloy wheels with winter tyres
Original style door mirrors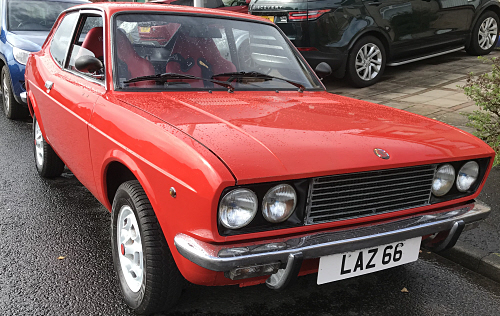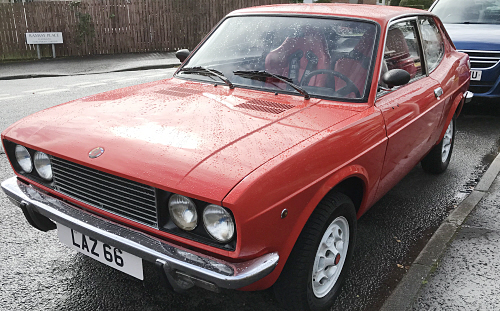 Personalised Number plate NOT included





£4200 ONO


Contact:



2000 Jaguar XKR Coupé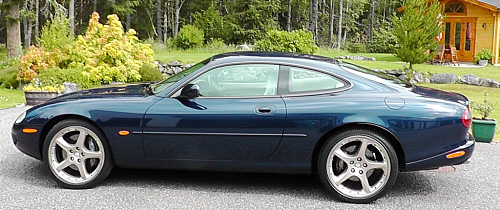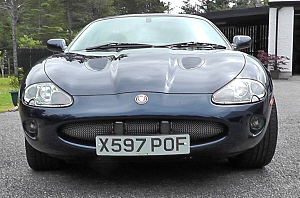 Jaguar XKR Coupe, automatic.


Built 2000.
4 litre engine
Pacific Blue
Ivory leather interior
ultra low mileage of only 5100 miles,
New 20" Detroit tyres fitted
New battery.
Full service history
Genuine Reason For Sale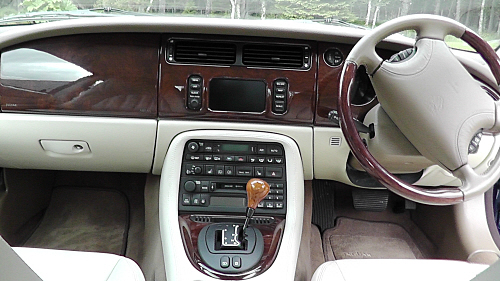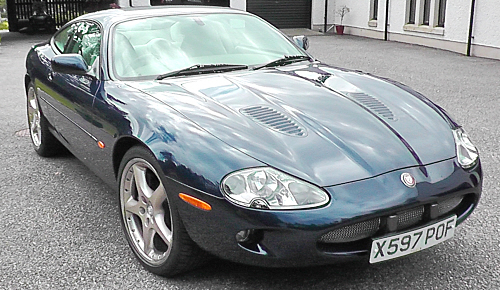 £20,000 ono

Location Inverness

Contact
Margrit Perrin
01808 521331



1972 Lancia Fulvia 1600 HF Lusso (Luxury)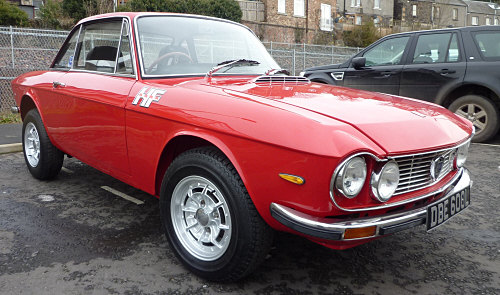 This is an extremely good example of a rare Right Hand Drive model (believed only 400 RHD made out of 3670 total 1600HF production). This car has been fully restored to a very high standard.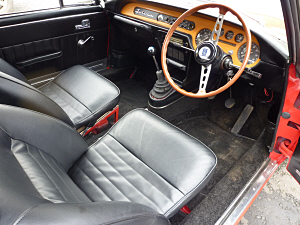 1584cc
Chassis 8187414124
Registration No DBE 600L

First Registered 18 Sep 1972.
4 previous owners
current owner since 1 May 2006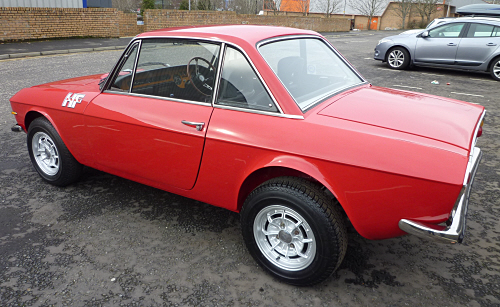 New valves, guides, gaskets, timing chain, clutch, front calipers, discs, hoses, alternator
Campagnolo Wheels
Sport Gearbox
Alloy bonnet, boot lid, and doors
New Pani & Trim, including Headlining and carpets
Reconditioned radiator & matrix
Dellorto 40 Carburettor
New seat belts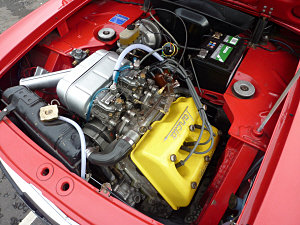 Full restoration photos available from the seller.


£35,000 ono


Location - Scottish Borders



For full details please contact



Ralph Forbes
07836 660688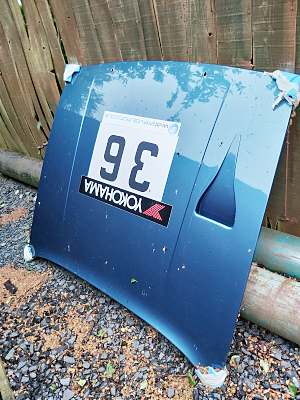 This bonnet has been at the back of the workshop for some time.
Good condition and useful if you have a 924 to go with it
FREE


Contact




1966 Volvo Amazon 122S Rally Prepared

122S 04/66 RHD refurbished over many years and fully overhauled.



Fitted with overdrive, blue printed B20 (Gérard Lepron in Paris did it)
45 Weber,
SD roll cage,
Quaife ATB,
Polyurethane bushes,
Bucket Seats,
Alloy radiator,
70Lt alloy fuel tank,
Special King Springs coils and shocks,
Superlite 16" rims with Michelin,
4 in 1 headers with full SS exhaust,


Ready to go rallying or pleasure, any distance.



Phone:_ 0141-563-7972.

Mobile:- 07806776311

Further information can be obtained from Patrice Ryder

ryder.patrice@gmail.com

.




£30000







Qashqai Roof Box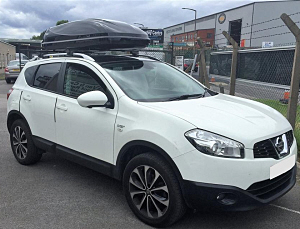 Roof box (complete) to fit Nissan Qashqai

Contact :


Charlie Young
07955 905441






MORRIS MINOR 1000 PARTS FOR SALE
Part description

Quantity

available

Remarks

Price each (£)

Front Bumper

1

Needs clean

30

Rear Bumper

1

Needs clean

30

Grille

1

Slats only – no surround - unpainted

25

Grille Surround

1

20

Bulb Holders

4

4

Over-riders

4

1 needs re-chrome, 3 need clean

10

Grille Corners

2

10

Starting Handle

1

Looks new

30

Hub Cap

1

Scratched

5

Headlamp Bezel

1

5

Battery Earth Lead

2

5

Floor Dip Switch

3

1 with wiring attached

20

Horn

1

25

Choke Cables

3

15

Starter Switch

1

15

Indicator Stalk/Horn Push

1

40

Orange Indicator Lens

4

"Dome" type – possibly not Morris?

10

Sidelamp Glasses with Chrome Surrounds

3

1 lens cracked

10

Sidelamp Unit with Wiring

1

20

Oil seal

1

Unidentified

5

Rear Indicator Lens - Orange

1

Possibly not Morris?

10

SU Electric Fuel Pump Repair Kit

1

New in box

20

SU Electric Fuel Pump Diaphragm

1

New in box

20

SU Electric Fuel Pump Complete

1

New in box

80

Heater Valve

1

12

Exhaust Clamp

1

Manifold/down pipe

5

Ashtray

1

5

Engine Mounting

1

15

Oil Seal Gearbox Tailshaft

1

New

5

Contact Breaker Points

2

New

10

Oil Filter Element

1

New – Coopers G714

5

Oil Filter Rubber Seals

4

5
OR £450 the lot
OPEN TO OFFERS ON ANY OR ALL OF THESE ITEMS

Location - Inverness
Please contact
Dave Spence on 01463 236614 or 07724617484
email david.spence47@btinternet.com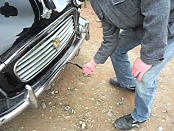 Starting Handle

Remember these?

The shaft of the starting handle is 15" long.
FOC to a club member .
Hand over or recipient pays postage.
Location Glasgow
Free to a good home

Contact
Tom Niven
07940 344341


Alloy Wheels & Quirky Registration Plate - At Reduced Price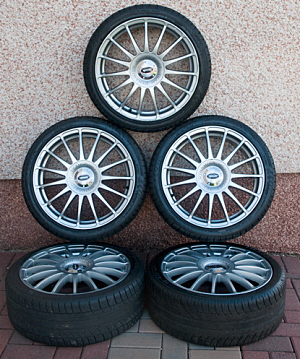 Set of 17" Team Dynamics Alloys with 205/40 tyres which have a few miles still on them yet, they were fitted to a Mazda MX 5, they have dual pitch stud holes (71mm & 76mm see photo) so they will fit other cars.
They are clean and tidy front & back, no lacquer blistering up, a couple of them do have scuff marks, one worse than the other. but they are nice wheels.
I managed to get a set of original Mazda wheels, hence why they are available, and I wanted to get the MX 5 looking original again.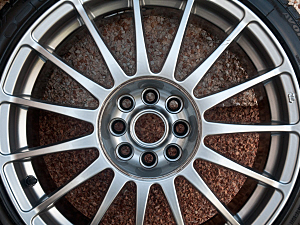 £275 ono.


Want a quirky Reg. Number for your car or to just hide the year of your car?, this one is for sale.
The website click4reg has it up for sale as I asked them to sell it on my behalf.
They put a value on it of £875 plus the £80 transfer fee . (Check it out)
If this is something that you are looking for then contact me direct.
I will accept £399 for it which includes the Transfer Fee

If you are interested in either of the above email me
billbarrav76@gmail.com
or Tel. 01555 771802.
I'm in Carluke Lanarkshire.

I also have the following which might be useful to you
Hillman Imp Engine 930cc. - £385
Conversion Kit to mate K-series engine to type 9 Ford Gearbox. - £250


Contact: Douglas Anderson telephone: 01382 731755 dglanderson1@yahoo.co.uk



2010 MGTF 135
This is one of the last examples of the MGTF built. This car has the N series engine, a modified K series with uprated manifolds etc to overcome the historic cooling issues associated with earlier K series power units fitted to MGF / TF's. With only 15000 miles on the clock this is a real bargian for some serious 2 seater sports driving. If you want a reasonably priced sports car 'key ready', then this is one to look at.

Drive away for only £7000For full details contact Archie Simmonds - 01890 818201

This sumpguard is originally from an Opel Ascona/Vauxhall Cavalier, but is essentially a sheet of 6mm thick Dural 61cm wide by 120cm long so could be bracketed to fit a wide range of vehicles.
Price £50 and quite heavy so buyer will need to collect from Perth, or we can maybe arrange a handover somewhere.
Only £50

Lots of bits for the MGB classic rebuilder
MGB alloy bonnet with air duct, requires painting, £100;
MGB four speed syncro g/box with overdrive, condition not known £100;
original early MGB woodrim steering wheel £60;
MGB lower wishbone arms (new) £25;
5x Michelin TA20 18/62 x 16 rally/track day tyres £75;
5x 20ltr fuel cans £12 each;
4x 185/70x13 road tyres all good £40;
Twin 45 weber carbs,36 choke,
140 main,160 air,55f8 idle,F16 emul, 45 pump,£250;
MGB engine requires rebuild (comes with spare crank, 2 x cranks, 2 x cams, 2 x pairs of carbs) £200.
MGB steering rack £60
MGB K&N air filters £50
Yet more items added to go to a good home
Pair of Cobra bucket seats in red - £60
4x Lancia Delta alloy wheels - £100;
Original Italian Weber 45DCOE 9 carb on rare Derrington manifold for MGB £350
Halda 90' drive, V11 8:1 "T" drive, V11N 8:1 "T" drive siezed, Offers;
1.9" coil springs - 9"x175lb, 7"x250lb, 8"x150lb, £15 per pair ;
AVO adjustable platform sockers for 1.9" springs, 9" closed, 11" open, good condition £75.