Subaru WRX sti 2016 (66 plate)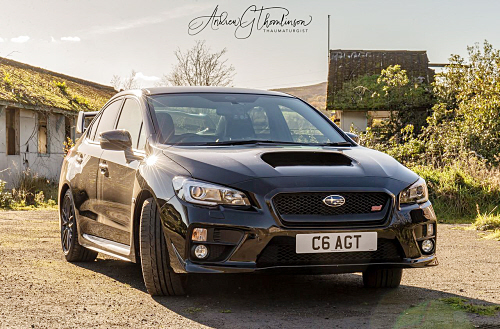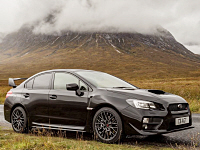 Sept 2016 Subaru WRX sti. (66 plate will come with the car).
Bought by me as an ex demo car with 1800 miles, Sept 2017.
It now has 5000 miles on the clock and is not being used as such as anticipated.
Full Subaru service history from new.

For more information
Contact
Andy Thomlinson
Phone 0141-563 7972 or 07806 776311

Silver, black hood – all in excellent condition
80,000 miles, fully serviced, MOT August 2019
New suspension ball joints and bushes
Alloy wheels refurbished, new tyres
Aircon control unit replaced (a common fault)
PLUS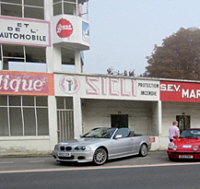 New water pump
Super smooth 6 cylinder engine, 5 speed manual box
Great driving car especially with the top down – wind deflector included
Been on 2 long continental tours recently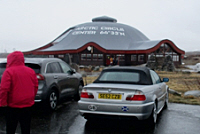 £2995 or near offer
For more details
Contact
Dave Spence on david.spence47@btinternet.com
Phone 01463 236614 or 07724 617484

4 Mazda MX5 Mk3 Alloy Wheels

4 Mazda MX5 Mk3 Alloy wheels
6.5J x 16 Standard & Icon V3
In gun metal finish

All reasonable condition and available for any inspection

£100

Contact
Charlie Young
01357 521696
07955 905441
charlieyoung2009@sky.com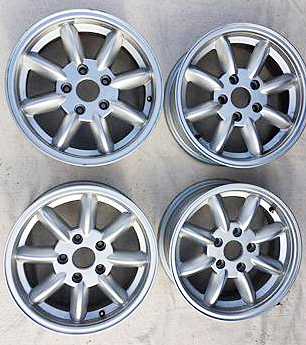 4 Minilite style alloy wheels


4 x 15" minilite style alloy wheels.
5.5 inch (Volvo Amazon, etc)
Very good condition.



Ford Capri Mk1 - 5 litre V8 "Perana" re-creation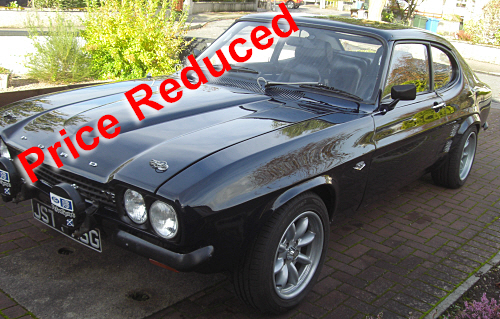 Capri Mk1 with 5 litre "small block" V8. Car is in Inverness, Scotland - viewing essential. New MOT will be supplied. Only 2800 miles since car was built. Build files and photos available. Transportation can be arranged anywhere on mainland UK or ferry port.

FORD CAPRI V8 1969

Intended as re-creation of the South African "Perana" Capri by Basil Green this Mk1 was commissioned by me in 2009 and built professionally to my own specification.

BODY

Bodyshell was selected after a long search, very early (1969) automatic transmission shell with wider tunnel. Probably the best Mk1 shell available at the time.
Modified and strengthened to take power unit and extra stresses.
RS3100 fibreglass arches fitted to accommodate wider wheels.
Front and rear has been changed to "face lift" appearance with twin headlamps, cheese cutter grille and larger rear lamps.
Car has matt black bumpers all round with quarter bumpers incorporating the indicators at the front.
Car has been sprayed in Ford midnight blue with an excellent finish.


ENGINE
Ford 302 cu. in. (4995cc) "small block" V8 developing 320bhp
Block- 1968-1974 FORD 302 Block
Align Honed
Zero Decked
Bored and Honed 4.040" with Deck Plates
Crank- Stock Ford 3.00" Ground .010" .010"
Rods- Stock Ford with ARP Bolts
Pistons- Speed Pro Forged Small Dish 9.5:1
Balancer- Pioneer Replacement
Bearings- King
Piston Rings- Hastings Rings
Entire Rotating Assembly Balanced
Timing Set- Comp Cams Double Roller
Valve Train- Isky Hydraulic Cam .521" Lift
Isky Hydraulic Lifters
Comp Cams Pushrods
Comp Cams Roller Rockers
Oil System- Melling High Volume Oil Pump
Heavy Duty Drive
Milodon Oil Pan 5qt
Cylinder Heads- Edelbrock Aluminum Heads 1.94" Intake and 1.6" Exhaust
Intake- Weiand Dual Plane Clear Coated
Fuel System- Edelbrock 1404 500CFM carb
Edelbrock Pro-flo Air Filter
Ignition System- Electronic Distributor
Mallory Coil
Valve Covers- Powered By FORD
Felpro Gaskets
Ford racing flywheel and clutch
13 row oil cooler
Hi torque starter motor
Aluminium radiator (very large capacity)
Twin thermostatic electric cooling fans
EXHAUST SYSTEM
Ford Mustang "shorty" exhaust manifolds (headers)
Twin 2" system with balance pipe
TRANSMISSION
Borg Warner T5 with Mustang bellhousing and concentric clutch release mechanism
Custom 400bhp prop shaft by Reco-prop
Ford Atlas axle with limited slip differential 3.09:1 ratio
FRONT SUSPENSION AND STEERING
Adjustable coil over front struts with roller top mounts
Competition rose jointed track control arms
High ratio power steering rack
Heavy duty anti roll bar
REAR SUSPENSION
Single leaf rear springs
GAZ adjustable shockers
Radius arms and Panhard rod
BRAKES
Vented and drilled front discs – front
4-pot Princess calipers – front
Solid discs – rear (Sierra Cosworth)
Bias pedal box
Dual circuit front/rear
Twin servos
EBC Yellow Stuff pads
All copper piping
Fly off handbrake

FUEL SYSTEM
17 gallon baffled alloy tank in boot
Facet electric fuel pump
Filter King filter and pressure regulator
Single marine quality tubing from pump direct to carburettor
ELECTRICAL
Mk3 Capri loom with Mk3 indicator, wiper and light switches
Aircraft style auxiliary switches
Fuse boxes inside – all circuits fully fused
High intensity headlamps
Auxiliary spotlamps
Battery in boot in sealed battery box
Battery cut off switch
Radio/cassette player
INTERIOR
New headlining, carpets and door cards
Recaro leather reclining front seats
Cloth rear seats
Full harness seat belts
7-dial custom built dashboard (based on late model Mk2 Cortina GT) covered in Alcantara cloth
14" semi-dished Alcantara rimmed steering wheel
WHEELS AND TYRES
7" wide front and 8" rear 15" Minilite style wheels
Hankook tyres
GENERAL
This car cost over £45,000 to build, with many parts having to be sourced from USA and others custom made
Registered as a1969 Capri therefore zero road tax
MOT till November 2017
The car's performance, as might be expected is superb, with tremendous acceleration and top speed of ????
The handling is also excellent – can be thrown into corners with no drama
Makes a beautiful noise!
Was built originally for touring events and has participated in a few
Could easily be converted to track day, sprint, hillclimb, race or even rally car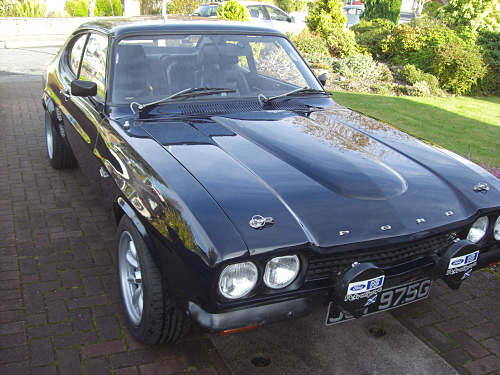 1966 VOLVO AMAZON 122S - BASED IN NICE, FRANCE.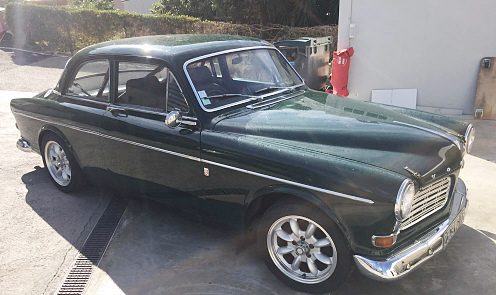 122S 04/66 RHD refurbished over many years and fully overhauled.
Fitted with overdrive, blue printed B20 (Gérard Lepron in Paris did it)
45 Weber,
SD roll cage,
Quaife ATB,
Polyurethane bushes,
Bucket Seats,
Alloy radiator,
70Lt alloy fuel tank,
Special King Springs coils and shocks,
Superlite 16" rims with Michelin,
4 in 1 headers with full SS exhaust,

Ready to go rallying or pleasure, any distance.



Phone:_ 0141-563-7972.

Mobile:- 07806776311

Further information can be obtained from Patrice Ryder ryder.patrice@gmail.com


.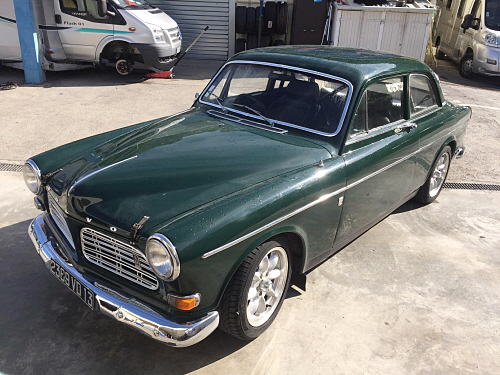 £30000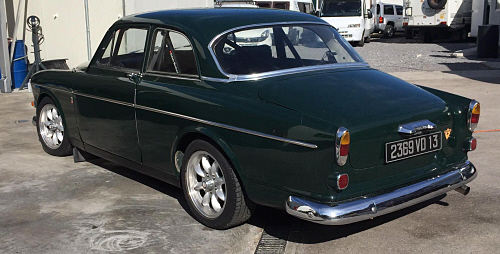 1995 Honda Legend Coupé 3.2 V6 auto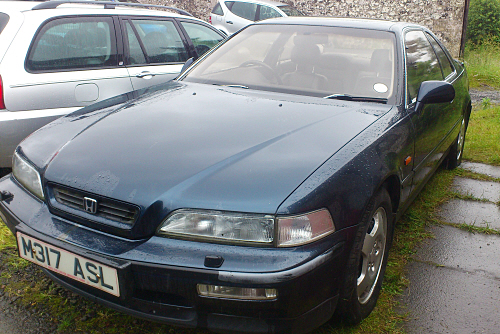 Future Classic for sale
1995 Honda Legend Coupe 3.2 V6 auto, Midnight Blue with black leather interior, cruise, elec' sun roof, windows, mirrors & seats,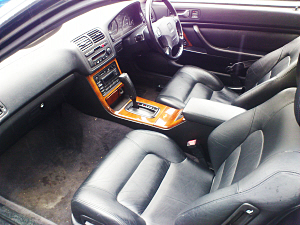 Currently on SORN, the car has not been on the road for a couple of years. I believe there are less than thirty of these fantastic tourers left in the whole country. Car starts and drives but would need work to re commission it.

Known faults are, power steering pipe leak at front valance, rear silencer blowing, will need a couple of tyres and the brakes would need to be overhauled. Some surface rust on rear wheelarches. Could make a nice summer project.



£700 ovno





For further info please call or text Eddie Kilgour07936 832569



Winter Wheels and Tyres - Skoda Octavia
Time to be prepared' for the next cold spell. If you have a Skoda Octavia then these winter wheel and tyres are for you.
4 x Steel Wheels: Skoda Size: 6.5Jx16 HZ code: ET50. 4 x Tyres: Firestone Winterhawk 2 size: 205/55 R16 91H Tread Depth: 6mm.All paperwork / service detail to view and car available for any inspection.
Wheels well used but no damage and tyres excellent condition.
Price - £140 ono


Alloy Wheels & Quirky Registration Plate - At Reduced Price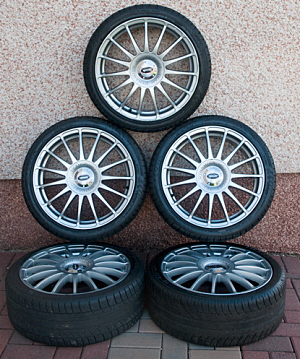 Set of 17" Team Dynamics Alloys with 205/40 tyres which have a few miles still on them yet, they were fitted to a Mazda MX 5, they have dual pitch stud holes (71mm & 76mm see photo) so they will fit other cars.
They are clean and tidy front & back, no lacquer blistering up, a couple of them do have scuff marks, one worse than the other. but they are nice wheels.
I managed to get a set of original Mazda wheels, hence why they are available, and I wanted to get the MX 5 looking original again.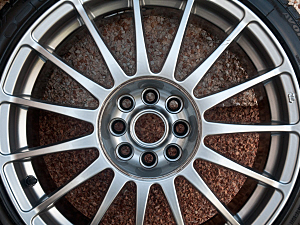 £275 ono.


Want a quirky Reg. Number for your car or to just hide the year of your car?, this one is for sale.
The website click4reg has it up for sale as I asked them to sell it on my behalf.
They put a value on it of £875 plus the £80 transfer fee . (Check it out)
If this is something that you are looking for then contact me direct.
I will accept £399 for it which includes the Transfer Fee

If you are interested in either of the above email me
billbarrav76@gmail.com
or Tel. 01555 771802.
I'm in Carluke Lanarkshire.

I also have the following which might be useful to you
Hillman Imp Engine 930cc. - £385
Conversion Kit to mate K-series engine to type 9 Ford Gearbox. - £250


Contact: Douglas Anderson telephone: 01382 731755 dglanderson1@yahoo.co.uk



2010 MGTF 135
This is one of the last examples of the MGTF built. This car has the N series engine, a modified K series with uprated manifolds etc to overcome the historic cooling issues associated with earlier K series power units fitted to MGF / TF's. With only 15000 miles on the clock this is a real bargian for some serious 2 seater sports driving. If you want a reasonably priced sports car 'key ready', then this is one to look at.

Drive away for only £7000For full details contact Archie Simmonds - 01890 818201

This sumpguard is originally from an Opel Ascona/Vauxhall Cavalier, but is essentially a sheet of 6mm thick Dural 61cm wide by 120cm long so could be bracketed to fit a wide range of vehicles.
Price £50 and quite heavy so buyer will need to collect from Perth, or we can maybe arrange a handover somewhere.
Only £50

Lots of bits for the MGB classic rebuilder
MGB alloy bonnet with air duct, requires painting, £100;
MGB four speed syncro g/box with overdrive, condition not known £100;
original early MGB woodrim steering wheel £60;
MGB lower wishbone arms (new) £25;
5x Michelin TA20 18/62 x 16 rally/track day tyres £75;
5x 20ltr fuel cans £12 each;
4x 185/70x13 road tyres all good £40;
Twin 45 weber carbs,36 choke,
140 main,160 air,55f8 idle,F16 emul, 45 pump,£250;
MGB engine requires rebuild (comes with spare crank, 2 x cranks, 2 x cams, 2 x pairs of carbs) £200.
MGB steering rack £60
MGB K&N air filters £50
Yet more items added to go to a good home
Pair of Cobra bucket seats in red - £60
4x Lancia Delta alloy wheels - £100;
Original Italian Weber 45DCOE 9 carb on rare Derrington manifold for MGB £350
Halda 90' drive, V11 8:1 "T" drive, V11N 8:1 "T" drive siezed, Offers;
1.9" coil springs - 9"x175lb, 7"x250lb, 8"x150lb, £15 per pair ;
AVO adjustable platform sockers for 1.9" springs, 9" closed, 11" open, good condition £75.