CCHMSC
eNewsletter
November 22 issue
out NOW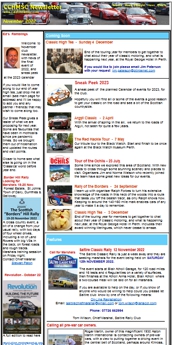 Classic High Tea

Sunday 4 December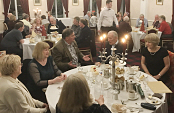 End of the touring year for members to get together at the Royal George Hotel in Perth.to chat about their year of classic motoring, and what is happening next year,
If you would like to join please email Jim Paterson with your request
jim.paterson@btinternet.com


Features


New Year Road Run
2 January 2023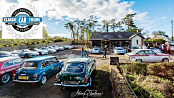 New Year starter from Bill Telford, starting and finishing at the But & Ben in Croftamie.
An 85 mile scenic loop through the Loch Lomond & Trossachs National Park which will then return them to the start location where hot food and refreshments will be served.
For Sale
1979 Audi 80


Club members catr. Ready to go in great condition. a true 24500 miles since new.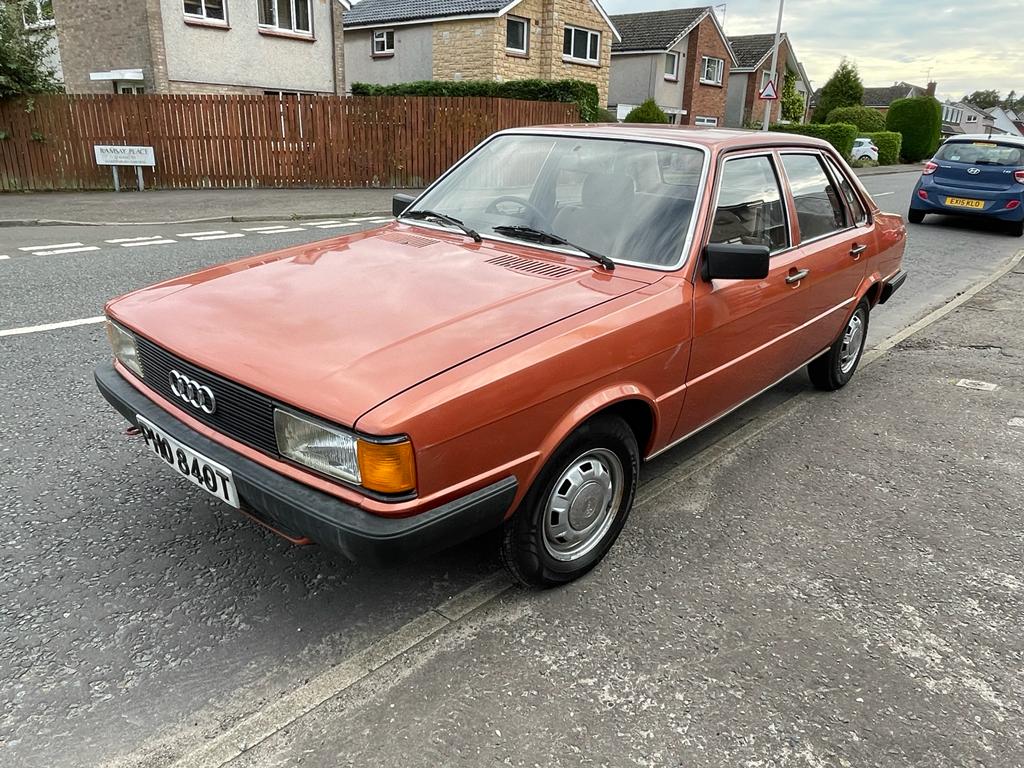 Classic Events
This column will publicise other classic car events around Scotland. If you would like your event featured here then email details to
events@caledonianmsc.com
See also the NESCRO website
Classic High Tea - Sunday 4 December


End of the touring year for members to get together to chat about their year of classic motoring, and what is happening next year, at the Royal George Hotel in Perth.



If you would like to join please email Jim Paterson with your request

jim.paterson@btinternet.com

Sneak Peek 2023


A sneak peek of the planned Calendar of events for 2023, for the club.

Hopefully you will find all or some of the events a good reason to get your classic on the road and see a bit of the Scottish countryside.

We are working on other events to add to this calendar so keep looking at our website for the latest version of the planned calendar

Calling all pre-war car owners.





Roger Martin, owner of this magnificent 1930 Aston Martin International is contacting owners of pre-war cars, with a view to putting together a driving event in the central belt of Scotland, perhaps around Kinross, Dunblane or some other central location, especially designed to attract owners of


our age of cars.

If you feel the same and would like to join a driving event designed for your age of car, (something like an
observation run, a simple scatter or regularity rally or just a tour) then please do get in touch with him at
roger@martin04.plus.com with details of the pre-war car/s that you have and what sort of event would attract you.

Maybe we can come up with something to persuade you to have a day out in your car.I look forward to hearing from you,




CCHMSC visit M-Sport - Thursday 6 October





We met up at M-Sport at Dovenby Hall near Cockermouth. Our guide Roger introduced us to the new facilities we would be seeing.

The major changes since we were last here in 2019 were the test track, which was an empty site last time, and the updated cars now that we are in the 'Hybrid' era.

After the intro and refreshments we started on our way.


More on M-Sport https://www.m-sport.co.uk/

Revolution: November 2022 Issue

















Enjoy all this and the latest news from the motorsport community in this month's edition.





Border Hill Rally Looking for Marshals

19-20 November


Forrest Estate, St Johns Town of Dalry, Dumfries & Galloway.

A cross country event, a bit of a change from your usual rally, with two days of four wheel drives, including a lot of Land Rovers with big V8s in the back, on forest roads and rough tracks.
Marshals training session on Friday night.
Contact Chief Marshal Stewart Paton
chief-marshal@scottish-hillrally.co.uk https://scottish-hillrally.co.uk/


Welcome to the CCHMSC website. The club runs rallies and tours for historic and sporting cars of all types. You don't need to have a Classic or historic car to join the club. We have plenty of drivers looking for navigators, and marshals are always in demand. [more].

We comply with GDPR data regulations, CCHMSC GDPR policy

Easy to join the club, download an application form and send it off
[Member Application]


All material published on this website ©Copyright Caledonian Classic and Historic Motor Sport Club Ltd. No unauthorised copy without permission, Contact

Webmaster


Updated 12 November 2022