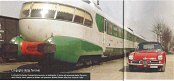 Trieste Station start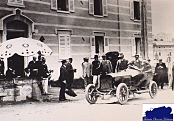 1911 Race start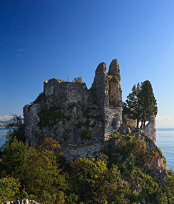 No white lady today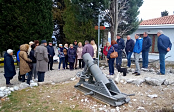 Museo della Grande Guerra del Monte San Michele.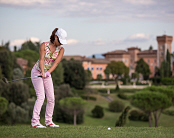 Golf at the Castle Spessa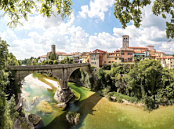 Pont di Diavolo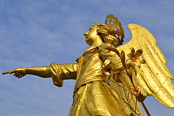 Arcangelo del Castello Udine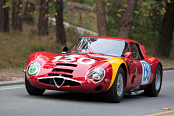 Ing.Carlo Chiti e Ludovico Chizzola-105.11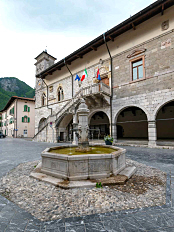 Venzone restored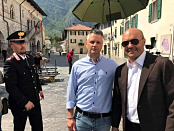 Montalbano in Venzone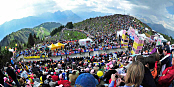 crowds watch Froome win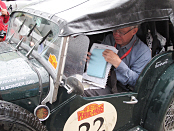 Paris Peking at Sauris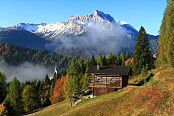 Sauris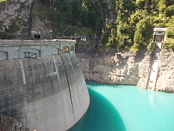 Sauris o Maina o Lumiei dam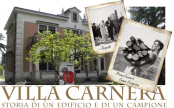 Primo Carnera Sequals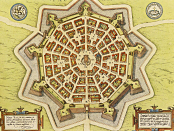 Palmanova walled city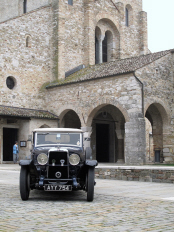 Basilica di Aquileia-Cammino Celeste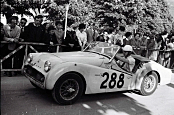 Andrea De Adamich-Triumph TR3- Scuderia Trivellato.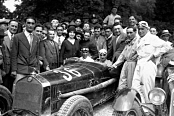 Nuvolari in Alfa Romeo P2

Trieste Opicina Historic Virtuale - 11 to 14 May 2020

Recollections of a magnificent tour of north east Italy - Jim Paterson




Lineup at Trieste


Following in the tyre tracks of the CCHMSC Carrera Lockdown virtual tour of Scotland back in April, Achille Tresoldi, who took part in the Carrera lockdown, developed the idea with his Club dei Venti all'Ora, this time set in north east Italy.



Nine CCHMSC members, along with seven other crews from across the UK, including Club Triumph, TR Register, Frazer Nash and ERA clubs, joined the entry list of over 100 cars from Italy, Slovenia, Croatia and Belgium. We all gathered on May 11th in the coastal city of Trieste for the start of the tour, outside the Railway museum. Many had arrived in their 'virtual' cars, a favourite car that perhaps will always be a dream to own, whilst others used their own cars on the event.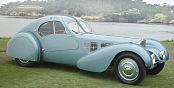 I used my favourite 'virtual' car the 1936 Bugatti Atlantic SC57, as used on the Carrera Lockdown tour. I have always admired this car, designed by Jean Bugatti, son of Enrico. Such a gorgeous shape, the 'Aerolithe', with an exo-skeleton riveted spine, and in Bugatti blue of course. With only three in existence and valued at $30million USD, you won't see me anytime soon rolling up in one to start a real event.

Day 1 - 11 May

With our 10 questions at the ready we were about to leave, but the first question related to the museum as a start point of? The Trieste Opicina race, often known as the 'Uphill Monza'.

With answers noted off we went climbing up to the plateau at Opicina turning east. If you were lucky you saw the old relic, shipwreck on the roundabout at the science park. I didn't! First mistake, but plenty more to find. The route headed north west and back to the coast through the town of Prosecco, famous for the sparkling white wine produced here, with great views across the Gulf of Trieste. We passed the haunted Castle Duino, though I didn't see the ghost of the 'white lady' wave as we passed!.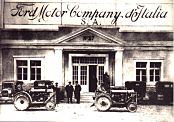 Up into the hills as we pressed north and inland, through the Natural Reserve of Doberdò Lakes. What goes up has to come down and a steep descent with twisting hairpins led us to the river Soca and a visit to another auto museum with a very interesting facade. Click on the link to read all about it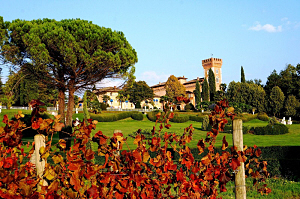 After visiting Gorizia we again climbed over mountain pass hairpins, with me thinking we would slip over the border into Slovenia. We hugged the border as wee drove west toward our final overnight destination at Castello di Spessa, the 13th century historical home in the heart of the Collio Goriziano in Friuli Venezia Giulia, where Cassanova spent some time in 1773.

Day 2 - 12 May

Our second day was going to be a big one. At 170km plus climbing hairpin passes it would stress my Bugatti's 8 cylinder engine to the limit. Although the car can reach a top speed of 123mph, I didn't think there would be too many opportunities to test it.

Leaving Casanova behind our route headed toward Udine, a place we passed on our Dolomiti Sfida continental tour of 2017, when we travelled from Venice to Kranjska Gora in Slovenia, via Udine. Our routes would have crossed at Cividale del Friuli where we found the famous Ponte Del Diavolo and the legend behind the bridge, which was one of our challenge questions.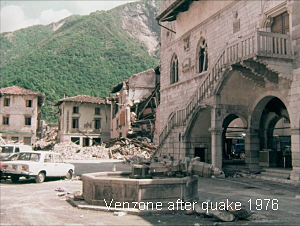 Turning north at Udine we followed the River Tagliamento valley. Arriving at Venzone we were challenged with a question about a Commissario Montalbano episode filmed here. As a fan of the series I thought he worked exclusively in Sicily. How farther away could you get from there? Took me a while searching the episodes to find it, and to be honest the clips I found, still looked like Sicily! We were passing through the area hit by the massive 1976 Friuli earthquake, which was felt in Venice, Austria, Switzerland and Slovenia. Is that my Bugatti gearbox rumbling, or the ground beneath me?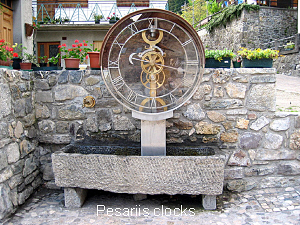 Crossing the Fuime Fella at Carnia, we took in magnificent views of the mountains and bridges. At Tolmezzo we turned north, following another river valley toward the Austrian border. At Sutrio we turned west, climbing a 'Stelvio' type hairpin climb made famous as part of the Giro d'Italia, up to Monte Zoncolan. Chris Froome won this stage in 2018. More hairpins as we descended to the Torrente Degano river at Ovaro, which we followed north as far as Luincis. Here we turned due west through the river valley, stopping at Pesariis, famous for clocks, everywhere clocks!

Onward toward Veneto and over the last few hairpin climbs to our final overnight stop at Sauris. This hamlet is famous not only for its Prosciutto ham, but welcomed the Peking Paris Rally cars in 2016, when about a hundred cars stopped to refuel.

Day 3 - 13 May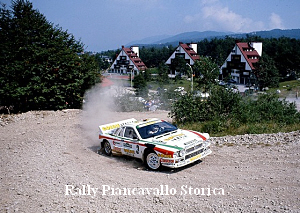 Refreshed after yesterday's marathon drive we set off to the south, for a 150km drive, passing the huge Diga di Sauris o Maina o Lumiei dam at 136 metres high. Tunnels through mountains, and under the lake, broke out on to passes providing superb views as we found yet more hairpin sections. We were travelling in the tyre tracks of the once European Championship Rally di Piancavallo-Passo Rest. It was tough going in my Bugatti too. We visited other sporting champions when we arrived at Sequals. Birthplace of Primo Carnera, who became heavyweight champion 1933/34. At 6'6" and almost 20 stones with size 15 shoes he was certainly lived up to his nickname the 'ambling alp'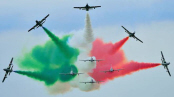 Once again we crossed the River Tagliamento, skirting to the west of Udine to reach our overnight at villa Manin near Rivolto. Napoleon signed the Treaty of Campoformido with Austria here, and the nearby military airbase being home to the Italian Aerobatic team Pattuglia Acrobatica Nazionale/313.

Day 4 - 14 May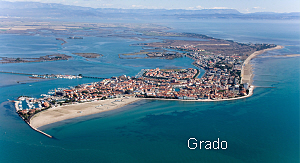 The home stretch now as we make our way back to Trieste. First challenge was a visit to Palmanova, a star fort of the late Renaissance, built up by the Venetian Republic in 1593. Which gates, or Porta's did we pass through on arrival, and on departure? The arches were written in Latin so a bit of head scratching to work that one out! As we approached the coast we felt like we were skimming the water when we crossed the huge Grado Lagoon on the causeway which goes on for miles. The islands on each side formed some more of the challenge questions before reaching Grado, now a peninsula on the southern edge of the lagoon.

We were now keeping to the coast line for the final run to Trieste. The penultimate challenge was a gift for the Triumph club crews, 'A famous "Mulo de Trieste" (Guy from Trieste) was awarded in the Town Hall, on the occasion of the historic re-enactment of the Trieste-Opicina in 2017. Who was he? Andrea De Adamich. What were his first racecar and racing team? Triumph TR3, Scuderia Trivellato. I can see that one entering CT's next pub quiz.

No visit would be complete without mention of Italy's most famous racer, Tazio Nuvolari, and the last challenge was 'In what year and with what car did the "Mantovano Volante" win the Trieste Opicina? Of course it was in 1930 when Tazio Nuvolari drove an Alfa Romeo P2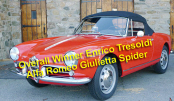 A well deserved glass of Italian wine celebrated our arrival back in Trieste. We had covered much of north east Italy, visiting many of the famous towns, cities and hamlets. discovering legends, history, motor sporting activities and places, and experiencing a wide range of countryside, from the plains to the mountains. For those of us here in the UK we have a cornucopia of places to visit next time we pass though this part of Italy.

Molto Grazie to Achille Tresoldi and the team at Club dei Venti all'Ora for putting this great 'Tour Virtuale' together.


Updated 23 May 2020
Webmaster