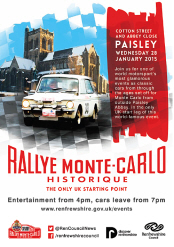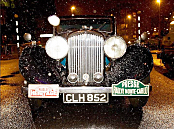 Bentley Derby Press car collect snow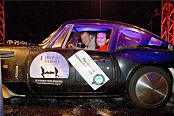 Chris Sherrington and Spitfire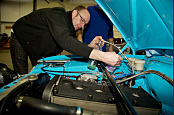 Jim Wilson draining diesel from Zak's Escort RS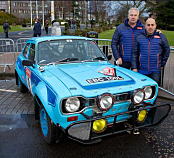 Now Zak. About that diesel?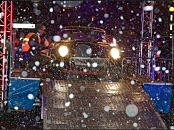 Chris and Zoe Sherrington on ramp in snow.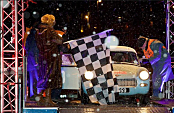 Douglas and June Anderson Car 0 on start ramp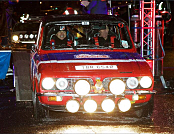 David Glen in Triumph Dolomite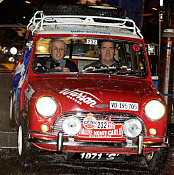 Swiss crew Chatagny and Redard in 1071S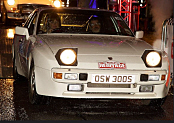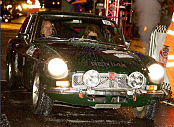 Ian Dixon heads to Reims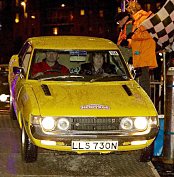 Alan Duncan Celica to Reims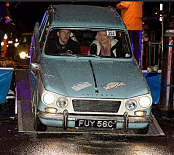 Wilson Triumph Vitesse
off to Reims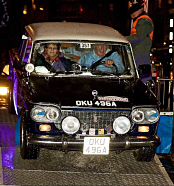 Ward/Lightfoot Fiat to Reims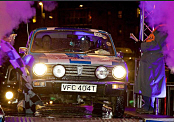 Cannaway / Mackay Maxi heading off to Reims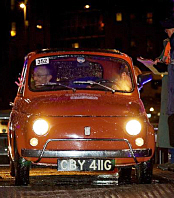 Martin / Murphy Fiat 500
to Reims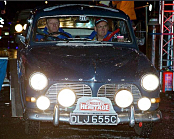 McGibbon / Meek in Volvo Amazon off to Luss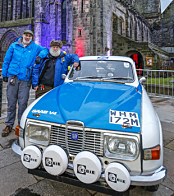 Heirs(leaning on car) / Wickins Saab before snow, going to Luss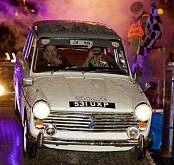 Kendall family heading for Luss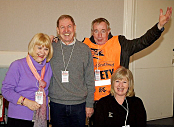 Signing on team Rona, Jim, Tom and Karen

Monte Carlo Historique Start - 28 January

Story Jim Paterson, Photos - Andy Thomlinson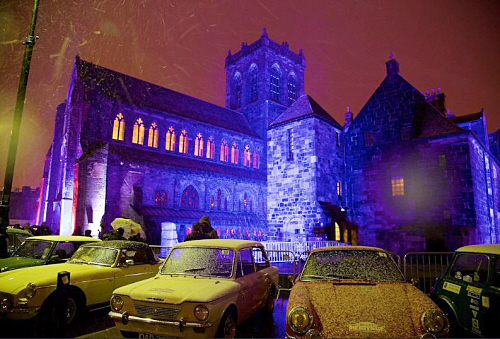 Snow gently starts to fall on the line up of classics in front of Paisley Abbey



The big day had arrived and everyone was ready to begin. The Monte cars were scrutineered nearby the start location, where Claude Plasseraud and William Ritchie , chief scrutineers from the host club ACM in Monaco supported by MSA scrutineers and CCHMSC club members Ian and Catherine Higgins checked the cars over.



Monte cars at scrutineering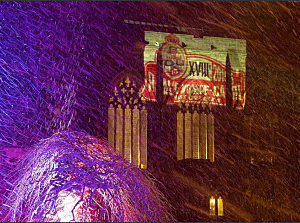 All was going well until Xerxes Matten (aka Zak) rolled in with his Ford RS 1600 Mk1 Escort, sounding a bit rough. Concern was obvious when the engine failed to restart for the scrutineer. A whiff of diesel was in the air and a quick check proved what everyone dreads, pouring diesel into a petrol car! A quick check of the fuel purchase made on the way to scrutineering confirmed the worst. 70 litres of diesel. Oops. Fortunately the scrutineering facility had a fuel eco friendly fuel disposal system so tank drained, lines cleared and, thanks to Jim Wilson who had organised the Ecosse to Reims tour, and is a great mechanic as well, stripped the twin Webber 45's and cleaned them out too. Firing up the Escort produced a bit of black smoke for a bit but soon cleared to save the day. Well done Jim.

Zak was not the only one to have a heart stopping moment. Ranald White with his Rover 2000 TC P6 sailed through scrutineering only to stop on the approach to the start venue. No sparks cried club member and retired AA engineer Gordon Anderson. But the crew had it all in hand. Dud distributor, but as any good rally driver knows, always have a spare in the boot. Quick change and all back working. Phew!

By now the snow showers had reached Paisley, and as the day progressed it covered the cars in Parc Fermé with a fine white covering.

Supporting the main Historique entries were some 15 crews on the Ecosse to Reims tour, plus 50 cars on the club Heritage runs, 30 to the Loch and 20 to the Borders. In addition we had the Glasgow Commonwealth Games Judo Champion Chris Sherrington in his Le Mans Triumph Spitfire, last seen at the press launch as car double zero, with wife Zoe reading the maps, and Glasgow start coordinator, and club member Douglas Anderson with wife June heading up in car Zero, the 1962 Austin Healey Sprite.

The crowds started to gather from 4.00pm onward and at 6.45pm it was time for the press and opening cars to head off on their way,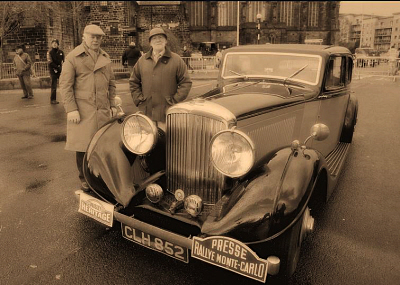 Renfrewshire provost Ann Hall flagged the cars away, as chief timekeeper and CCHMSC club member Maurice Millar clocked them out. First away would be the 1935 Bentley Derby of Chris Broom-Smith and Andrew Green as the Press car. Press cars were a common feature of the Monte in the old days, driven by journalists and photographers from newspapers, magazines or BBC radio (No TV then). They would phone or telex (who remembers that technology?) their copy back to base. The Presse plate on Chris's car is genuine, being used on the 1958 Monte Carlo Rally.

At signing on Chris, who had driven from home in Dumfries looked somewhat snow blown in his period mackintosh coat. "Whiteout on the way here to Paisley" he reported. "The flat windscreen of the Bentley simply acts as a wall for the snow, and the wipers don't help much". Chris mentioned something like a 5 degree arc of wipe for the wipers, in the snow, plus the windscreen isn't exactly waterproof, hence the damp looking raincoat! He added "The headlamps may be as big as dinner plates but they are flat too and soon snow up". More like a blackout during the war years I guessed.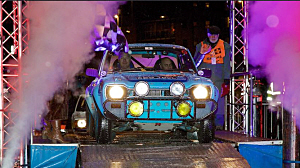 At bang on 7.00pm the first Monte Historique car, Zak's 1972 Escort RS, now on song and in fine fettle, with Clifford Debono from Malta, headed off the ramp, to plumes of steam (not from the car) which would send off all the following cars. Not a puff of black smoke to be seen. Diesel free!

Local Glasgow team Glen's headed out, father and son Gordon and David in a 1978 Opel Kadett GTE. Nephew David followed in a 1976 Triumph Dolomite Sprint, both cars were well prepared and turned out. As regular Monte competitors, the Glen's leave nothing to chance.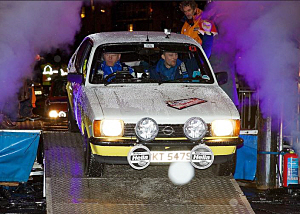 Paisley had attracted Australians James Rigney and Steve Caygill who on a whim purchased a 1979 Porsche 924 to enter the event, and Michel Chatagny and Fabrice Redard from Switzerland who started in a 1963 Mini Cooper 1071 S.

Brits Stewart Hutton and Sean Hanlon were next in a rally prepared Austin 1800 land crab, with so many lights I thought it would tip on to its nose. Goodness knows the output of the alternator required, approaching a small poswer station I guessed!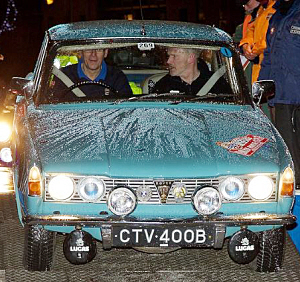 Local team Ranald White and Karsten Brown in the now fettled Rover 2000TC completed the Historique runners, showing no signs of the ignition issues earlier in the day.

The Ecosse Reims tour crews headed off behind Jim Wilson, still reeking (scottish term for strong smell) of diesel, in his VW Beetle, with wife Nikki, calling the route. Jim had it well sorted, as he roared off the ramp. I thought he was going to catch the Historique cars at the rate he was motoring off! Family member James Wilson got the Triumph Vitesse running to join with Lisa Hunter. Man with a camera, Alan Duncan, was at the wheel of his Toyota Celica with Catherine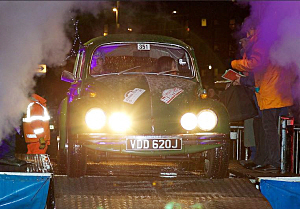 Laszock on maps. Felt like old times for club member Ian Dixon in his MGB/GT returning to Europe where he challenged the Tulip Rally in May 2014. This time wife Gladys was reading maps.

Members Duncan Massie and Ron Adam headed off in Duncan's Triumph TR7. The pair had decided to keep going all the way to Monte Carlo after reaching Reims on the tour. Austin Maxi enthusiasts Des Cannaway and Alan Mackay had also added a few lights for the trip. both have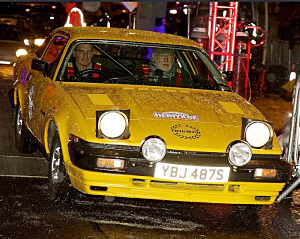 ventured the Maxi into France on several previous 'sorties' to Monte.

Both are well used to using a spanner on the old girl, as she usually grinds to a halt at some point.

Last but not least was an early 'original' Fiat 500 with Martin/Murphy crew squeezed inside. At a cruising speed of 40 to 45 mph it will be a long trip.
Last but not least the Fiat 500 crew squeezed into the little car, top speed around 45mph. Long trip to Reims.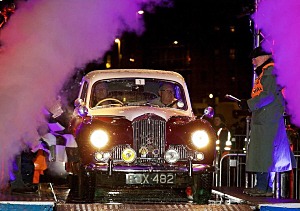 The club Heritage crews were next over the ramp. Fifty cars lined up with 30 off to the Loch, and 20 to the Borders. The first Heritage car, and winner of the 'Best Car' award, was the 1955 Sunbeam Talbot 90 Mk111 of club member Donald Campbell with Roddie Main guiding, both from Inverness. Donald's 1955 Mk3 is the same model that is featured on the official Monte 2015 poster, being the 60th anniversary of the victory of Per Malling and Gunnar Fadum's Sunbeam Talbot Mk III in 1955. Collecting the 'Best Dressed Crew' were Brian and Marion Hopkins. Brain suitably dressed in his plus 4's and Marion in coat with fur collar to drive their Morgan 4/4.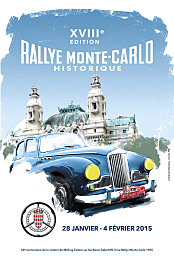 I was ahead of the Loch crews, who routed out to Linwood and past the site of the old Rootes Factory famous for the manufacture of Hillman Imps, over the Erskine Bridge up the side of the Gare Loch to the Faslane nuclear submarine dock. By now the snow was falling again, with whiteout conditions over the Haul road (A817) to Loch Lomond. rising to 660 feet in blinding snow gave the crews that 'Monte' alpine feeling. Reaching Loch Lomond, the finish at Luss was only a few miles ahead, and warm soup, bacon rolls and hot tea defrosted even the most snow covered crews.

Meanwhile the run to the borders were meeting their own snow showers as they headed down the old A77 and A76 to Auldgirth. Roland Proudlock of the South of Scotland Car Club SOSCC with a few of their members helped us out with marshalling the cars at the finish. Again a hot meal and drinks refreshed the crews. Some of the Ecosse Reims crews also called in on their way to the overnight halt, just south of Carlisle.

Some great tales of endurance were told over a hot coffee. Who needs to go to France to enjoy snow covered routes and alpine passes, when you need go no further then Paisley and the Scottish hills?

A full set of photos of the start from our club member and ace photogrpaher Andy Thomlinson is here
Updated 30 January 2015
Webmaster