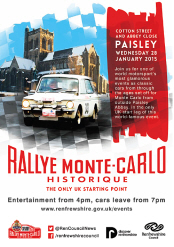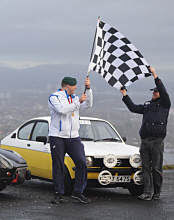 Gordon helps Chris keep the flag flying.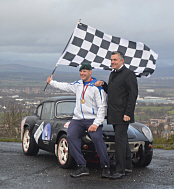 Mark Macmillan makes sure Chris doesn't blow away.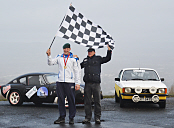 Gordon and Chris fly the flag.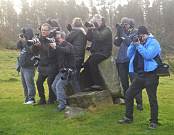 A gaggle of photographers in the rain!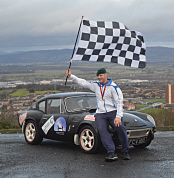 Takes more than a gale to blow a Marine away.




Monte 2015 Press Launch - 17 December 2014

Report and photos Jim Paterson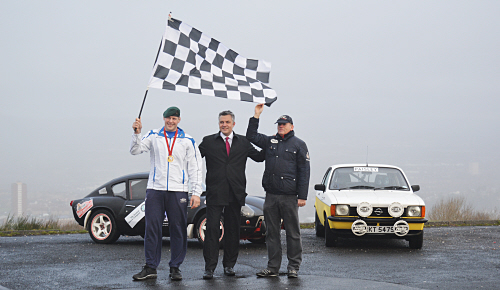 From L to R - Chris Sherrington, Mark Macmillan,and Gordon Glen in front of Chris's Triumph Spitfire and Gordon's Opel Kadett Coupé



An early start to miss the Glasgow rush hour traffic for the Monte Carlo Historique scottish start press release photo shoot meant I arrived in the dark at Gleniffer Braes Country Park to the south of Paisley. It would be a grey and freezing morning with driving showers attacking us from the west.

I met Gordon Glen as the clouds cleared when he arrived in his 1977 Opel Kadett Coupe recently prepared and ready to go for the January start from Paisley Abbey. Gordon's son David will be co-driving with him on the 2000 plus mile rally route to Monaco.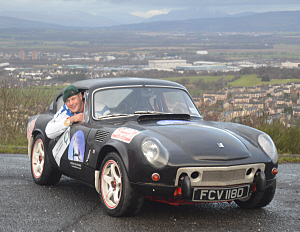 Joining Gordon for the photo shoot was the 2014 Glasgow Commonwealth Games Judo gold medal champion, and Royal Marine Commando Chris Sherrington. Chris brought his 1966 Triumph Spitfire 'Le Mans' special which he built himself from 'a box of bits', and uses as his daily drive. A member of Club Triumph he successfully challenged the Round Britain Reliability Run in October with his wife Zoe.


Chris and Zoe will be special rally guests, and competitors, at the 2015 Monte in Paisley.


Gordon has completely rebuilt the Open and was proud of the new road wheels to take him over the Alps. "It is pretty difficult finding suitable road wheels for the car as parts are becoming almost non existent for the marque now".Gordon reported. He even went to Germany for a look around possible suppliers in Essen.

Meanwhile Chris told us that he enjoys hillclimbs in the Spitfire where he can give it full throttle without worrying about speed limits!

Douglas Anderson guides Gordon toward Monaco!.

A 'gaggle of photographers soon arrived and in the time taken for the 'shoot' must have snapped a few thousand photos - each!

Paisley's official representative was councillor Mark Macmillan whose ward we were in for the photo opportunity.

Remember that you can join Chris on the Ecosse to Reims tour, by clicking HERE for details, or the Run to the Loch or Run to the Borders by downloading the Regs and Entry Form.

All entrants will cross the start ramp at Paisley on Wednesday 28th January in front of a great crowd, if last years start is anything to go by.


Updated 17 December 2014
Webmaster