Classic High Tea - 4 December 2022

Report and photos Jim Paterson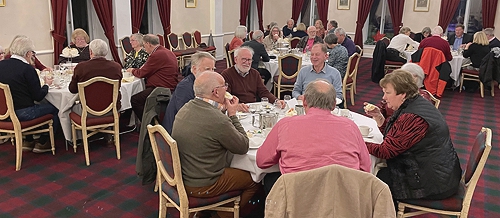 From across Scotland - members from near and far



Our end of the touring year for members to get together to chat about their year of classic motoring, took place at our usual venue at the Royal George Hotel in Perth. Over thirty members made it on a sunny, if rather freezing cold afternoon. The meals were great and of course the world famous Meringues took pride of place on the tea plate that followed

Once again the Royal George Hotel in Perth gave us one of their larger dining rooms, partly because I asked again, as it's a great room, and partly to allow sufficient spacing between tables. We have been in this room, known to staff as the 'old restaurant' several times over past years.

We gathered as usual in the bar area (where else?) chatting over some of the past years events, and catching up with the latest updates to our classics. Soon Jim Paterson called for all crews to 'start their engines' and head for the dining room.

Jim thanked everyone for coming, braving the dropping temperature, but at least no snow, yet! He welcomed members Jim and Norma Watson who joined the club committee, bringing a fresh pair of eyes to tours with routes and new places to visit.

He continued with a roundup of the past years events, including some of the new ideas incorporated.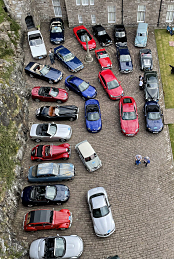 The Red Hackle opened the season in May with 38 entries taking to the roads, and visiting the famous Drummond Castle gardens.



Our Museum Tour in July started at the Dundee Museum of Transport, visiting the Grampian Transport Museum in Alford before heading to the finish in Edzell.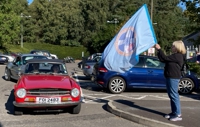 Dave's Dales, Moors and Forest in September, was a two day event across northern England. We used Dave Spence's last roadbook before his untimely loss back in February.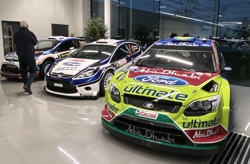 Our final event was a trip to M-Sport at Dovenby Hall near Cockermounth to catch up on the rally cars they build. Much had changed since our last club visit back in 2019. We are in the hybrid era currently, how long before full E-Rally cars?

We enjoyed a hearty main meal, followed by the true Scottish high Tea of cream scones with jam, plus those world famous Meringues that only the Royal George know how to bake. A great way to meet, and to end our year,

Member Survey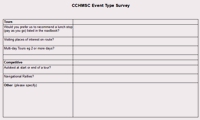 You know how everyone is inundated with 'how did we do?' surveys, well we put a quick and easy survey sheet on each table 'what events would you like to do? The idea being to give us organisers a headsup on how we can keep improving the tours a we do, and other activities that we might consider

.





Tours


In the Tours section, having a recommended lunch stop (pay as you go) listed in the roadbook was the most voted for at 25% of the total votes. Hot on that option was visiting places of interest (POI) on route, at 23%. We tried some of these options this past year, The Red Hackle visit to Drummond Gardens, and the motor museums on the Museum Tour, which also included a recommended a PAYG lunch stop at Grampian Transport Museum. It was good for us organisers to know that we appear to be on the right track.

The Multi Day tours had a good following too coming in at 15%. Comments tended to favour no more than 2 days, as some entrants use up a further day or two getting to the start, and back from the finish. Other comments related to daily mileage. NOT too long please seemed to be the main response. This also held for our one day sortie's.



Competitive


We added this section just to test the water. We tried a mild competitive Gymkhana in past years but that faded out in popularity.

An autotest at beginning or end of a tour is something we did many years ago. 8% thought it was a good idea. What about running a PCT (Production Car Autotest) as a separate event? Not much interest at only 2%.What about Navigational Rallies? Again we have tried, albeit unsuccessfully in the past. 10% of responders thought we should again. With other clubs running regular 'Nav' events is there room for more? Would our members turn out to make it worthwhile designing and marshalling (always a tricky issue) an event? One for we organisers to discuss further.

Treasure Hunts with a BBQ to finish was selected by 7%. As these are more akin to tours with a bit extra means not a giant leap to construct. If the Rotary guys can manage surely we could too.

Hillclimbs and Sprints finished off our listing. Both came in at 5% so lowish, but not off the end of the list.

What we have to be aware of with competitive events is the need for members to now have an MSUK competition licence. However the RS Clubman digital licence is completely free and easy to obtain, if you are, medically fit to compete in motorsport, and a British citizen.

Events such as Tours, Treasure Hunts and Gymkhana's run under a certificate of exemption so no competition license required by the entrant.

We thank all the members at the High Tea who took part and gave us their honest views and opinions, which we will take into consideration for future club events.




The Club wishes ALL our members and everyone who is a classic car enthusiast, a very merry Christmas and a really good fun Classic New Year.