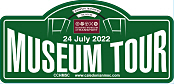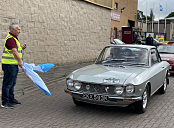 McGibbon / Meek Fulvia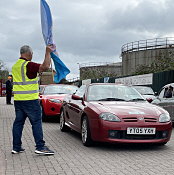 Niven / Wilson MGTF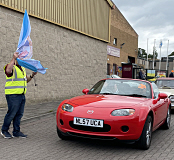 Young / Stuart MX5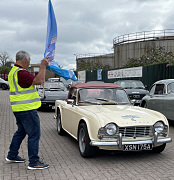 Hendry Triumph TR4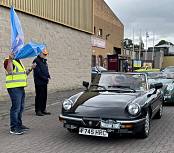 Bartniczek / MacFarlanae Alfa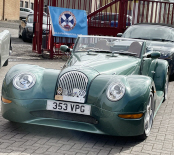 Burns Morgan Aero 8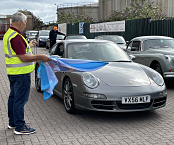 Couser Porsche Carrera S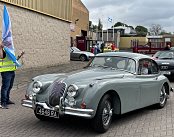 McLay / Mackie XK150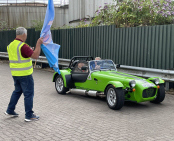 Thomson / Gibb Caterham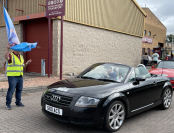 Phillips Audi TT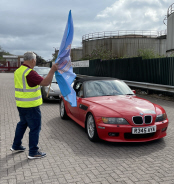 Spence / Bennett BMW Z3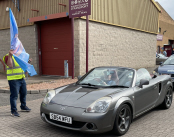 Cobb / Cobb Toyota MR2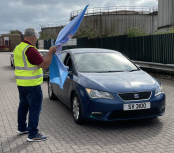 Shand Seat Leon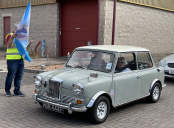 Watson Riley Elf


Paton Mercedes SLK


Museum Tour - 24 July 2022
Report by Jim Paterson

Line-up growing at Dundee museum of Transport under warm sunshine


This new event in the calendar was based on visits to classic car and motorsporting museums. Starting off under sun filled skies at the Dundee Museum of Transport on Sunday 24 July, the route headed north into the Scottish highlands. Though we experienced a few heavy showers most of the soft tops managed to keep tops down most of the time.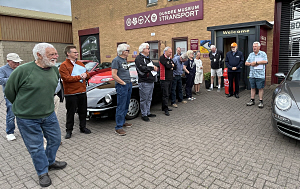 The crews arrived at the Dundee Museum of Transport to sign on refuel themselves with a spread of Danish pastries, brownies and cookies, all washed down with tea or coffee. There was time to walk around the museum halls to see the exhibits on display.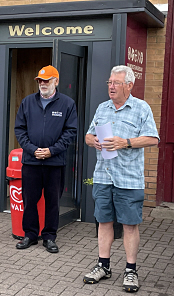 Roddie Main provided the Drivers Briefing, explaining speed limits, other road users, walkers, cyclists, motor cyclists and farm machinery.

With the clock striking 10am it was first car away, with all eyes watching to see if they turned the right direction as they left the museum. Even if your a good navigator it is important to get the first few instruction correct, if only to display you know what your doing.....

Duncan Massie & Jenny Mackay in their BMW convertible headed off early as Opening Car, to make sure all was well ahead. Craig McGibbon in his '72 Lancia Fulvia Coupé with Anne Meek reading the route, were first out of the blocks. Craig told me a recent brake problem had been fixed the previous day, so this was the car's 'shakedown' event. As our first away I watched keenly to see if they turned left at the museum exit. They did, so Anne had read the book correctly 10/10. Committee member Tom Niven in the '05 MGTF with top down was next off with Karen Wilson in the navigator seat. Another top down followed, the '07 Mazda MX5 of Charlie young, with committee member John Stuart guiding the crew.

It was good to see Jim and Irene Hendry in their '63 Triumph TR4. Jim was just back from a continental tour with Graham Couser in Jim's TR3. The TR4 looked good and seemed to have plenty torques as it moved off the start line. Richard Bartniczek in his '88 Alfa Romeo Spider had Norman MacFarlane reading the route. A change from wife Yvonne, so I watched closely as they departed. Norman is an old hand at navigational relies so no fear he would make any mistake! Graeme and Jean Burns joined in with their splendid 2002 Morgan Aero 8. Reuben and Hope Phillips appeared in their new '04 Audi A3 cabriolet, only purchased a few days before. So another 'shakedown' entry. Graham Couser brought his '06 Porsche Carrera S, covering both driver and navigator roles. Our first Jaguar, the 1957 XK150 of Bill McLay with Allan Mackie sounded in top form as they left the start line.

Taking drop top to extremes was the almost neon green 2018 Caterham of Blair Thomson with George Gibb. The noise from the side exit exhaust pipe was wonderful to hear. When it rains you just go faster...... Our second Jaguar, a 1953 XK120, with proud crew and owner Colin and Anne Stewart had morphed into an Audi A3 cabriolet. At first I thought it was a double take of Reuben and Hope Phillips. Anne had read the forecast and as their XK120 never has the hood up, they thought we will get wet. A wise decision given a sprinkling of heavy showers were on the cards. Another morphed car was Gordon Spence and Mark Bennett in a BMW Z3, not the A4 Avant.

The final few were ready to go, led by Stuart and Mervyn Cobb in the 2004 Toyota MR2, seen on many of the club tours. George and Jean Shand brought their day car to the event, ready to enjoy the day. Jim and Norma Watson started in their trusty little 1968 Riley Elf, a favourite on club events. Last away but not least Chris and Mary Paton in a 2000 Mercedes SLK, top down to start with.

The route took us around the Dundee ring route, where counting roundabouts was key to finding the exit on to the A923 to Coupar Angus. We peeled off at Muirhead to follow the B954 north west toward Meigle and Alyth. Into Glenisla,where some of us caught the black clouds and the heavy rain shower that forced most 'tops down' to go quickly 'tops up'. fortunately the downpour did not last long and soon the tops were down in the sunshine again. We were heading due west to the Old Military Road, a General Wade road, though

built in the late 18th century by Major Caulfeild

. Now known as the A93, heading to Braemar, we crossed the Spittal of Glenshee, thankfully no snow today at this popular ski resort.

Some met the downpours again at Braemar, but as before it soon passed. At Braemar we swung back to a north easterly direction, passing Balmoral, where the flag was flying, so HM Queen was in residence. (Ed should have booked tea in the garden with her majesty!). Swinging onto the infamous A939 at Crathie Kirk which we followed to Colnabaichin where we cut off onto the A944 heading east to our lunch stop at the Grampian Transport Museum in Alford. Our crews parked up on the circuit at the back of the museum.





Trackside line up at Grampian Transport Museum


An amazing place with a fine display of exhibits to wow the crews, and friendly staff to help and provide the included lunch for everyone.
Outside was a road layout for kids ,complete with junctions, traffic lights cars, and a police chase car. Great way to teach youngsters the rules of the road.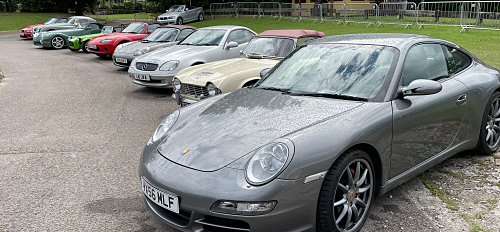 Leaving Alford we turned south on the A944, turning off to the B993 at Millbank &

Tillfourie (Ed wonderful place names) which took us over to Torphins, with spectacular views on the way. More spectacular views were provided as we reached Cairn O' Mount, before descending to Clatterin Brig, crossing the Devilly burn. Built in 1961 it replaced the original from 1790. Soon we reached Fettercairn on to the final leg of our tour.

The organisers had put a 'teaser loop' in this final section but a fallen tree part way through stumped (pun intended) many as the single track road proved tricky for the larger cars to 3 point turn! The early arrivals found a woman walking her dog flagging them down before reaching the falling tree. Luck them!

Safely back in the Panmure Arms at our destination in Edzell, the crews refuelling themselves on a good Scottish High Tea.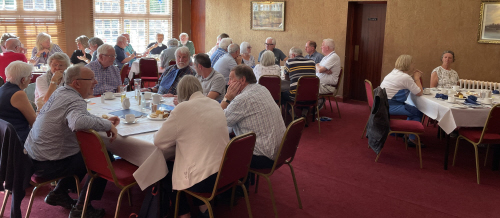 A great day out was reported by all the crews, with some staying over in the Panmure Arms, to make a full weekend of it.


Published 21 June 2022
Webmaster