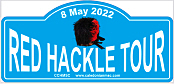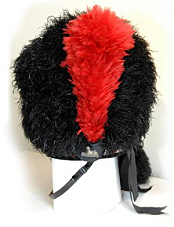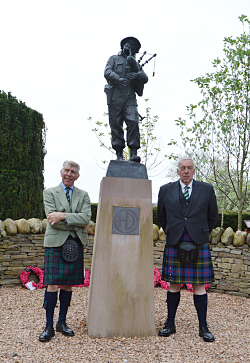 Pipers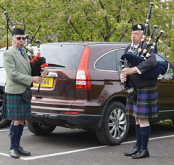 Piping the starters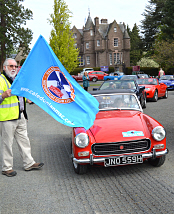 Fleming 1970 MG midget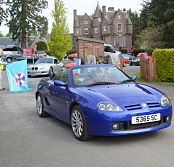 Stewart 2005 MGTF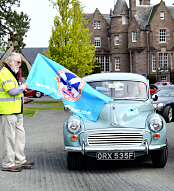 Cox 1968 Morris Traveller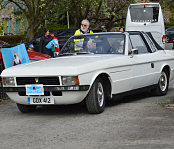 Campbell 1978 Bristol 412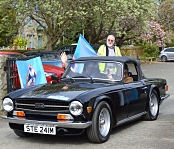 Houghton 1974 Triumph TR6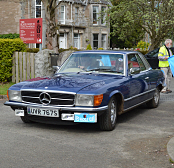 Rodger 1977 Merc 450 SLC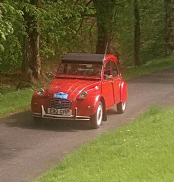 Massie Deux Chevaux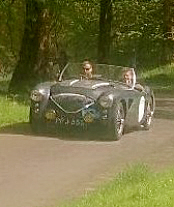 Lindsay 1954 Healey 100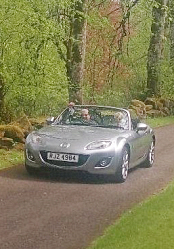 Paterson 2010 MX5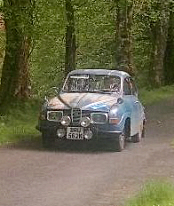 Taylor 1972 Saab 96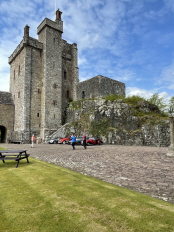 Castle Keep awaits arrivals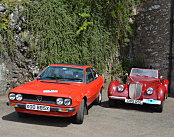 Brown/Clark 1981 Lancia Beta sits alongside
Barlow 1997 Royale Sabre
Departing through the
castle gate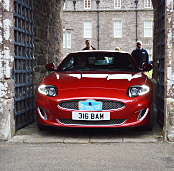 McCluskie Jaguar just made it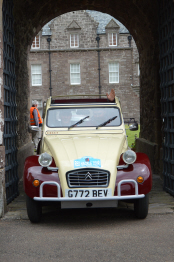 Wilkie 'Dolly' much easier.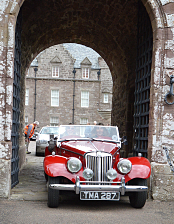 Simple for Howitt MG TF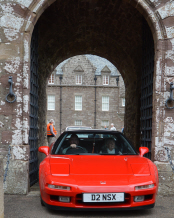 Tight for Cargill Honda NSX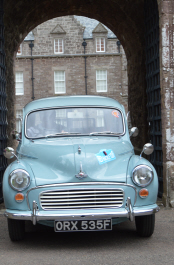 Cox Traveller smooth depart
Entry List

Red Hackle Tour - 8 May 2022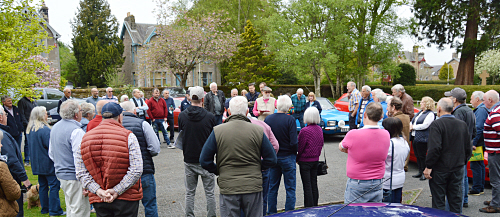 Crews gather for the drivers briefing from organiser Ron Adam



This years opening event attracted 38 entries in a wide selection of classic and some modern cars. Our start point was the Black Watch museum in Perth, a familiar landmark for those entering this tour annually.

This year had given the organisers some headaches before we got to the start. Roadworks kept jumping up out of nowhere, with each needing a re-route to avoid. Whilst this is manageable before printing the roadbook, it gets a bit panicky after printing. Of course our friendly local council did just that. With only days to spare a new route, roadbook section etc had to be created, printed and the roadbooks dismembered to fit the new section in. All in a days work you might say. Traffic arriving for the museum, including three touring coaches just as we were departing was the icing on the cake so to speak.


Lineup for the start


With the crews fed on their bacon rolls etc we started our engines and set off on our first stage heading north out of Perth on the A9 for a short sprint to Luncarty.

| | |
| --- | --- |
| Massie Citeon deux chevaux opening car | |
| Lauder 2003 MGTF | Paton 2000 Mercedes SLK |
| Stewart 1953 Jaguar XK120 | |
| | Howitt 1954 MG TF |
| Taylor 1972 Saab 96 V4 | |
| Robertson 2000 BMW Z3 | Holmes 1970 Volvo Amazon |
Here we left the main roads and tracked the River almond as it made its way to Logiealmond where we turned south crossing the river. Twisting and turning east then west kept crews on their toes on a series of short hops between turns. Auchterarder eventually appeared on the horizon, and after a short loop we arrived at Muthill. A sharp eye was needed to spot the Drummond Castle Gardens sign with the surrounding trees coming into leaf were trying hard to hide from us!

We drove up the spectacular treelined driveway, almost 1.5 miles long, which was created toward the end of the 17th century by the 4th Earl as an avenue of four rows of trees from the castle to Perth, some 20 miles away!


| | |
| --- | --- |
| Bruce 2009 BMW stepping out | Niven 2005 MGTF leads the chase |
| Main 1995 Mercedes SL | Campbell 1978 Bristol 412 |
| Holmes 1970 Volvo Amazon | Martin 1980 Alfa Romeo Alfetta GTV |
| | | |
| --- | --- | --- |
| Fleming 1970 MG Midget | Begg 2000 Racing Puma | Young 2012 MX5 |
Thankfully a one way system was in force. Now that is what I would call a driveway.......

We were directed up into the main courtyard, with Richard Taylor from the castle guiding us through the gates.Breathe in was the order of the day for the the wider cars. This is when you wish you had a mini or small sports car.

| | |
| --- | --- |
| | Stacking and packing into the courtyard at Drummond Castle |
| Lindsay Big Healey becomes talking point | Rae Lotus 7 easy to tuck into a space |
| Richard Taylor our 'stacker & packer' squeezes Watson 1968 Elf into place. | Garden view from top of the Keep |

Most of us managed into the courtyard where picnic tables were set out, some brought their own, and a coffee stand, actually a converted horsebox with an expert Barista providing all sorts of coffee flavours, including a whisky (non alcoholic) flavour which proved quite popular to supplement our picnic lunches that we brought with us. Many took advantage to walkaround the pristine gardens, looked after by four gardeners. The grass is kept short by a fleet of robotic lawnmowers that come out at night, all controlled for an app on your phone. Well of course they would. How they did that in the sixteenth century when the gardens were laid out had me scratching my head.

Richard took me up to the roof of the keep tower for a 'top down' photo. Rising up three floors in a tight spiral staircase seemed never ending. I found that spiral staircases are always right handed screw going up. This enables right handed defenders to stab their swords into rising intruders who, unless they are left handed, are at a severe disadvantage. Me I was just out of breath.... The resulting view was outstanding and only a drone would have got the photos I was able to take. My cry to the crowd below to smile I reckon got carried away on the breeze.

Having squeezed into the courtyard we had now to get back out. Fortunately Richard our guide had ensured we turned when arriving into the courtyard so as to be facing the right way for going out. Even then I reckoned a Rizzla cigarette paper (remember those?) would be tight for Ranald Bruce and Louise Wall BMW 6 series convertible to pass through. Breathe in again!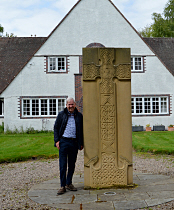 Our route took us south from the castle toward Gleneagles, passing the Sunday afternoon golfers,as we skirted the foot of the Ochil Hills. Reaching Dunning we continued east toward the 'model village' of Forteviot. Once the ancient capital of the Pictish kingdom of Fortrenn and a favourite residence of Kenneth MacAlpin and Malcolm Canmore, Forteviot was rebuilt in the 1920s by the 1st Lord Forteviot in the style of an English garden city. Its admittedly attractive lawns and white painted cottages may seem at odds with the surrounding area.

I stood beside the modern Pictish cross slab unveiled the weekend of 17th/18th March 2018. Sited in the middle of Forteviot village. This new Pictish style cross slab was created to celebrate Forteviot's status as an early Christian site and its association with King Cinead mac Alpin.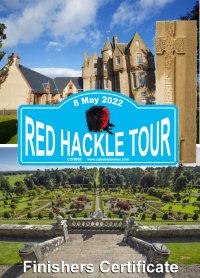 Turning South we headed over the Ochils and the Path of Condie. Robert Burns is said to have inscribed his name with a ring on the window of the school at Path of Condie after a visit to Invermay House.

We continued south to the once bustling market town of Milnathort. There was a time when Milnathort stood at the crossroads of the road between Edinburgh (via the ferry) and Perth and the main road between Stirling and St Andrews. The motorway M90 bypasses the village now. We kept to the old roads turning north on our final leg toward Perth and our finish back at the Black Watch museum.

A welcome hot meal at the high Tea, with a selection of scones and cakes to follow was a fine end to a terrific day, one we will remember for places seen and sunshine on our tour.

Lookout for our next Museum Tour on 24 July. Regs out soon. Once again we will take you to unusual places easily missed to those not keeping a good lookout.


Updated 10 May 2022
Webmaster