Grand Caledonian Tour - 25 September to 9 October

story Margaret Campbell


Day 8 - Saturday 2 October ; Portree to Gairloch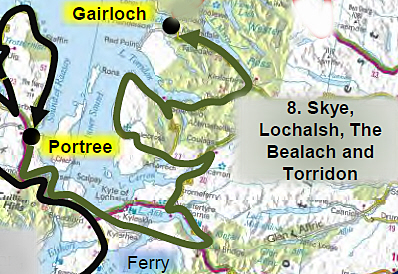 Saturday morning was clear and dry but cold and windy as we headed south from Portree on the A87 as far as Breakish where we turned right and travelled through Glen Arroch to the little turntable ferry at Kylerhea.
As this ferry only holds 6 cars and we we number 7, we decided to head back across the Glen and over the bridge to meet the other 6 at the junction of the A87 and A890 otherwise we would be over an hour behind.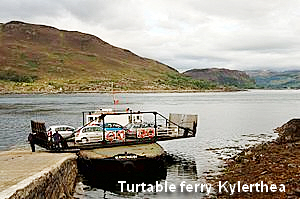 The route from the ferry took the tour over the pass at Mam Ratagan with a spectacular view of the Five Sisters of Kintail to Shiel Bridge and on round Loch Duich where they turned onto the tiny road, known as Carr Brae which climbs high on the side of the hill as has an amazing viewpoint over Loch Duich and the surrounding area.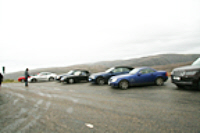 Climbing on the A890 we regroup and follow the road through Stromeferry and along the shores of Loch Carron before stopping at the Carron restaurant for lunch.
We then headed through the village of Loch Carron before turning onto the unclassified road that would take us up the famous Bealach na Ba to Applecross.
As we reached the top the mist had descended and the temperature dropped but we still managed some photos.
Heading back down the other side of the peninsula, we stopped in a large lay-by to say farewell to Richard and Yvonne who were leaving us at the next junction.
We then headed through Glen Torridon and turning left onto the A832 at Kinlochewe, we followed the beautiful Loch Maree to Gairloch for our overnight stop.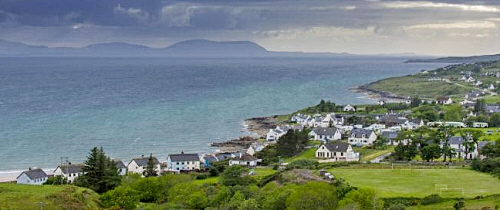 Gairloch on the shores of Loch Gairloch, Wester Ross
Day 9, hugging the north west coast we head further north to Durness our most north westerly point of the tour