Grand Caledonian Tour - 25 September to 9 October

story Margaret Campbell


Day 9 - Sunday 3 October ; Gairloch to Durness
Sun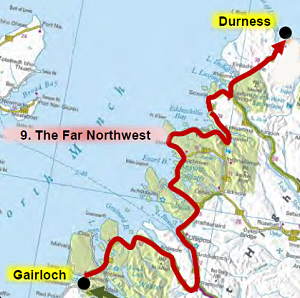 day morning saw the six remaining crews gather at the carpark of the community hall and set off heading north again cutting across the peninsula to Poolewe and round the south end of Loch Ewe to Aultbea, where there is still a strong Naval presence visible.
Crossing the next peninsula we arrived at Gruinard and driving round Gruiniard Bay we could clearly see Gruinard Island where germ warfare experiments were carried out in 1942. Apparently it has now been decontaminated but unfortunately we didn't have time to visit it. (Ed' probably a wise decision!)
Crossing our third peninsula, we came to Little Loch Broom where we headed inland to Braemore Junction where the A832 and A835 meet. Just before the junction we stopped to visit the famous Corrieshalloch Gorge at 1.5K long and 60m deep.
From there it was on to Ullapool where we stopped for fuel, no restrictions this time. A few miles north of Ullapool we headed off the A835 onto the unclassified road heading round the coast towards Lochinver.
This road took us through some of the most dramatic scenery of the tour. The spectacular mountains and lochs and the tiny road made for a very interesting journey through the Inverpolly Nature reserve to Lochinver where we stopped for coffee but unfortunately there was nowhere open.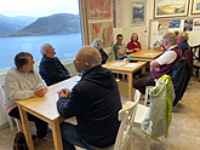 We then joined the B869 which took us on round the coast and past some of the lovely beaches in this part to Drumbeg but again we could not get any food or coffee. Back on the main A894 at Unapool, just before the Kylesku bridge we found a small restaurant and stopped for a plate of soup.
By this time the weather had closed in and the rest of our journey to Durness was in heavy rain. We arrived in Durness a little early to go to our accommodation so instead we headed for Cocoa Mountain for a hot chocolate - unfortunately due to Covid we couldn't sit in the restaurant so enjoyed our chocolate in our cars.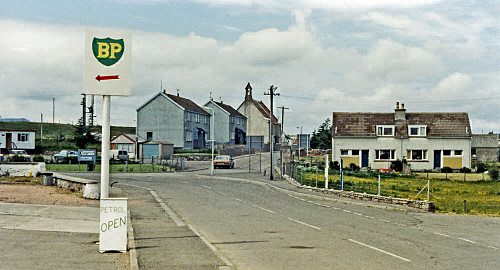 Durness

Day 10, East along the north coast to Dunnett Head and John O' Groats to our destination Wick