Grand Caledonian Tour - 25 September to 9 October

story Margaret Campbell, additional photos Andrew Green.


Day 7 - Friday 1 October ; Tobermory to Portree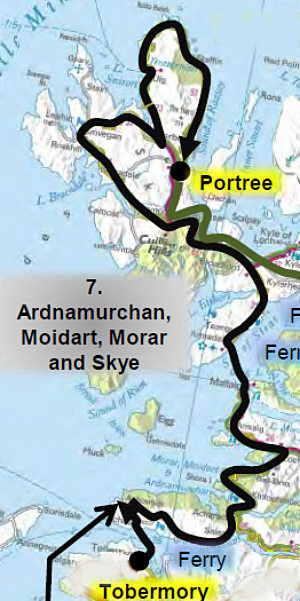 After rising early, we packed up, collected our breakfast, which had been kindly provided by the hotel, in bags, and set off to the bottom of the hill to catch the 7.20am ferry from Tobermory to Kilchoan. The dawn was breaking as the ferry arrived at the slipway and the wind was blowing a bit hard for my liking as we boarded the 10 car ferry of which we made up half. Two cars had opted for a later start.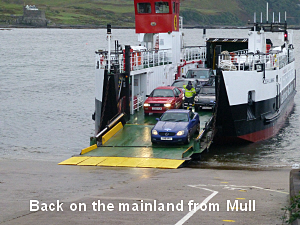 The 35 minute journey seemed to take a lot longer as the little boat was tossed about like a cork sending great plumes of spray over all the cars. At last we reached the other side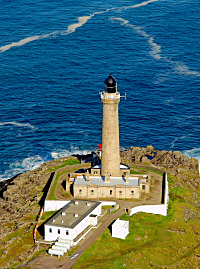 and disembarked onto the B8007 to head towards the lighthouse at Ardnamurchan.
Not quite sure what happened but I think it was relief that we had made the other side but we all took a wrong turning and had to retrace our steps for a couple of miles. Eventually the lighthouse was ahead of us as we reached the most northerly point on the Scottish mainland.
We then drove north to Salen Jetty on th eside of Loch Sunart, where we met up with Margaret Betteley and Andrew Green who kindly supplied us all with coffee and cake and then joined us for the day in their Jaguar.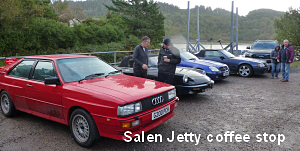 As we had been told that the Mallaig to Armadale ferry had been cancelled due to the increasing winds, we had to make alternative arrangements to get to Skye so at Lochailort we took the A830 and headed back to Fort William stopping at Glenfinnan on the way to look at the viaduct.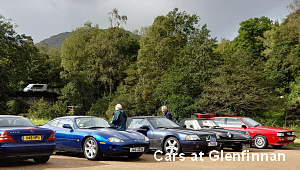 After a lunch stop in Spean Bridge, we headed up the A82 to Invergarry then headed west on on the A87 - a quick stop for a photo of Eileen Donan Castle then over the bridge and onto the Island of Skye.
Taking the A87 to Sligachan we then headed west on the A863 up to Dunvegan where we joined the A850 heading back towards Portree. The route then headed North on the A87 to Uig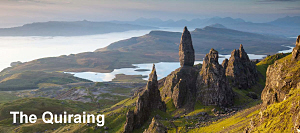 and then on an unclassified road west to cross the Quiraing where the road drops steeply back to sea level. Most of the crews managed to complete this part of the route but unfortunately a few were too late and had to miss the top loop to get to Portree in time for dinner.
Arriving in Portree we had completed the first week of the Grand Caledonian Tour and after our early start and cancelled ferry, we were all glad of a good meal and an early night.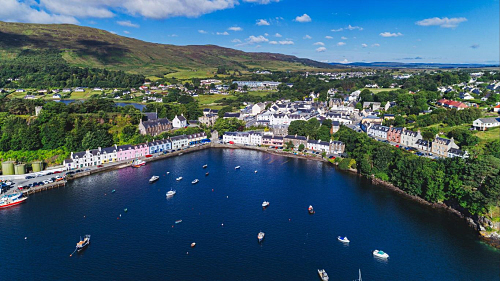 Portree
Day 8, we will see a bit more of Skye, before crossing back to the mainland, to Lochalsh, the Bealach an Ba (pass of the cattle) and Torridon. on our way to Gairloch.