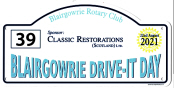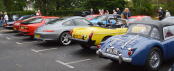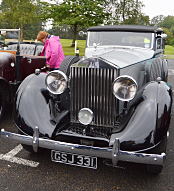 Regal Rolls Royce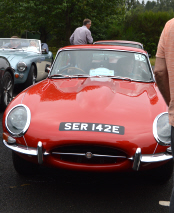 Nick & Mary White
1967 FHC E-Type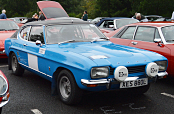 Ray & Liz Rollo
1972 Ford Capri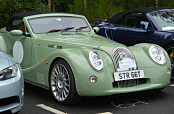 Matt & Lynne Street
2017 Morgan Aero 8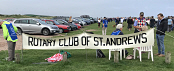 Rotary help at St. Andrews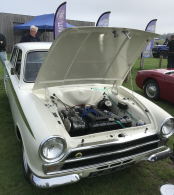 Cortina cooldown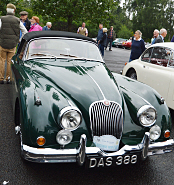 Morris Leslie 1958 XK150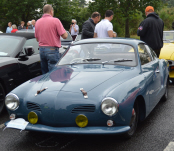 Cameron/Stewart
1965 Karman Ghia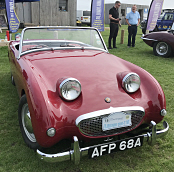 Peters/Wallace
1961'Frogeye' Sprite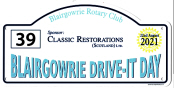 Blairgowrie Classic Car Tour:Drive it Day - Sunday 22 August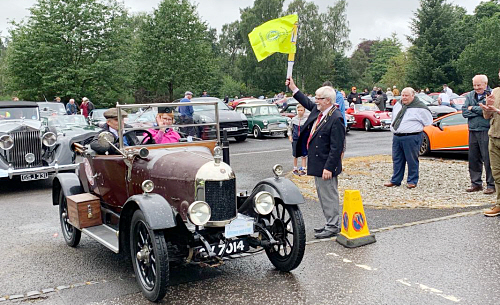 Ian and Sarah Milford in their 1922 'Bullnose' Morris Oxford flagged off by Provost of Perth and Kinross, Dennis Melloy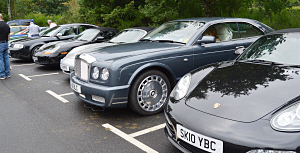 Around 80 classic and supercars assembled at Blairgowrie Golf Club for the 2021 'Drive it Day, delayed by pandemic from April. Leading us away was the oldest entrant, car that is, the 1922 Morris Oxford of Ian and Sarah Millford. The odd shower had greeted us on arrival at the Blairgowrie Golf Club start, but cleared to allow the convertibles to get their soft tops down.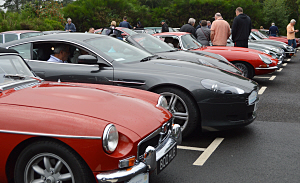 From Blairgowrie we headed back to Perth, passing the famous Meikleour Beech Hedge, as we did on the recent Red Hackle Tour event. The hedge is the longest hedge in Britain and the highest of its kind in the world. Planted in 1745 and is one third of a mile long (530 m) and 100 ft (30 m) high. It is thought the men who planted it were called to fight in the Jacobite Rebellion and none of them returned alive. In tribute the trees were allowed to grow and the hedge acts as a living landmark to them.

Quite a battle through Perth these days, what with roadworks and 20mph congestion causing grid lock meant up to 20minutes for some crews to get through the city.


Once clear it was open road to Bridge of Earn, before swinging east to Newburgh on the southern bank of the River Tay. Some stopped for fuel, other visited the Lindores Abbey Distillery next door. Ed Bit early for a swift dram, but maybe later?

Some fine views along this little known of the beaten track road, passing 14th century Ballinbreich Castle, though it is narrow, can be a bit twisty, with blind summits to keep crews awake. We have used this road on CCHMSC events, so know what to look out for. We passed Kilmany, birthplace of Jim Clark on our way to Wormit, swinging south easterly to reach St. Andres our picnic lunch stop.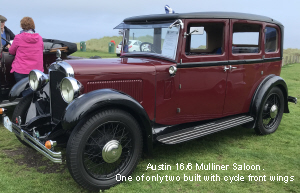 St. Andrews is usually extremely busy, but thanks to the local Rotary clubs, who had taped off an area for us to park on we were ok, otherwise it would have been parking on the beach. Ed Not good for the bodywork, all that salt!

Departing from St. Andrews was our first challenge. all that holiday traffic in town made it easy to wrong slot. We retraced our route to escape the town then headed for Cupar on the country lanes. Maintaining a westerly direction we reached Milnathort and Kinross. At Rumbling Bridge it was time to turn north, through Glendevon and passing Gleneagles hotel. Time for afternoon tea anyone?

Refreshed, continuing north we reached Crieff, using the backroads where possible. Into the 'Sma Glen', and over the wonderful road to Amulree to Aberfeldy. We were now on the home run, turning due east to Logierait to join the A9 north for the final 5 mile sprint to our destination at Pitlochry, well it should have been but the traffic was something else....



Arriving at the Atholl Palace Hotel in Pitlochry we were greeted by fellow crews and their cars. A great finishers meal was welcome and the raffle and auction raised the final £27000 total for the headline charities, Bowel Cancer UK, and Alzheimer Scotland.

This would be the 4th and last time Blairgowrie will run the event, passing the baton on to another Rotary team next year.

Well done to Rotary club member Colin Stewart and his wife Anne, the "driving force" behind the events, and their team of Rotarians, without whom this event would not be possible.

We look forward to whoever picks up the baton, continuing this annual magnificent tour of all cars classic and sporting.


Published 30 August 2021
Webmaster