Red Hackle - 15 August 2021

Story Jim Paterson. Pictures Jim Paterson & Jan Adam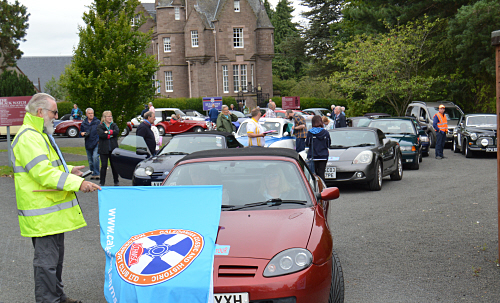 Starters double queue as Niven/Wilson crew lead the way in MGF


A dry start beckoned well for the 40 starters to the first post Covid club event of 2021.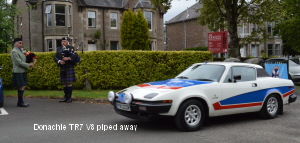 Each starter was piped away by our two pipers Lawrence and Alan, putting a spring into all our steps. Soon the clouds cleared to provide a sunfilled 140 mile drive across many little known roads across the counties of Perth and Kinross, and Angus.

Outstanding views and tight traffic clear roads abounded as we could see the River Tay to the south and the Grampian mountains to the north.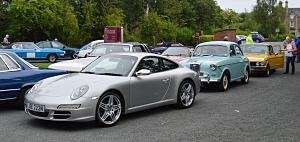 With a lunch stop to catch up with fellow classic car crews and even a stopover for an ice cream, before crossing a ford on the homeward leg proved a real winner.

Starting and finishing at the Black Watch museum at Balhousie Castle in Perth proved yet again a great venue for this event.

Leading us away was Tom Niven and Karen Wilson in the 2005 MGF. Tom had fitted new brakes since the last outing so this would be a real test for the car and crew.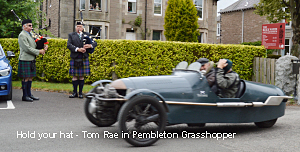 The route had a late change to get us out of Perth, due to ongoing roadworks at Bridged Bridge across the Tay. This turned out to enable a quick getaway toward Kinfauns where we headed up into the Sidlaw Hills experiencing outstanding views of the River Tay as it swept from Perth to Dundee. Careful passing Kilspindie Kirk with parishioners making their way home down the hill after Sunday service.Soon we were looking north with views to the Grampian mountains towering through the mist, heralding the Scottish highlands.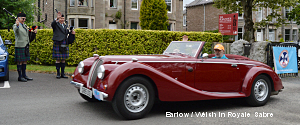 Over narrow twisting roads we pressed on north east to Kirriemuir, birthplace of JM Barrie, creator of Peter Pan. A quick refuel for those low on petrol, before turning north to Cortachy and Glen Prosen to see the Scott Memorial. Erected in 2012 it commemorates Captain Robert Falcon Scott (Scott of the Antarctic) and his chief scientist, surgeon and artist Edward Wilson; who both died on the ill-fated south polar expedition. Wilson was based for some years at Glen Prosen and regularly visited here by Scott; training and planning for the expedition were carried out here.

We had been warned to lookout for young partidge and pheasant running over the roads in Glen Prosen. They are fed and grown for the later shooting season on the estate moors. Lunch stop at Peel Farm close to the River Isla.

Water Splash at the ford



Wilkie 2CV Dolly




Howie '54 MGTF 'Marj' takes a bath


Sheridan MGB Roadster



Donachie TR7V8




Ferguson Triumph Dolomite Sprint




McGibbon Lancia Fulvia Coupe


Taylor Saab V4



Roger & Smith Mercedes




Begg Ford Racing Puma




Pollock Mazda MX5




Massie Wolsley 1.5




McGarrie Toyota MR2

Refreshed we headed north west alongside the river to Brewlands Bridge crossing the river turning back south to Bridge of Craigisla, and west through Blairgowrie, passing the famous Meikleour Beech Hedge, the longest hedge in Britain and the highest of its kind in the world. Planted in 1745 and is one third of a mile long (530 m) and 100 ft (30 m) high. It is thought the men who planted it were called to fight in the Jacobite Rebellion and none of them returned alive. In tribute the trees were allowed to grow and the hedge acts as a living landmark to them.

We drove under the A9 Inverness Perth road heading west to Little Glenshee where we treated to a splash, crossing a Ford over a burn feeding into the River Tay. Onward to Chapelhill, turning off to cross the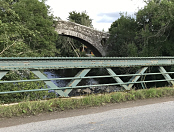 River almond at Millhaugh. The iron bridge is made from girders recovered from the Tay Rail Bridge Disaster in December 1879. We drove carefully over, not wishing a repeat collapse!. The previous bridge is in the background

Back to Balhousie Castle in Perth for our high tea and banter. The first classic outing for the club since the Covid pandemic had been a great success, under a sunlit sky, crossing magnificent roads in Perth and Kinross and Angus. A big thanks to organisers Ron and Jan Adam, George and Jean Shand, assisted by Duncan Massie for putting together this superb tour.



The Red Hackle will return to its May date in 2022, Sunday May 8 to be precise. Get the date in your diary now. New route, new places, same fun. See you then if not before.