CCHMSC
eNewsletter
September 21 issue
out Now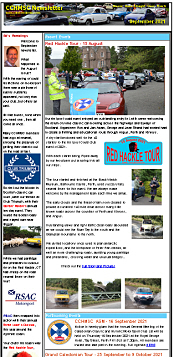 Features

Cóte de Tay - 31 October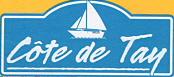 Event run by our friends at Ecosse Rally Drivers club.
This event is open to all motorsport and car enthusiasts and will take the form of a daytime Tour, starting late morning and finishing around 4pm.
The route will circumnavigate the River Tay, starting and finishin at Broxden Services, Perth, taking in rally routes of the early 1960's.
Sunday Worship
2 January 2022
(Includes New Year Road Run)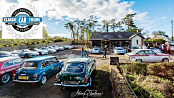 Bill Telford opener for the new year
Entrants to this new event will be set off on a 60 mile scenic loop through the Loch Lomond & Trossachs National Park which will then return them to the start location where hot food and refreshments will be served.ear
Full details plus information on how to enter your car can be found via this link:-
Classic Events
This column will publicise other classic car events around Scotland. If you would like your event featured here then email details to
events@caledonianmsc.com
See also the NESCRO website
Grand Caledonian Tour - 25 September to 9 October Sets Off



Stuart 1975 Alpine and Owler 1971 model take centre stage


THe crews have completed the inaugural Grand Caledonian Tour, the club's first 'round Scotland tour. Despite the fuel shortage 'panic buying', the crews arrived ready to start their 15 day tour of Scotland visiting the all 4 points of the compass.

The sun broke through and the temperature rose as the crews gathered at Dobbies Eskbank for the start of the Grand Caledonian Tour on Saturday 25 September. It is a thrill to see the famous Renault Alpine A110 at any event, but we were treated to not one but two members fronting up the departures, Andy Owler in his yellow 1971 model, and John Stuart in his red 1975 version.



| | |
| --- | --- |
| | Clark Quattro and Bartniczek Alfa line up to depart |
| Crews gathering | Crews gathering |
| Richard Spalding in Healey 3000 | Campbell Bristol 412 |

The tour visited Highland, Lowland, mountains, glens, coasts and islands. Fabulous scenery, and fantastic roads.


CCHMSC AGM - 16 September 2021
The Annual General Meeting of the Caledonian Classic and Historic Motor Sport Club Ltd took place on Thursday 16 September 2021 at the Royal George Hotel, Perth. The reports of activities over the past year were presented. Despite the pandemic the club had created a number of 'virtual' events which were well supported by members entries. The financial report and accounts were also accepted, and the election of Club Directors agreed. A discussion over the 2022 events calendar concluded the meeting. Latest Board of Club Directors Full Agenda HERE
HCC Crofterra gets of to a great start - Saturday 11 September



A wave from first car away


Some 60 plus classic, and sporting cars got safely away from Fairways at Inverness on their two day tour of the Scottish highlands.

Blairgowrie Classic Car Tour:Drive it Day - Sunday 22 August
Around 80 classic and supercars assembled at Blairgowrie Golf Club for the 2021 'Drive it Day, delayed by pandemic from April. We headed south into Fife, along the south side of the Tay, making our way to the picnic lunch stop in St. Andrews. From there it was west through Fife to Kinross, Crieff, north to Aberfeldy to our finish at the Atholl Palace hotel in Pitlochry. A great meal was followed by a raffle and auction. The event raised £27000 for the headline charities, Bowel Cancer UK, and Alzheimer Scotland.

Red Hackle Tour - Sunday 15 August 2021 Full Story


A dry start beckoned well for the 40 starters to the first post Covid club event of 2021.

With each starter being Piped away by our two pipers put a spring into all our steps.

Soon the clouds cleared to provide a sunfilled 140 mile drive across many little known roads across the counties of Perth and Kinross, and Angus.

Outstanding views and tight traffic clear roads abounded as we could see the River Tay to the south and the Grampian mountains to the north.

With a lunch stop to catch up with fellow classic car crews and even a stopover for an ice cream, before crossing a ford on the homeward leg proved a real winner.

Starting and finishing at the Black Watch museum at Balhousie Castle in Perth proved yet again a great venue for this event.






RSAC Three Lochs Classic - Sunday 8 August

Twenty starters started from the Morris Equestrian Centre at Fenwick for this years event. The sunny start soon turned into thundery showers as the crews headed north west. Despite this unwelcome deluge the crews progressed into calmer weather to enjoy a drive round this amazing part of Scotland. Full story and pictures
Revolution: Extending your season - October Issue


Enjoy all this and the latest news from the motorsport community in this month's edition.
https://revolution.motorsportuk.org/

Welcome to the CCHMSC website. The club runs rallies and tours for historic and sporting cars of all types. You don't need to have a Classic or historic car to join the club. We have plenty of drivers looking for navigators, and marshals are always in demand. [more].

Easy to join the club, download an application form and send it off [Member Application]


All material published on this website ©Copyright Caledonian Classic and Historic Motor Sport Club Ltd. No unauthorised copy without permission, Contact

Webmaster


Updated 13 October 2021