CCHMSC
eNewsletter
July 21 issue
out Now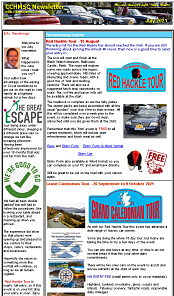 Red Hackle Tour 15 August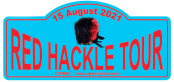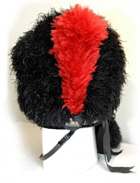 Your club is pleased to announce the Regs and Entry for what will be our first tour of the year, the Red Hackle Tour..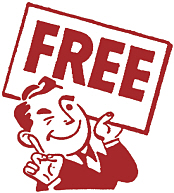 As we reported in last month's newsletter, to celebrate this 'first' event all current members will receive a FREE entry, which will include the finish meal as well.


Entry Form also in Word format so you can complete on your PC and email back directly.
Grand Caledonian Tour - 26 September to 9 October 2021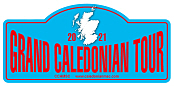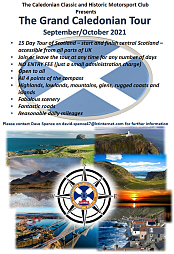 The Grand Caledonian Tour is a 15 day tour of Scotland visiting the all 4 points of the compass. Join or leave the tour at anytime, so ideal for those on a time constraint.
NO ENTRY FEE
(small admin only to cover materials)
Features

Tyres For Sale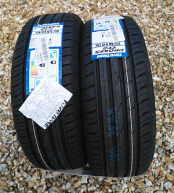 6 New 175/60 R13 Tyres

Six 175/60 R13 Toyo Proxes CF2 tyres. Bought new June 2020 but only one ever trial fitted to a wheel. £140 Will not split.
John Stuart 07808 924859



Crofterra Pandemonia
11 & 12 September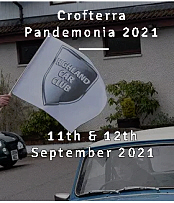 Regs and Entries open for the 2021 Crofterra 11 & 12 Sept
Sunday Worship – 12 Sept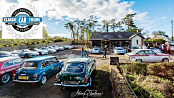 Bill Telford is taking a break from his Sunday worship events to focus on his
His next "Sunday Worship" breakfast meeting takes place on 12th September at The But & Ben, Main Street, Croftamie G63 0EU.
Full details plus information on how to enter your car can be found via this link:-
Classic Events
This column will publicise other classic car events around Scotland. If you would like your event featured here then email details to
events@caledonianmsc.com
See also the NESCRO website
Red Hackle Tour - Sunday 15 August Entries welcome
Entries List almost full for our first tour of the year, the Red Hackle Tour. Click on the Latest Entry Link below to see who and what will be taking part .

If you are wanting a place in this years first event, better hurry now before we have to pull the shutters down

The tour will start and finish at the Black Watch Museum, Balhousie Castle, Perth. The route will explore some new roads across the region, covering approximately 140 miles of interesting and scenic roads, with a good mix of fast and twisting sections. There will also be a suggested lunch stop opportunity on route. Tea, coffee and bacon rolls will be available at the start.

To celebrate this 'first' event all current members will receive a FREE entry, which will include start refreshments and finish meal as well.


Entry Form also in Word format so you can complete on your PC and email back directly.


Grand Caledonian Tour - 26 September to 9 October 2021



The Grand Caledonian Tour is a 15 day tour of Scotland visiting the all 4 points of the compass. Join or leave the tour at anytime, so ideal for those on a time constraint.

NO ENTRY FEE (small admin only to cover materials)

Highland, Lowland, mountains, glens, coasts and islands. Fabulous scenery, fantasric roads, reasonable daily mileages.





RSAC Three Lochs Classic -
Sunday 8 August

This event, which draws crews driving a wide selection of classic, veteran, and vintage vehicles from across the country starts and finishes at the Morris Equestrian Centre, Fenwick, Kilmarnock. Full details published closer to the time


Drive it Day - Sunday 22 August

Up to 100 classic cars will assemble at Blairgowrie Golf Club before a spectacular drive along quiet East of Scotland roads with glorious scenery. The route will take you through Fife to St Andrews with a lunch stop at Craigsanquhar Hotel, Logie. Then through Kinross, Glendevon, the Sma'Glen and Aberfeldy finishing at Pitlochry's Atholl Palace Hotel for high tea, auction, raffle and prize giving


More Summer stunners For Sale NOW
1977 MG Midget 1500 with unique engine conversion


BMW 1100 K-series motorbike engine. Professionally engineered and installed by respected engine transplant specialist Clark Dawson.
Uprated suspension – lowered - with telescopic dampers fitted and 5J Minilite lookalike wheels.
Solid shell, recently resprayed and new mohair hood fitted.
New carpets and removable leather rimmed steering wheel.
Excellent performance, good handling, exceptional economy.

1978 Triumph TR7 Sprint

Specification

16 v. sprint engine.
Fast road cam
Electric fan.
Poly bush suspension.
Adjustable shocks.
Ventilated front disc brakes.
Quaife limited slip differential.
Electric power steering.
Rear roll cage.
Full harness seat belts.
Two sets of original alloys.
Road tyres and snow tyres.
Power flo exhaust system.
New front wings and sills 3 years ago.

1959 Sunbeam Rapier Rally Car
£6950.

MOT'd until 16/12/2021 No Advisories.


Member Joe Norman has this outstanding, well prepared example of a Rally Rapier for sale
Specification: Just a taster


Tuned 1900 cc Holbay Engine, twin 40 webbers, Aldon Competition Distributor, twin
ignition coils, 5.1.ratio Roots Limited Slip Differential, Electric power assisted steering, control adjustable from dash, twin electric fuel pumps, centrally boot mounted 12 gallon fuel tank.

Dundee Museum of Transport Presentation 27 May 2021



Museum manager Alexander Goodger receives cheque from Jim Paterson



Your club CCHMSC along with a small number of club members, presented a cheque for £1000 to the Dundee Museum of Transport on Thursday 27 May 2021. This donation will pay for the provision of brown tourist signs pointing to the museum from various places around Dundee city.

Organiser Ron Adam and club chairman Jim Paterson met with the team at the museum in Market Street for the presentation. A special cheque for the occasion was handed over to museum manager Alexander Goodger. Full story and pictures
Revolution: Geting the show back on the Road - July Issue


Enjoy all this and the latest news from the motorsport community in this month's edition.

https://revolution.motorsportuk.org/

Welcome to the CCHMSC website. The club runs rallies and tours for historic and sporting cars of all types. You don't need to have a Classic or historic car to join the club. We have plenty of drivers looking for navigators, and marshals are always in demand. [more].

Easy to join the club, download an application form and send it off [Member Application]


All material published on this website ©Copyright Caledonian Classic and Historic Motor Sport Club Ltd. No unauthorised copy without permission, Contact

Webmaster


Updated 26 July 2021