CCHMSC
eNewsletter
January 20 issue
out NOW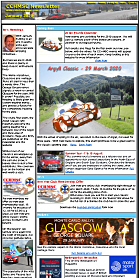 Argyll Classic - 29 March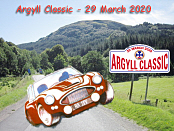 Start your classic motoring with a great 'spring' drive around the traffic free roads of Argyll and Bute.
Checkout the
Regs
and
Entry

Features

RSAC Spring Run - 19 April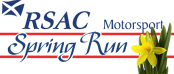 The RSAC team again extend a warm welcome to all drivers and passengers, and look forward to meeting old friends and newcomers alike.
For this year's route they have devised a different format taking you East and South to include a visit to Jim Smith's Heritage Centre in Cumnock.Our thanks are due to everyone at the Morris Equestrian Centre for their continued support.

Drive it Day - 19 April 2020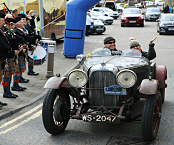 The Rotary Club of Blairgowrie is preparing its fourth Drive-it-Day and the date is Sunday 19th April 2020, a week after Easter.

Up to 100 classic cars will assemble at Blairgowrie Golf Club before a spectacular drive along quiet East of Scotland roads with glorious scenery. The route will take you through Fife to St Andrews with a lunch stop at Craigsanquhar Hotel, Logie . Then through Kinross, Glendevon, the Sma'Glen and Aberfeldy finishing in Pitlochry's Atholl Palace Hotel for high tea, auction, raffle and prize giving.
Download
Full Detail Flier

2020 Entries may be submitted NOW .Entry Form

Inverness & Loch Ness
Rotary Car Tour - 6 June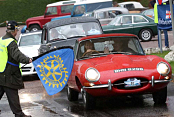 Inverness & Loch Ness Rotary Club's Classic Car Tour takes place on June 6th raising funds for Prostate Scotland.
Starting and finishing in Inverness.150 miles through spectacular Highland scenery, in and around Loch Ness,
Classic Events
This column will publicise other classic car events around Scotland. If you would like your event featured here then email details to
events@caledonianmsc.com
See also the NESCRO website



With the arrival of spring in the air, we return to the roads of Argyll, not seen for three years. With new roads to explore, this event promises to be a great start to the classic sporting year.

Regs Entry Form Entry List

CCHMSC AGM - 26 March
Notice is hereby given that the Annual General Meeting of the Caledonian Classic and Historic Motor Sport Club Ltd will be held on Thursday 26th March 2020 at the Royal George Hotel, Tay Street, Perth PH1 5LD at 7.30pm. All current club members are invited to attend. Full Details and Agenda
Summer Tour - 7 to 10 August
This summer tour is intended as a relaxed tour and an opportunity to visit several attractions in the North-East of England and South East Scotland. Checkout the itinerary and if you are are interested in joining the crews, then contact organiser Dave Spence for more information Full Details
2020 Memberships now Available
If you want to join the club now your membership will cover you through to end March 2021. Get 15 months for the price of 12. Only £5 to join, and access the full calendar of events. download the Membership Application form now.

HCC Crofterra Pandemonia - 5 & 6 Sept
Important pre-event announcement

For 2020 the organisers have devised a novel event to offer you a "challenge", in fact 2 "challenges". The challenge is to visit the eastern and western extremities of Scotland in the same weekend. There will be a choice of two route options, a Little challenge and a Big challenge Full Details

Race Retro- Stoneleigh Park, Coventry; 21-23 February 2020.


The show each year brings together the biggest turnout of racing drivers, preparers, traders and enthusiasts. Covering every discipline including formula and circuit racing, rallying, hill climbs, touring cars, single marque series, motorcycling, sports and GT cars, Visit to discover an unrivaled showcase of iconic motors covering decades of history. www.raceretro.com



Motorsport UK Revolution
The on line Motorsport UK magazine Revolution looks back at 2019 in this review issue. A year of British sporting success on the race track and important structural change away from it.

Linking to this and all past issues



Welcome to the CCHMSC website. The club runs rallies and tours for historic and sporting cars of all types. You don't need to have a Classic or historic car to join the club. We have plenty of drivers looking for navigators, and marshals are always in demand. [more].

Easy to join the club, download an application form and send it off [Member Application]


All material published on this website ©Copyright Caledonian Classic and Historic Motor Sport Club Ltd.
No unauthorised copy without permission, Contact Webmaster

Updated 20 February 2020
Webmaster