CCHMSC
Monthly eNewsletter
May 2013
out Now



Sign up now for your eCopy

Follow us on Twitter
Be first to hear about the updates @caledonianmsc

International Autoecosse
Bealach Na Ba - 1 & 2 June

The International Autoecosse is a two day tour around Scotland with some optional competitive elements. A further option is to join the Targa Bealach Na Ba, an overnight event with four regularity sections over great roads in the north of Scotland. Regs and entry forms for both these events available now.
Those entering the Internatioal Autoecosse get a reduced entry rate to the Bealach Na Ba, so why not make it a complete motoring weekend.
Autoecosse Regs Entry
Bealach Regs Entry
Marshals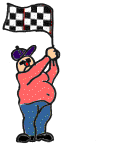 Would you be able to help marshal the Bealach Na Ba on the Saturday night 1st June / Sunday morning 2nd June? If you are available and willing to help then please contact Dave Spence
If you prefer daytime marshalling then help at the Rest and be Thankful on the Sunday afternoon 2nd June for the International Autoecosse would be appreciated. Contact Jim Paterson
Features
The Great Glen Rally (of the tests) - 21st July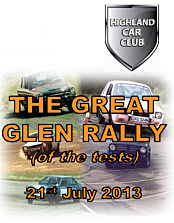 Organised by our colleagues at Highland Car Club. 100 mile route
Superb scenery, Start in Fort William – finish Inverness, No competition licence needed, at least 12 competitive special tests on varying surfaces, Classes for historics and moderns. Regs out soon.
For more details contact:
Dave Spence – email
david.spence47@btinternet.com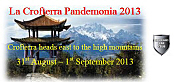 Crofterra heads east to the high mountains.

Well – maybe not this far east – BUT – in a big break from tradition Highland Car Club's annual tour for classic, sports, GT and kit cars will be heading for the fantastic driving roads of the north – east of Scotland. [more]
Reports Pictures & Videos


Click on the News link to see reports of all past club events, complete with pictures and in many cases videos as well.
Classic Events
This column will publicise other classic car events around Scotland. If you would like your event featured here then email details to
events@caledonianmsc.com
See also the NESCRO website




International Autoecosse - 1 and 2 June
Targa Bealach Na Ba
Time to get your entry in quickly. Closing date for both these events is 26th May. Autoecosse offers a great tour of Scotland, while the Bealach Na Ba takes you on a night rally with simple regularities. Make a weekend of it and do both, and take advantage of reduced entry fee. More information and link to Regs below




International Autoecosse - 1 and 2 June
This annual favourite, co-promoted with Club Triumph, starts in Dumfries at the WW2 Heathhall aerodrome, thanks to our colleagues in South of Scotland Car Club (www.soscc.co.uk). As a starters treat they have also arranged a couple of tests on the old runway that they have exclusive use of. They assure me that they will make sure any incoming Spitfires, Hurricanes or Lancasters, will be diverted while we are on the runway! With everyone fully warmed up and we will drive north to the overnight in Fort William. For those wanting more excitement, there is the option to join the Targa Bealach Na Ba, see below, at a reduced entry fee. For help with overnight accommodation around Fort William you can search www.visitscotland.com or call them on

0845 859 1006



We continue back to Perth on the Sunday and plan a visit to the resurfaced Rest and be Thankful hillclimb, so you too can experience a spirited drive without breaking your axles in potholes. Download Regs now and post your entry in soon.
Regs Entry
Targa Bealach Na Ba - 1 and 2 June
The Targa Bealach Na Ba Night regularity rally on Saturday / Sunday 1st and 2nd June will take you over some of Scotland's most challenging mountain roads. A Choice of start points at Aberdeen, Inverness, Stirling, and Fort William, is open to cars of all ages complying with the MSA Road Rally Regulations, including those which cannot comply with the MSA Historic Vehicle Regulations due either to age or non-period modifications.

The overnight event departs from each of the start points at 2130hrs on 1st June to gather together at Fort William for the main start at 0200hrs, 2nd June. The route of some 200 miles will include 4 regularities before finishing at Drumnadrochit for breakfast and presentations. Regs Entry Form


Monte Historique Winner does it again
Last time we saw Craig Lowndes with a big smile was driving the Glasgow Start 1951 Holden 48-215(FX) to win the oldest car to finish trophy at the Monte Carlo Historique rallly back in February. Well he smiles again in a Holden, this time a full throttle V8 version to notch up his 91st race win. The 38 year old Lowndes scored an emphatic win over four-time champion Jamie Whincup to become the most successful driver in the history of Australian V8 Supercars. You just can't keep a great driver down. [more]
Run to Inversnaid - 28 April
A great turnout for the Alan Duncan run to Inversnaid for the Kirkintilloch and District Classic Car Club maiden outing on Sunday 28th. Starting from the Stables just north of Kirkintilloch the crews made for Aberfoyle where yet more classic owners were waiting to join. The route headed up the B829 to reach Loch Katrine for a coffee break. Single road due west toward Loch Lomond followed, passing Loch Arklet on the way. A few showers but the sun did appear, making a great first outing for the new Kirkintilloch club. You can see a selection of the cars here. The website forum here
Drive It Day - Highland Style - 21 April
Some of the club members resident in the Highlands were unable to join the Strathendrick run, however CCHMSC members Dave Spence, Roddie Main together with Donald and Margaret Campbell joined up with the Highland Classic Motor Club on their run round Loch Ness. Read all about their day out here
Argyll Classic Run - 7 April
A full entry of 50 classic and sporting cars started the Argyll Classic Run at Lomond Shores on Sunday 7 April. The 130 mile route took the crews over the newly resurfaced Rest and be Thankful hillclimb, the first classic event to drive the old hillclimb since the work was completed. For full story and pictures click here
May 2013 Edition

We are pleased to send you MSA News, May 2013.
Among the contents this month you will find:

• Wales Rally GB gets new home in North Wales
• Go Motorsport Live! all set for Silverstone debut
• New social media campaign to thank volunteers in motor sport
• Chilton and Team UK train with Chelsea FC Academy
• National Motorsport Week events list
• MSA Championships update
• Try: marshalling

To read the newsletter online, please click here.
For a print-friendly PDF version that you can ave to your computer, please click here.
.



Strathendrick Drive It Day - Sunday 21 April
The forecast was wet, and so it was for the start of the Strathendrick Charity tour. However it did not dampen the spirits of the 80 starters who were rewarded with some blue sky as the day proceeded on the run over to Knockhill. The 120 mile route started at the Beech Tree Inn, Dumgoyne, by Killearn, over the Campsies, across to Fife with lunch at Kinnairds Restaurant, Knockhill and returning through Perthshire and finishing back at Culcreuch Castle, Fintry for High Tea and Awards. Checkout Alan Duncan's photo album of the day here

New Car Club for Kirkintilloch
Alan Duncan who was on the recent Argyll Run and took many of the photos of the event, to add to some 12000 he has put on line over the years, is working on setting up a new classic club in his home town of Kirkintilloch.

He 'tested the waters' with a meeting recently, in the pub of course, and was bowled over by the reponse, with over 100 turning out to hear his proposals. The area has many classic owners and enthusiasts but no local club, so he should be of to a good start. We will follow his progress with interest, see Run to Inversnaid on Sunday 28th May. More info on his web here

For full details of both these events click HERE
Hillman Avenger Tiger replica for sale
This is a solid reliable car that will provide hours of fun for its new owner. It is a Mark 1 Avenger, first registered 11/03/1970, and ASOC (the Avenger Sunbeam Owners Club) has confirmed that this car is the 3rd oldest surviving Avenger, so it does have some history to it. It is of course tax exempt. [more]
Navigator Available
Driver wants to try a switch to the left hand seat. 40-something years experience of rallying. Good mechanical knowledge.
Based in Perth, so very central for events.

Contact:Bob Shearer, bob@rshearer.co.uk, 077634-63439
Classic Rally Cars For Sale
If you are looking for something a little bit different and with a successful rallying provenance then checkout the cars from James Ingleby. After a lifetime of competing in international rallies he has built up a 'shed load' of cars, as he puts it. Ideal for the up and coming Dutch Safari Rally in South Africa, Namibia and Botswana. Equally at home for the Clubs Trans Italia [more]

Welcome to the CC&HMSC website. Based in Dundee the club runs rallies and tours for historic and sporting cars of all types. You don't need to have a Classic or historic car to join the club. We have plenty of drivers looking for navigators, and marshals are always in demand. [more].

Easy to join the club, download an application form and send it off [Member Application]
Updated 16 May 2013
Webmaster