Classic Autosports BBQ - Sunday 27 August


Change of date for David Barnett of Classic Autosports BBQ. The event is always popular with Classic Car owners and enthusiasts, at his Inverkeilor workshops, where we have the opportunity to visit the fascinating world of Classic Car restoration, and see some of the cars being restored and rebuilt. Starts 12 noon until late.
Features

Classic Car Run - 3 Sep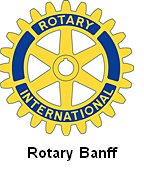 The Rotary-Club of Banff "Classic Car Experience" charity fundraising event on 3rd September 2017.
The aim of the event is to give attenders the opportunity to experience the style of the past as a passenger in a Classic car of their choice. The drive will be between The Salmon Bothy and Duff-House, Banff return.
At each end there will be an opportunity to view a range of Classic cars and take refreshments.
For our Car event we would ask your support by entering your car and promise to come along and offer passengers a ride in your car.
All guests are covered by the Rotary-Event-Liability.
Saltire Trophy - 2/3 Sep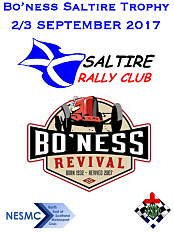 Open to any road legal car of any age and a gentle introduction to Historic or Targa rallying for anyone.
Ideal for those attending the Bo'ness Revival that weekend.
A simple road run from a ceremonial town centre start in Bo'ness via a lunch halt at Dunblane Hydro to the finish at Balmaha. There are two Jogularity sections, along with various route checks, and four short simple Autotests on the way.
Tulip Road Book navigation.
On the Sunday there will be a Regularity run up the Hillclimb course.
Classic Events
This column will publicise other classic car events around Scotland. If you would like your event featured here then email details to
events@caledonianmsc.com

See also the NESCRO website
RSAC Three Lochs Classic - 20 August





Balmaha, on the shores of Loch Lomond, welcomed 60 starters for the 2017 Three Lochs Classic on Sunday 20th August. The inbound hurricane Gert was thankfully delayed over the Atlantic making it a dry if at times cool run across the roads of the Trossachs. With a shorter 'wee' run of 58 miles for the veteran class, and 75 miles for the rest, this year featured two lochs and a lake. The Automotive University of Rhu once again provided degrees for those entering the light hearted 'examinations', and a Concours d'Elegance completed the day.

Full Story

1968 Volvo Amazon 123 GT
For reluctant sale, my 1968 Volvo Amazon 123 GT. Professionally restored in 2009 and maintained with a full mechanical and body rebuild (photos available).

The car was prepared from the outset to compete in endurance events such as LEJOG, in which it competed in five successive years from 2009 – 2013. Mileage reads 88k and the car is MOT'd until February 2018. Full Details
Grass Gymkhana - 6 August. Rumbling Bridge Kinross

With a collection of cars spanning almost a 100 years, members of the club met in a grass field at Rumbling Bridge near Kinross. Member George Shand had put together a series of fun Gymkhana activities to test our driving and navigational skills. From judging a gap to drive through, climbing a twisting hill track, to driving a complex course blindfold, and more. There was fun under the sun for everyone. Full Story

HCC Crofterra Pandemonia - 9 & 10 Sept
60 Entries now registered for this popular event.
Your club supports this ever popular event from Highland Car Club in the classic calendar. Two day touring event for Classic, Historic, Sports & GT cars.
2017 will start and overnight at Moness Resort in Aberfeldy, making it even easier for those from the south to join in, whilst not being too far for the local HCC crews. Finish will be at the traditional Fairways at Inverness on the Sunday evening. Open to all classic and sporting cars Regs Entry Form
More at www.highlandcarclub.co.uk
MSA Extra - August 2017 Edition
The latest edition of the MSA Newsletter with all the latest news and features from the MSA.

Read the newsletter online, click here.
For a print-friendly PDF version that you can save to your computer, please click here
Classic and Sporting Cars sell on CCHMSC for sale page
Placing your classic on the CCHMSC website may find the one customer you are searching for. The past few weeks have seen no less than three great cars head to new owners for the summer season.

You could sell yours too. No fee, just send a few photos of the car, outside and inside and a description. Always good to mention any upgrades you have completed. O, and the price you are looking for would be handy too For Sale forsale@caledonianmsc.com

The MSA are pleased to bring you regulation changes decided at the Motor Sports Council that affect the MSA Yearbook. To read the decisions, please click here.

You can now sign up for email alerts when new consultations are uploaded to the MSA website. To sign up, please click here.
Spitfire IV 1500 Factory Hardtop
The perfect all weather addition for your Mk IV Spitfire. In exemplary condition, complete with all fixings and rare hoodbag which covers the hood when the hardtop fitted. Full Details
Marshal Training Survey - Rupert Hines
Over the past two years the Scottish Association of Car Clubs has been organising marshals' training events in partnership with a number of motor clubs across Scotland.

As we start planning for 2018 we are really keen to hear from you to help us deliver the training you want to help you enjoy your involvement in motorsport.

So, whether you have attended lots of training, or none at all, I am asking you to take 5 minutes of your time to tell us what does, and doesn't work for you. This survey, kindly run for us by Scottish Motor Sports, is short, and completely anonymous, and its conclusions will help us shape marshals' training in Scotland for the future.



VSMA Autumn Run update
The 2017 VSMA Autumn Run will be based and cover approximately 60 / 80 miles of roads across Ayrshire on Sunday 8th October 2017. Regs and Entry [more]

Future Classic for sale 1995 Honda Legend
1995 Honda Legend Coupe 3.2 V6 auto, Midnight Blue with black leather interior, cruise, elec' sun roof, windows, mirrors & seats. I believe there are less than thirty of these fantastic tourers left in the whole country. Full Details

Welcome to the CCHMSC website. The club runs rallies and tours for historic and sporting cars of all types. You don't need to have a Classic or historic car to join the club. We have plenty of drivers looking for navigators, and marshals are always in demand. [more].

Easy to join the club, download an application form and send it off [Member Application]


Updated 23 August 2017
Webmaster