Argyll Classic - 26 March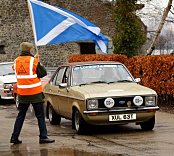 Heralding the first week of spring, we head for the roads of Argyll, returning to the roots of this event. With new roads to explore, and a drive up the Rest and be Thankful, this event promises to be a great start to the classic sporting year.
Features
Inverness Classic Vehicle Show 13 May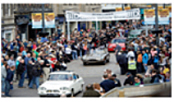 Inverness invite you to take part in the ninth Inverness Classic Vehicle Show being held in Inverness City Centre on Saturday 13th May.
As in the past the event is FREE with entrants being allocated a space to locate their vehicle at city centre venues:
Full Details
Kirkintilloch Canal Festival 20 August


Date confirmed.
Alan Duncan
looking For all classic cars and bikes up to 1984. Location for cars is Cowgate. Plus American cars to go at Auld Kirk end as they have an Elvis exhibition on at that time. All welcome as ever.
Email Alan
Classic Events
This column will publicise other classic car events around Scotland. If you would like your event featured here then email details to
events@caledonianmsc.com

See also the NESCRO website
Argyll Classic - 26 March

Weather Report - High Pressure 13 degrees Saturday, 14 degrees Sunday. Time for the soft tops to come down. Could we get blue skies too. Join us to find out.
Over 30 entries registered and more promised for this years event, in cars covering 8 decades. This years Argyll Classic will see cars of all shapes and sizes. From the 1938 Hotchkiss, 1955 Triumph TR2, and Sunbeam Mk3 of the same year, 1959 Jaguar Mk9, 1960 Morris Mini, 1963 AC Cobra, 1965 MG Midget, 1968 Riley Elf, to a 1978 Triumph Dolomite Sprint. Then there is a 1974 Escort RS2000, a 1989 works Skoda 136, and Peugeot 205 Rallye from the same year, leading us into the 1990's and 2000's sporting cars.

Don't worry if you missed the closing date above. The Club welcomes all classic and sporting car enthusiasts, at anytime. Simply contact organiser jim.paterson@btinternet.com to let him know your coming along to join this opportunity to greet the first weekend of spring with a drive over the great roads of Argyll, including a chance to test yourself on the Rest and be Thankful hillclimb in Glen Croe.

Make sure your classic, or sporting car is tuned up and ready for the season opener from CCHMSC. Raising funds for CHAS.
Remember clocks go forward 1 hour so be careful you don't miss the start!


CCHMSC AGM - 30 March
Notice is hereby given that the Annual General Meeting of the Caledonian Classic and Historic Motor Sport Club Ltd will be held on Thursday 30th March 2017 at the Royal George Hotel, Tay Street, Perth at 7.30pm. All current club members are invited to attend. Full Details
Tour of the Stills - 15 April Regs now available
This years One Day Tour - 'The Tour of the Stills' will take in over 165 miles of A, B and unclassified Roads. Following the Whisky country of Nairnshire and Strathspey, Visiting Scenic locations of some of the most famous distilleries in Scotland.

The Event will start and finish at Fairways Leisure where a meal will be provided at the finish for entrants.
The tour is open to any pre-1980 classic cars and any sporting car of any age.

BMW Z3M Ready for the Summer season
Stunning BMW Z3M for sale, fully prepared and serviced, ready for the 2017 classic car season. This 1998 model comes complete with hardtop and many upgrades. Could this be the one your looking for? Full Details
Berwick Classic - 29 & 30 April


Regs now published

The event will again start late on Saturday afternoon and feature some fairly straightforward regularities and one test. Our Sunday restart is back in Berwick on the Quayside and the route has a good mixture of tests, some of which are new, and regularities which are primarily off road and again visit some new territory.

Regardless of whether you have a classic Mini Cooper S, a Lotus Elan or a Smart Car join Berwick & District Motor Club members for our relaxed and friendly event which consists of a mixture of regularities and tests.

Full Details & Regs

Hebridean Adventure - 5 July
Still a couple of places available on Alan Duncan's one week tour of the Outer Hebrides, travelling over the traffic free roads of Lewis and Harris, soaking in the stunning scenery on Scotland's Western Isles. Full Details
SACC Marshals Training
SACC have been fortunate in securing a substantial amount of grant aid from the British Motor Sports Training Trust to support their programme which is designed to support the training of new marshals, and the development of existing ones, across all disciplines. Full Details
Flying Scotsman 31 March Call for Marshals
The Flying Scotsman Rally is a 3 day event for Vintage cars, all pre 1941, which starts from Slaley Hall on Friday 31st March, stops overnight at Dalmahoy Hotel, travels up to Aviemore for Saturday night and finishes at Gleneagles mid Sunday afternoon. If you can help at the tests checkout
Flying Scotsman Marshals

Welcome to the CCHMSC website. The club runs rallies and tours for historic and sporting cars of all types. You don't need to have a Classic or historic car to join the club. We have plenty of drivers looking for navigators, and marshals are always in demand. [more].

Easy to join the club, download an application form and send it off [Member Application]


Updated 23 March 2017
Webmaster