Rally of the Borders
2 October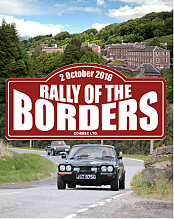 The second running of Rally of the Borders on Sunday 2nd October starts at the New Lanark World Heritage Village, and cover some 140 miles over scenic and interesting roads across the Scottish borders to finish around the Blyth Bridge area.
Only £10 entry and email entries accepted
Regs
Entry Form
Entry List
Features
Cumbrian Canter - 15 Oct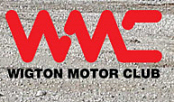 Wigton Motor Club tour Saturday 15 October. 90-100 miles, taking in the hidden gems of Cumbria. Starts at the Lakeside Inn, Brayton Park, Wigton, Aspatria.
12 Car Navigational Rally
22nd October


Saltire Rally Club – 12 Car Navigational Rally will be starting and finishing in Denny on 22nd October 2016.
Classes for Novices and Experts the event is suitable for anyone. Those junior members attempting a navigational rally for the first time will be given extra assistance. Follow link to download from dropbox
Early winter Rally
22 October


Save the date: Border Ecosse Car Club will be Hosting the Annual Early Winter 12 Car Navigational Rally on the 22nd of October 2016.
The event starting in Duns will consist of a 65 mile route. The Regs & entry form will be available soon, for further information contact Garry Pearson @ garry@pearsonsofduns.com.
Ayrshire Autumn Run23 October

The Veterans of Scottish Motorsport Association Autumn Run, called The Ayrshire Bash, on Sunday 23rd October 2016. Starts Gemmell's Garden Centre (Stair) and finish at Ballochmyle Golf Club, a route of 50 to 70 miles.
Regs Entry
Classic Events
This column will publicise other classic car events around Scotland. If you would like your event featured here then email details to
events@caledonianmsc.com

See also the NESCRO website

Rally of the Borders - 2 October


Still time to get your entry in via email


The second running of Rally of the Borders on Sunday 2nd October will see a completely new route over the border country of Scotland. The pace of the event is ideal for those wishing to try a motor sport event for the first time. Starting at the New Lanark World Heritage Village, the tour will cover some 140 miles over scenic and interesting roads across the Scottish borders to finish around the Blyth Bridge area for a buffet tea and presentations. Only £10 entry and email entries accepted Regs Entry Form Entry List
Crofterra Pandemonia - 3 & 4 September

Amazing weekend for the Highland Car Club Crofterra, covering some 450 miles across the great roads of northern Scotland. Starting at Fairways Inverness the route headed north west over many single track roads under brilliant sunshine, offering spectacular views. Reaching Durness, within shouting distance of Cape Wrath, the most north westerly point of the UK we hugged the rugged west coast down to Ullapool to overnight. Sunday had yet more in store. Full Story and pictures
Old School Rallying



A CCHMSC EventPromoted by Nescro

Caledonian 200 - 19/20 Nov Regs out Now
The Caledonian 200 is a full feature Road Rally with the emphasis on high degrees of concentration and teamwork between driver and navigator, ability to keep to a strict time schedule, navigating, driving skill and physical stamina.

The rally will start at midnight on the night of Saturday 19th November and finish at 0700 on the morning of Sunday 20th November. There will be no rest halts. The competitive element will consist of standard road sections timed to the minute and standard road sections timed to the second. There will be a strict timing schedule throughout. Regs Entry Form Details



Kirkintilloch Canal Festival - 21 August
Alan Duncan headed over to see the Festival. Starting on the Saturday with bands and entertainment, the roads were closed off on the Sunday from 10am to allow the Classic, Vintage, and Americana (Yanks as Alan puts it), to drive in for the classic lineup. The Kennedy Cupcake and the Jump and Jive Dancers were there too.

Caithness to Cote D'Azur - David Whyte
'Caithness to the Côte D'Azur - When the Monte Carlo Rally Started from John O'Groats' - is a development of the chapter which David contributed to Douglas Anderson's book, Depart D'Ecosse.

It is an often overlooked fact that the first British winner of the Monte Carlo Rally in 1926 started from Caithness.

Soft back format (17cm x 26cm, with 134 pages, limited to 300 copies).

The book is only available from www.srbooks.com cover price £9.99 plus £2.01p post & packing.
Three Lochs Classic - 6 August

Great day on the Three Lochs Classic, at the new Balmaha venue on the side of Loch Lomond. Over 30 cars, some dating from 1911, enjoyed up to 60 mile trip round the Trossachs. Weather stayed bright and sunny until all got back for prizes, so soft tops down all the way. Full Story
Classics For Sale


More new classics on the club For Sale page for you to choose from and head out on the road this summer. New is a spectacular 1962 Ford Consul Capri. Not only are these cars rare, but this one has something special under the bonnet. Perhaps a Triumph TR6, or Herald?

Check them out



Jock's Run - 23 October
East Ayrshire Car Club, in association with Monklands Sporting Car Club. Classic car run from Forrestburn Hillclimb to Kames Motorsport Complex. At Forrestburn there will be an opportunity to compete in a Production Car Autotest, with a 'run up' the famous hillclimb, and an optional Production Car Autotest at Kames.


Welcome to the CCHMSC website. The club runs rallies and tours for historic and sporting cars of all types. You don't need to have a Classic or historic car to join the club. We have plenty of drivers looking for navigators, and marshals are always in demand. [more].

Easy to join the club, download an application form and send it off [Member Application]

Updated 22 September 2016
Webmaster