CCHMSC
eNewsletter
November 2018
out soon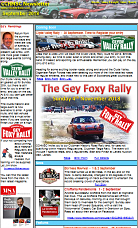 Sign up now for your eCopy
High Tea - Sunday 2 Dec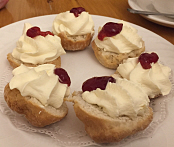 The annual club end of season high tea will once again be held at the Royal George Hotel in Perth, beside the River Tay.
Entries coming in, so secure your place for our end of year get together.
jim.paterson@btinternet.com
Features
For Sale - Classic & Sporting


Checkout the
For Sale
page for a selection of classic and modern cars ready to enjoy. Plus lots of parts and accessories for that important rebuild your undergoing.
Ford Capri Mk1 - 5 litre V8 "Perana" re-creation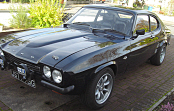 Price reduced on this 'must see' classic.
Perana

4 Minilite style alloy Wheels

Spruce up your classic with these minilite style wheels
4 x 15" minilite style alloy wheels.
5.5 inch (Volvo Amazon, etc)
Very good condition.
Classic Events
This column will publicise other classic car events around Scotland. If you would like your event featured here then email details to
events@caledonianmsc.com
See also the NESCRO website
High Tea - Sunday 2 December
Entries open and arriving for the annual club end of season high tea,l once again at the Royal George Hotel in Perth, beside the River Tay.

If you would like to join the crews for a meal and chat with your fellow club members then please drop Jim Paterson an email jim.paterson@btinternet.com with your details. A menu will then be sent out for you to choose from. We gather from 3pm onwards.
Classic Vehicle Private Viewing - 18 November
The club visit to the classic car viewing at Perth Airport, arranged by the Rotary Club of Blairgowrie attracted over 200 members from CCHMSC and other car clubs across Scotland.
Over 200 classic cars, many

with provenance were on display. Included in the visit was a visit to the

Aero Club with 90 aircraft, many historic on display, some flying when we visited. Finally we saw the Air Service Training hangar, where they teach students from across the world how to repair aircraft engines, both piston and jet turbines. Full Story Full Details
CLOSED-ROAD MOTORSPORT IN SCOTLAND
The MSA issued a news release on Tuesday 6, following a meeting last week. The news is positive and, while I understand that everyone is impatient to see the Jim Clark and Mull rallies running again as soon as possible, we should understand that this process is moving forward, hopefully towards the result we want to achieve.
We will keep you informed as much as possible but in the meantime, here is th elatest news release.
Peter Weall. Chairman SAMSC
130 GIRLS GET ON TRACK SILVERSTONE
The MSA and Dare to be Different (D2BD) got 130 girls behind the wheel at Silverstone yesterday (28 October) as part of the FIA's Girls on Track, an international initiative aiming to promote and develop young women in motorsport.

The girls, aged 13 to 18, had registered online for the free opportunity, with all available places filling up in just three days after a surge of interest. Full Story

Monte Historique Clydebank Start - 30 January
IIt's confirmed - the UK start for the 2019 event will be CLYDEBANK.
The world-famous event will see dozens of classic vehicles flagged off from Aurora Avenue in the town. The cars will set off through the streets of Clydebank on Wednesday, 30 January, as they begin their 1,500 mile dash to Monaco, in the South of France.
It is the second time the town has hosted the prestigious race, with over 14,000 people turning out to watch the event when it started in Clydebank in 2012. Full details and Regs
MSA Extra - October 2018 Edition
The latest edition of the MSA Newsletter with all the latest news and features from the MSA.



Read the newsletter online, or download pdf copy

Welcome to the CCHMSC website. The club runs rallies and tours for historic and sporting cars of all types. You don't need to have a Classic or historic car to join the club. We have plenty of drivers looking for navigators, and marshals are always in demand. [more].

Easy to join the club, download an application form and send it off [Member Application]


Updated 20 November 2018
Webmaster