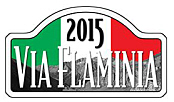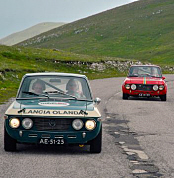 Climbing into the Alps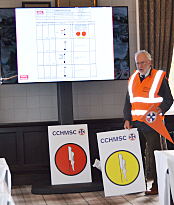 Maurice knows italian competition signs well, as here when he trained the Jaguar Mille Miglia crews in Scotland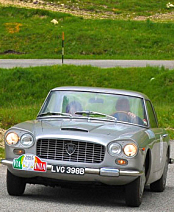 Lancia on the climb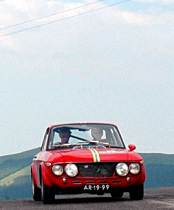 Lancia over the summit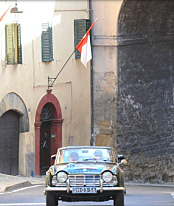 Triumph through streets of San Remo


From Mille Miglia to Via Flaminia 23 ot 30 May
Story - Maurice Millar. Photos Maurice Millar, David Mitchell, Jim Paterson

Maurice joins Nan Beers in Triumph Dolomite 1850 HL



Having struggled to get to Amsterdam in December 2009 for the first of the winter solstice '100 Miles of Amsterdam' rallies, this overnight vintage-only event was postponed at the last minute due to hard-frozen snow and ice. However, I kept in touch with the organiser and, last October, he contacted me to ask if I would like to navigate on one of the 2015 Via Flaminia rally/tours: he had a driver looking for a navigator.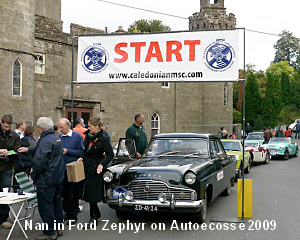 At the time, there were no other foreign trips in the offing, so I agreed. When I received a photo of the driver and his car, I immediately recognised him from the Dutch 'Tour Ecosse' rallies in Scotland in 2008 and 2009. I sent him back a photo of me under the CCHMSC START banner taken at the Swallow Hotel in Dundee in September 2008. I was the Start timekeeper and he was sitting in his, then, black Ford Zephyr Mk2, waiting for his due time.

Subsequently, the Zephyr made way for a Volvo Amazon and now the current car for rallies is a Triumph Dolomite 1850 (1973). It has been restored to standard spec. The only rally preparation is a Brantz tripmeter; a pair of wind-up stopwatches; and a couple of spotlights.

The Via Flaminia Classic event started on Saturday 23 May from a vineyard near Alessandria, about 90km SW of Milano, which just happened to have a private collection of Lancia race and rally cars, all in Martini racing livery.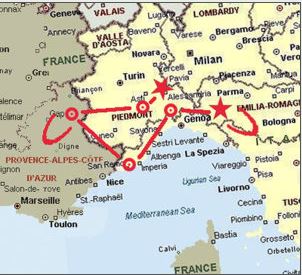 The entry list of 26 cars includes various Alfas; a couple of Lancia Fulvias; two matching Mercedes-Benz 280L; a fully rally prepared Ford Mustang; two MGBs; and a replica Ferrari 500 Mondial. Most of these cars and crews came from Holland, as the event is organised by a Dutch organiser: one of four events he is arranging for 2015.

The format is similar to the Tulip Rally, with small-scale, out-of-date maps provided. The route is defined by points and arrows on the road-book maps. It is for the navigator to join these locations by the shortest route. Via Flaminia events do not use codeboards. Each morning, each crew is issued with an A4-page of matchbox-size photographs of road-signs. Each photograph has a piece of information blanked out. To prove that you have gone the correct route, you must (a) find these signs, and (b) write down the missing information. There are 30 penalties for each wrong sign. Some of these 'codeboards' are false and collecting the missing information confirms that you took the wrong route!

The rally route headed west via Barolo to Cuneo and into France to the alpine village of Jausiers. The next days' routes visited various high cols, including Col de la Bonette: the highest road route in Europe, continuing to San Remo via Rallye Monte Carlo territory, such as Col de Turini.

From San Remo, the route returned east through Liguria to Aqua Terme and on to the finish near Parma.

After six and a half days, the Via Flaminia Classic 2015 is now over. Many hundreds of kilometres and hundreds of hairpins have been driven. The Dolomite has given no trouble at all. What did I learn? (a) that spotting specific roadsigns and navigating is very difficult (especially based on poor maps); (b) these events could be fun, but for six days, sharing a car and accommodation, you need to be with a good friend, if you are to enjoy the experience.


Full details of the via Flaminia can be found at



Updated 1 June 2015
Webmaster