Three Lochs Classic – 20 August.




Story Jim Paterson, Photos Andy Thomlinson



I joined the RSAC Three Lochs Classic which returned to The Royal Northern and Clyde Yacht Club, in Rhu, with Keith Butler and Andrew Pemberton, to form the
Concours d'Elegance judges.



65 cars filled the forecourt of the club house building

, setting off on either the 'Big' route of some 90 miles or the 'Wee' route to suit Veteran,Vintage and Classic Cars of around 53 miles. The returning crews enjoyed afternoon tea and prizegiving at the Yacht Club club house.

The cars soon started to arrive and I lent a hand to the marshals, which were led by Richard Welch, with Keith, Andrew and myself, assisting. Taking the number one spot was the 1912 Alldays and Onions of Rachel Dover, with Michelle Calder on the roadbook. Some years since the car has been out on this event but it looked well presented and ready for the route, something that would be in the crews favour come the concours later on.


| | |
| --- | --- |
| 1912 Alldays and Onions | |
Alex McDougall has quite a few vintage cars, choosing the 1926 Humber 15/40, complete with novel radiator mascot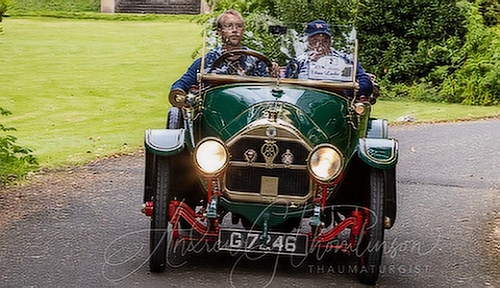 The Meek family came in force with Fergus and Gordon arriving in the 1913 Darracq TT13. Always a delight to see this car, once again impeccably presented. Russell and Katie arrived in a splendid 1974 MG Midget, dressed for the part too. As my son drives a 1970 Austin Healey Sprite I had to admire the work on the Midget, the two cars being 'twins' in the day. At the other end of the scale, in terms of sheer size, was Roderick and Alison in their 1980 Rolls Royce Corniche, so you could say a 'small, medium and large' trio.

Bill & Graham McCreath were in their 1934 Alvis Speed 20, before a leap forward to 1995 with the Mercedes SL320 of Robert Gilchrist. Branislav Sudjic has a wealth of fascinating vintage cars, planning on bringing his 1921 Vauxhall 30/98, but it refused to start, so a quick change into his 1930's Hotchkiss convertible was a good choice, letting the sun and wind blow in with the top down. We missed co-driver Geza Walker so Branislav drove unaided. Donald and Leslie Shedden in a 1953 Riley RMF were followed by the first 'Big Healey', a 100 of Kevin Begen, before another 'Big Healey', this time a 1961 3000 of Robert Oliver. A rare 1954 Swallow Doretti (only 276 were built) owned and driven by Richard Larter, joined the fun too.

| | |
| --- | --- |
| Richard Larter 1954 Swallow Doretti | Gordon Glen 1955 RR Silver Dawn |
Back in the Luxury class again, this time a 1955 Rolls Royce Silver Dawn of Gordon and Isobel Glen, one of several in their stable. The car and crew were fresh from the CCHMSC Tour of Fife and the Ochils back in July. The car is immaculate and has won many concours at RR events, and would again later today.

At the other end of the 'size' scale Chris and Mary Paton took off in their Morris Mini 1275. The twin Weber carbs help a bit though, and always a delight to see the crew and car on events. The 1951 Singer Roadster of Ronnie Johnston and Kathryn Kelly is a regular at this event. Alex Wilson and Michael Hughes in a 1953 Sunbeam Alpine Roadster, the same as used by Cary Grant and Grace Kelly in the 1953 film 'To Catch a Thief' being chased down the road to Monaco.



Jaguar, Jaguar, everywhere Jaguars



Jaguar were a popular choice, starting with Joe and Wilma McColl in a bright red 1960 Jaguar XK150, and a 1965 Mk2 crewed by Gordon and Isobel Calder. Jaguar E type next with Alan Forbes and Brian Ewing in the sport seats, with Linsey Giles and Dan Wright in a 1972 S3 model. Colin Carroll was driving his 1995 XJS, Paul and Seren Donovan opted for a 1995 Jaguar XKR model, as did Bill and Ethel Ross in a 2004 XKR, with John Stevens and Jack clayton appearing in the 2005 XKR model. The 2014 XK Dynamic R was crewed by Ian and Alison Whitehead, with Ronnie and Marjorie Russell sporting another 2014 model. The latest F Type, now to be the last ICE sports car from Jaguar, this one a 2015 R version was crewed by Steven and Rebecca Maining.

Donald Laing brought his Cooper S, with Richard and Carol Stevens in an unusual Frod Cortina Mk1 Estate. Not many of these survive and this one was lovingly prepared.

There had to be an MGB, and this was our first one, a 1967 MGB/GT of Francis and Lorna Kinloch. Chasing them was an MGB Roadster of Michael Shedden and Anna Robertson, and Ronnie Sandeman with Paul Hammond in his 1976 MGB/GT, with Allan Methven in his 1974 MGB, plus David Whitham and Ross Ward in a 1973 Roadster. Time for another MG Midget, this time Tony and Ruairadh Fleming, once again fresh from Tour of Fife and the Ochils. Flora Leckie and Catherine Cours drove the evergreen Morris Minor 1000, this one in white from 1970. Who said 'Call the Midwife'?

Donald Amour brought his 1970 Lancia Fulvia, with Craig McGibbon and Owen Ferry following in their 1972 Coupé model. Unusual to see JBA Falcon. These were built by a group of ex British Leyland engineers, the name came from the first letter of the surnames of the three partners who founded the firm, Kenneth Glyn Jones, John Barlow and David George Ashley.This 2+2 one appeared in 1972, using Ford Sierra running gear, crewed by Clive Brown and John Donaldson.

George and Elizabeth Ferguson arrived in their pristine 1978 Triumph dolomite Sprint, seen on many club events. Another Mercedes, this time a 280SL was driven by Jamie McGarry. Chasing him was a rarely seen 1984 Rover SD1, a favourite at the time with Traffic Police, this one crewed by David McBlain and Morgan Nimmo. Colin Bruce in his bright yellow 1991 Lotus Elan S3 with William Miller on the notes was seen recently on the tour of Fife and Ochils.

The first Porsche, a 1986 944T with Tom Bicket and Martin Steel, was joined by Kevin and Maggie Nimmo in their 2001 Boxster.

Alan Meek brought a very tidy 2013 Fiat Abarth 595c Competizione, but the big Aston Martins were out in force. Local man Colin Moore had a well kept 2008 Aston Martin Vantage Roadster, and Rory and Chrystal Mackinlay a 2012 Aston Martin Rapide.

If BMW is your favourite then what about a bright red 2005 Z4 crewed by Craig ritchie and Lisa Houston, Rod & Svetlana Ritchie in their 2013 BMW, or a 2005 330i driven by Ruari Gillespie. If MSport versions make your eyes light up then you would like the 2014 BMW 420D MSPORT of Colin and Timothy Starrs.

Audi were represented by Charlie Young and Eddie Hawkes in their 2016 TT, another regular at club events, joining our other regulars Reuben and Hope Phillips in a 2004 TT madel.

Cars that everyone remembers from the sixties ans seventies included the 1961 Austin A40 Farina of Willie and Vera Cameron, and a trusty 1970 Austin 1300 of Eddie and Christine Kilgour. not many of either of these models, most having succumbed to the relentless tin worm, long since turned to rust.



ROUTE



We lined the cars up at the front of the Clubhouse, allowing Andy Thomlinson to photograph them approaching the start flag at the bottom of the drive. See his photos here https://www.flickr.com/photos/agt1953/albums/72177720310629967

The long route headed north out of Rhu, alonside the Gareloch toward Faslane, and Garelochhead, before turning south on the western side of the loch. Passing Roseneath after 10 miles driving we could see the Rhu Yacht Club across the Gareloch. Reaching the bottom of the peninsula at Kilcreggan, the ferryport to Gourock, the road turned north up the east side of Loch Long, passing Cove and Peaton to reach the Royal Naval Armaments Depot (RNAD) at Coulport. As this is the Trident nuclear warhead storage and loading facility any violent backfire from the older cars or a breakdown could have serious consequences. You will attract attention, but not the help you may need, heavily armed sailors and not a spanner in sight, is not what you would want! A quiet zone marked on the roadbook perhaps? Ensuring we take the correct exit on the roundabout we head toward Arrochar keeping well away from the RNAD.

At the Whistlefield Roundabout, north of Garelochhead we join the A814 northbound alonside the east bank of Loch Long, admiring the views toward Arrochar. Here we join the A83 to Campbletown, passing the Rest and be Thankful before switching to the A815 to Dunoon, along the east side of Loch Fyne. A left hander onto the Lochgoilhead road takes us back across the hills to reach the Rest and be Thankful viewpoint from the west side. Here John's burger van has plenty tea, coffee and bacon rolls to refuel the weary traveller.

We leave heading back down the way we came to Arrochar and the road on the east side of Loch Long signed Helensburgh. We turn left to cross over to Loch Lomond on the glen douglas or Tulloch Road. We pass Glen Douglas Munitions Depot, reported to be the largest weapons storage base in Western Europe operated by NATO. Remember RNAD Coulport? Well keep quiet again here!

Onto the A83 south alongside Loch Lomond until we turn west into

Glen Fruin

on the A817 Haul road. The name comes from the upgrade to the original temporary private road on land leased from Luss Estates to facilitate construction of the Trident facility at RNAD Coulport, avoiding heavy vehicles using narrow roads on the Rosneath Peninsula.

Andy Thomlinson was there to photograph cars heading down toward Faslane, so you will see the Gareloch in the background of many of his shots.

The short route started the same route as the long, missing out the Roseneath peninsula loop, going straight to Arrochar and the Rest and be Thanksful. There they returned to Arrochar, missing the Hells Glen section, staying on the A83 to Tarbet and south down the west side of Loch Lomond, joining up with the long route cars as they joined the A83 from Glen Douglas, and crossing Glen Fruin with them.

A straight run down the east side of the Gareloch back to Rhu for refreshments, Concours judging and prizegiving completed a great day.

Andy again caught the prizewinners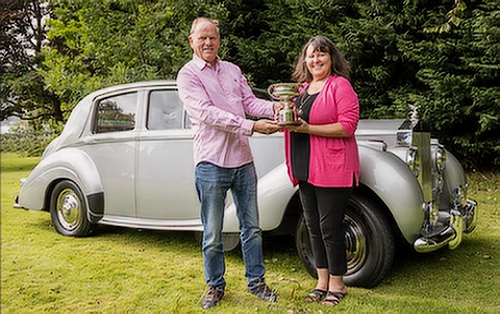 Glen 1955 Rolls Royce wins Albion Cup; 1st overall in Concours d'Elegance




A few extra shots for those who liked Andy's pictures


Our next event

Rally of the Borders on 24 September

explores roads not covered on our previous skirmishes, visiting new places of interest, some historically important too. Put the date in your diary,

Regs out NOW