Red Hackle Tour - 14 May 2023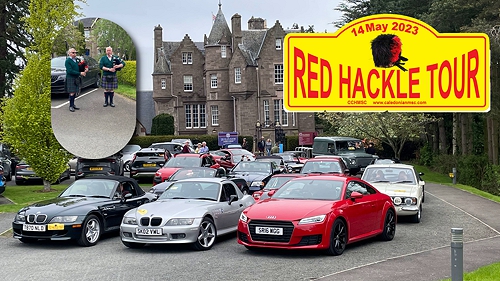 The weather forecast was not good, but our start remained dry and the storms did not appear. Our thirty plus crews found sunshine and a few light showers on the 120 mile route from the Black Watch museum in Perth across the regiments home country. Bridges formed a large part of our tour, crossing the River Tay, and others many times as we climbed into the Grampians and beyond.
Our proposed route clashed with the Etape cycle event starting in Pitlochry. To avoid the potential meeting of hundreds of cyclist in front of us we designed a detour that avoided any incidents. This proved successful as we only met the odd straggler that appeared off their route.
We welcomed a few new starters, joining the event for the first time, and some new crew members, stepping into the co-drivers seat to overcome last minute hiccups.
Gathering with a group from Singapore AA visiting museum



McCluskie Jaguar XK




Clark / Brown Jaguar F Type




Niven Wilson MGF




Campbell Bristol 412 'Fridge'




Howie Clan Crusader




Louise Wall / Maureen Spence
Audi TT convertible
Our friends from Inverness, Don and Mags Campbell in their Bristol 412, known as the 'fridge' due to shape and white colour. This 1978 model was one of only 98 built between 1975 and 1993. Richard and Yvonne Bartniczek, also from Inverness usually arrive in their 1989 Alfa Romeo Spider, but the tlc work was not quite finished so they brought their day car today. Roddie Main in his 1995 Mercedes SL soft top changed co-driver to neighbour Dave Fraser for this event.
Another change of co-driver was Jennifer Cobb teaming up with father Stuart in his 2004 Toyota MR2, and Scott Lauder stepping into father David Lauder's new 2000 MGF which really looked well presented. Complementing team MGF, were Tom and Marianne Dromgoole in their 2001 model, Mary and Dave Stewart , Tom Niven and Karen Wilson both in 2005 models. This model goes from strength to strength with MG announcing a full electric version, the Cyberster for 2024.
Other MG included the 1970 Midget of Tony and Ruairidh Fleming, and the magnificent 1974 MGB Roadster of Stuart Sheridan and Alasdair Dunn. Recent work included repair to bonnet and front end, following a roof light bar falling off the shelf in the garage, straight across the MGB bonnet! Ouch that must have hurt, both Stuart's feelings and wallet!
The 1954 MGTF of Anne Howitt and Kathleen Thomson developed a fuel leak on a previous event, so the pair arrived in the day car. Graeme and Beth Cargill changed from their 1992 Honda NSX to a 2008 Landrover Defender, as they had to bring their gun dogs with them. Not any old Defender, this one had royal provenance, being used on the Braemar estate and driven by the late queen, and our new king on occasions.
BMW Z3's are very popular, welcoming Pat and David Robertson in their 2000 model, Gordon Spence and Mark Bennett in a 1998 vintage, and Brian McGarrie and Emma Paterson in their 2002 car. Emma took co-driver seat in memory of her mum Sheila Anderson, who never missed this event, but lost her battle with cancer earlier in the year.
| | |
| --- | --- |
| Tom Rae / Justin Kennedy Lotus 7 | Paton SLK |
| Mary & David Stewart 2005 MGTF | Dromgoole 2001 MGF |
| Pat & David Robertson Z3 | Joe & Hazel Norman Audi R8 |
We missed David Barlow in his 1997 Royale Sabre who pulled at last minute due to ill health. We hope we see him and co-driver Richard Welsh on a future tour.
Other tops down included Chris and Mary Paton in their 2000 Mercedes SLK, John and Lillah Houghton in their 1974 Triumph TR6 and Louise Wall and Maureen Spence in Louise's latest buy, a 2007 Audi TT convertible. Louise also sported a red beret and Red Hackle feather cockade, complete with matching red gloves. Nothing like getting into the spirit of an event!
We must not overlook Tom Rae in his 1961 Lotus 7. With Justin Kennedy, another Lotus 7 addict hanging on to the roadbook. Not so much soft top as no top at all. On the road Tom can make the little car move, being very adapt at tight cornering.
Jaguar were represented by Brian and Jean McCluskie in a 2012 XK, with Derek Clark and Iain Brown in a stunning 2021 F Type, which signals the end of an era. Seventy-five years of petrol-powered Jaguar sports car manufacturing drawing to a close. Production of the F-Type will end in 2023, as Jaguar says goodbye to petrol-engined sports cars, ahead of a push towards an all-electric line-up.
While we are talking prestige sports cars Joe and Hazel Norman arrived in their recently acquired new Audi R8, the marques own supercar. Joe as well as a Jaguar and Porsche fan also has a soft spot for Audi Quattro's too. Charlie Young and Eddie Hawke moved from their familiar Mazda MX5 into the comfort of an 2016 Audi TT fixed head coupé, making for a smoother but still fun drive.
When you think of ford Lotus Cortina most think of the Mk1 and Jim Clark careering round corners on three wheels. Ken Crombie with Hugh Macpherson arrived in a 1970 Mk2 version, which were built from 1966 -1970. These are not so common but are just as good fun.
Kevin and Ann Bax brought their Smart Roadster Coupé along, one we have seen a few times before. The Bond Equipe of George Petrie with Janet Jones could not be missed . This is another scarce car, based on a Triumph Herald underpinnings and the Spitfire engine, with only 4389 built between 1963 and 1970.
Craig McGibbon brought his trusty 1972 Lancia Fulvia Coupe with Karsten Brown navigating. Another crew and car we have been lucky to see several times on club events. Colvin and Pamela Howie managed to squeeze into their 1973 Clan Crusader, which was never that spacious inside. Based on the Hillman Imp running gear and 875cc engine, designed by ex Lotus engineers, and built between 1971 and 74, with only 315 built so getting very rare these days.
Duncan Massie rode ahead as opening car, with Bill Begg in his tidy VW Scirocco, making sure the road ahead of us was clear.
Our route headed north east out of Perth toward Coupar Angus, turning north west to Dunkeld, north then west to Aberfeldy, making that detour to miss the cyclists, reaching our lunch stop at Kenmore, at the head of loch Tay. Lots to see here before climbing up the steep road and into Glen Quaich, passing loch Freuchie, where we saw a canoeist pumping up his craft with a stirrup pump. May still be there yet!
Splish Splash - time for a bath
McGarrie / Paterson make a splash

Tom Rae / Justin Kennedy
Little Glenshee

Sheridan / Dunn MGB

Cobb's go for a bath




Main / Fraser Mercedes SL




Niven / Wilson MGF


Fleming crew rewarded with splash

Howie Clan hope no leaks!
Tony and Ruairidh Fleming in their MG Midget succeeded their ford crossing after reversing over the edge. A big crunch but no damage done, though they did pickup a puncture later but nursed it home to the end at Perth.
Stop for ice creams and refreshments at Stewart Towers
Reaching Amulree we made our way round to Little Glenshee for the water splash at the ford. The new road surfacing on Friday with its stone chippings was not so bad as we feared. We were now heading east toward Bankfoot for the final foray that brought us back to the Black Watch museum in Perth for a hearty meal and awards.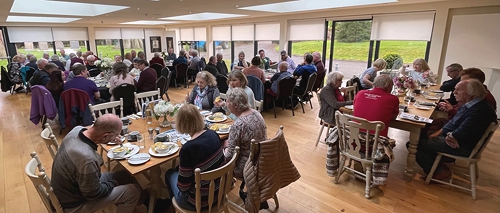 A great time was had by all in cars of all ages, classic, modern and sports. Many stop points gave an opportunity to catch up with fellow entrants and take a refreshment or two.
Lookout for our next event visiting other parts of our great country.