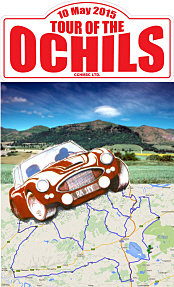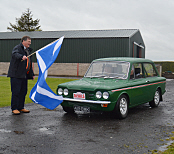 MacKinven Imp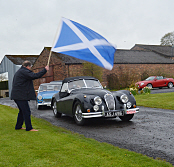 Nick Green XK140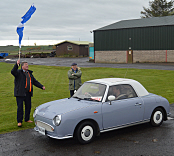 Buchan Figaro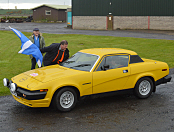 Massie TR7


Anderson Morgan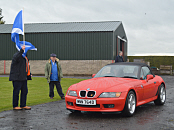 Morris BMW Z3
Gleneagles restart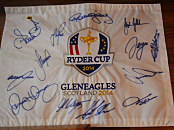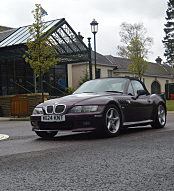 Ron Adam BMW Z3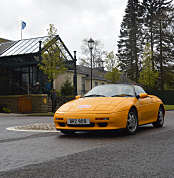 Colin Bruce Lotus Elan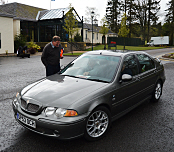 George Shand chats to
Lindsay Smith in MG ZS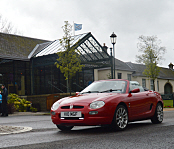 Dromgoole MGF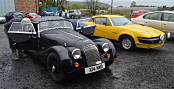 Massie TR7

Tour of the Ochils 10 May 2015


Lineup at Loch Leven



The Tour of the Ochils attracted 13 starters with Nick Green and Kenny Crawford arriving on spec in Nick's fantastic Jaguar XK140. The drive to the start had begun under a bright sky but Scotlandwell was under grey skies and the rain started to tumble down. As the old adage goes, in Scotland wait 5 minutes and the weather will change. By time the starters were signed on and refueled with bacon butties and coffee the rain had stopped and a bright sky in the distance gave the soft top cars hope that top down motoring might be a possibility.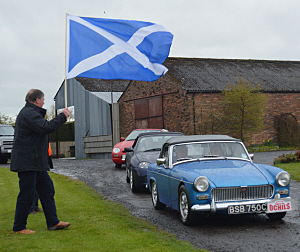 Organiser George Shand flagged off the starters who provided a variety of classic cars, from MG with Jock Millar and Linda Telford in the little blue Midget, Dave and Scott Lauder, Tom and Marianne Dromgoole bringing their MG F's. Lindsay Smith and Anne Johnston would have been in their MGF but a quick change to the MG ZS was made at the last moment. Two BMW Z3's, one in red crewed by Graham and Jane Bachelor, the other, in aubergine, crewed by Ron and Jan Adam were joined by Morgan 4/4 with Phil and Sally Anderson. They will be heading to another event in Dornoch next weekend. These Morgan drivers do like to get around. Duncan Massie and Jenny McKay were in the bright yellow Triumph TR7, fitted with Dolomite Sprint engine and uprated suspension. Tom Dromgoole had a test drive after the event and was seriously impressed. This from a dyed in the wool MG man is praise indeed.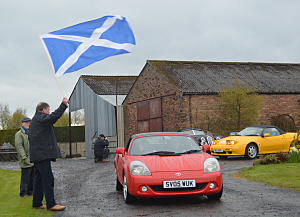 David Ross brought his Toyota MR2 from Aberdeen with George Kennedy by his side. Colin Bruce in the Lotus Elan S3, again in bright yellow, from Prestwick joined up with Gordon Reid. Brendan MacKinven and Alex Lawrie arrived in a Hillman Imp, but fitting neatly into a Nissan Figaro were James Buchan and Steven King from Fraserburgh. I couldn't help notice James Buchan's reg plate - BUC114N. He searched a long time for that one. Do I believe him when he tells me that his family of four fits into it? Cosy would be the result I think.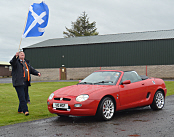 The route would take us through four counties, Kinrosshire, Fife, Stirlingshire, and Perthshire. The crews headed off round the south side of Loch Leven, the first of some 11 lochs and reservoirs on route, to start their first climb over the Cleish Hills, past Loch Gow, Dow Loch and Lurg Loch. They would meet 3 hill ranges on their drive, Cleish, Lomond and Ochils. This climb peaked at some 278 metres.

Continuing along the hillfoots road toward Stirling provided some good open stretches to clear the carbs and feel the wind in the face, for soft tops that were coming down. We reached Sheriffmuir, site of the famous battle in 1715 between the Jacobites and the government forces. One or two crews nearly missed the turn for the climb out of Stirling up into the Ochil hills. A twisting narrow route, rising to 500 metres, where drivers concentration and wits had to be on top level alert.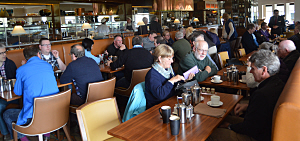 Dropping down the north side of the Ochils past Carsebreck Loch, Lower and Upper Rhynd, we circled round to Gleneagles Hotel for a refreshment stop at the Dormy Clubhouse, where tales of sights seen, and junctions missed, entertained us all.

The blue sky was breaking through and soft tops were all stowed, for the second section, taking us into Glen Eagles, Glen Devon, past Upper and Lower Glendevon, Glenquey, and Castlehill Reservoirs . Marshal Peter Burnside stood with orange arrow at the hairpin turn to Dunning, where the sign is on the apex of the turn, right behind you when approaching the way we did !

From Dunning it was off to Glen Farg passing Glenfarg Reservoir and Loch Whirr on our way to Bridge of Earn, by way of the ruin of Stronachie distillery. Finally a brief venture into the Lomond Hills, skirting Ballo and Harperleas Reservoirs, passing the Bunnet Rock and John Knox Pulpit, dating back to the 17th century where local covenanters met.

Back at our finish at Loch Leven a hearty meal awaited, with cake and coffee or tea to follow. Each finisher was presented with a certificate to mark completion of this unusual tour across the 3 hill ranges, visiting some little known spots in the Scottish landscape, and having a lot of fun doing it.

Well done to George Shand for the many hours putting this all together, it was well appreciated by the crews.


Strarters


| | | | | |
| --- | --- | --- | --- | --- |
| Car No | Driver | Navigator | Car | Year |
| 1 | James Buchan | Steven King | Nissan Figaro | 1991 |
| 2 | Brendan MacKinven | Alex Lawrie | Sunbeam Imp Sport | 1969 |
| 3 | Graham Morris | Jane Batchelor | BMW Z3 | 1997 |
| 4 | Colin Bruce | Gordon Reid | Lotus Elan S3 | 1991 |
| 5 | Ron Adam | Jan Adam | BMW Z3 | 2000 |
| 6 | Duncan Massie | Jenny McKay | Triumph TR7 | 1978 |
| 7 | Philip Anderson | Sally Anderson | Morgan 4/4 | 2008 |
| 8 | Lindsay Smith | Anne Johnston | MG ZS | 2003 |
| 9 | David Ross | George Kennedy | Toyota MR2 | 2005 |
| 10 | Jock Millar | Linda Telford | MG Midget | 1965 |
| 11 | Nicholas Green | Kenny Crawford | Jaguar XK140 | 1955 |
| 12 | Dave Lauder | Scott Lauder | MG TF | 2003 |
| 13 | Tom Dromgoole | Marianne Dromgoole | MG F | 2001 |
| | | |
| --- | --- | --- |
| Adams at Gleneagles | Morgan at Dormy | Royal visitor? |
| Massie TR7 | Lauder MGF | Gleneagles |
Updated 12 May 2015
Webmaster