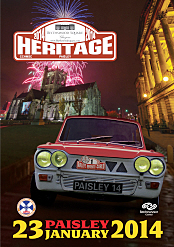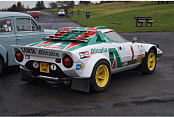 Lancia Stratos ready to go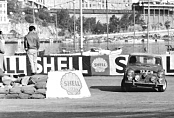 Hopkirk in winning mini
33 EJB at Monte Carlo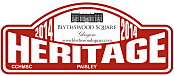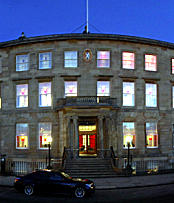 Blythswood Hotel in Blythswood Square Glasgow. home of the start back in the early years, and host for this years pre-gala dinner.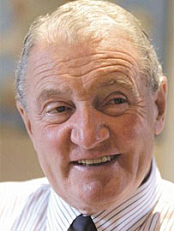 Expect some Irish 'blarney' from Paddy at the dinner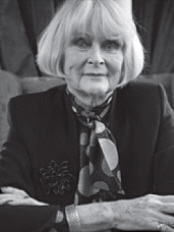 Rosemary has a few stories to tell of her days in the Imp and other Rootes Group cars.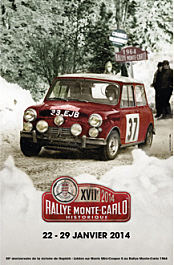 Monte starters head for the hills - 21 January

Photos courtesy Iain Provan - Motorsport Scotland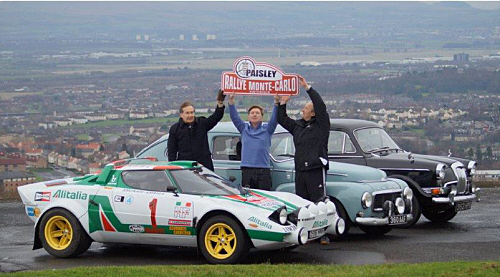 Three of the 'Monte' starters headed for the 'Paisley Alps for a photoshoot overlooking Paisley and Glasgow.

Paisley is preparing to roll out the red carpet for some very special visitors when one of world motorsport's most glamorous events rolls into town this week.

Legendary racing driver Paddy Hopkirk and Renfrewshire's Provost Anne Hall will wave the cars off from 6.00pm on Thursday 23rd on the 2,688km journey to Monte Carlo, via the Channel Tunnel and over the snow-covered Alps.

Up to 100 classic cars from through the decades – including vintage Porsches, Jaguars and Mini Coopers – will assemble outside Paisley Abbey for the only UK start leg of the Monte Carlo Classic Car Rally.

Thousands are expected to turn out for the event, which will see live entertainment during the afternoon before the cars start to depart for France at 6pm.

The Renfrewshire town has been chosen as one of five start points for this year's event – with the others being Barcelona, Stockholm, Oslo and Reims.

Malcolm Oswald, who is marking his 60th birthday by travelling to Monte Carlo in a 1.5 Riley, see above behind the Stratos and Volvo, which had been lying in bits in a garage for 37 years before being lovingly rebuilt and restored.

Malcolm said: ""My father was mad keen on the Monte Carlo rallies in the 1950s and I grew up with it. I always wanted to do it so I put my application in this year.

"The car was basically days from being scrapped. It lay in an awful state in a garage under dust and the last tax disc was 37 years beforehand. We've done quite a bit of work on it, and, if we can make it, it will be a wonderful feat."

The event will see road closures in place in Paisley's Bridge Street and Cotton Street. The cars will travel along the town's Barrhead Road to the M77, then take the A76 though Mauchline and Cumnock on their way south.

Clyde One DJs will host the live entertainment from 4pm on the stage in Cotton Street, which will also feature the Kennedy Cupcakes dance troupe as well as music.

Free event parking will be available at Wallneuk and at West College Scotland.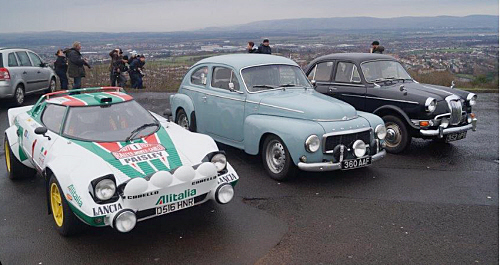 Before then - Remember

On Wednesday 22nd (TONIGHT) the pre gala dinner at the Blyhswood Hotel will feature special guests and rallying legends Paddy Hopkirk and Rosemary Smith.

2014 celebrates a 50th anniversary double. In 1964 Paddy Hopkirk and Henry Liddon drove a mini cooper S all the way from Minsk of all places, to a win on the Monte, and Linwood's Hillman Imp celebrates the 50th anniversary of production starting at Linwood, and of course became the competition car of choice for Rosemary Smith around the same time!

Come and hear some great stories, no doubt with those off camera extras that the drivers had to deal with in those 'old school' rallying days. You don't need to be an entrant to the rally to join the dinner party. Anyone interested in historic classic rallying is welcome.

Tickets cost £35 and Janet Garner is the contact for tickets for the dinner. Her email address is jinty.garner@hotmail.co.uk. An evening not to be missed. Still a feww seats available.

Full story at Motosport Scotland

Updated 22 January 2014
Webmaster