Loch Ness Classic - 4 June 2022


After a two year break due to the Covid pandemic, the popular Loch Ness Classic Car Tour bounced back very successfully on June 4th, a day of perfect weather and cloudless skies. Organised by the Rotary Club of Inverness Loch Ness, this well supported Tour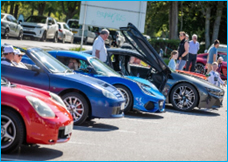 was inaugurated in 2017 and has raised many thousands of pounds for charity over the ensuing years and this year, despite entry numbers being slightly lower than anticipated (due to a combination of the fuel cost implications, Covid fears and the Queen's Jubilee Celebrations) over £5000 was raised by the entrants, primarily supporting Prostate Scotland with the remainder going to the Club's Charity Account.


Registration was conducted at the Inverness Ice Centre start/finish venue where the public were able to view both cars of yesteryear and more modern exotica.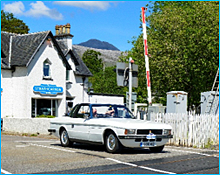 1010's District Governor Heather Stuart flagged off the entrants as BBC Alba's television crew filmed the start for their Gaelic news programme for that evening. Entries ranged from the 1950's with an Austin A105 Westminster Vanden Plas and a racy Triumph TR3 sports car, running through the '60's and '70's with MG 'B's, a Triumph TR6, an immaculate Rolls Royce Silver Shadow and a very rare Bristol 412, one of only 98 ever produced. Among the more modern entries were a Lotus Exige, a BMW i8, a Porsche 911 Carrera, a Morgan 4/4 and a growling 6 litre Dodge Challenger.

Ahead of the entrants was a 160 mile route taking in the Beauly Firth before heading west through Garve to Achnasheen and then along Strathcarron before soaring over the Skye Bridge to the lunch venue in Kyleakin.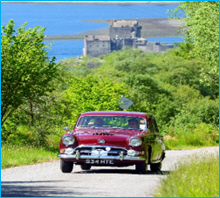 Suitably "re-fueled" the Tour returned over the Skye Bridge with its spectacular views, to Kyle of Lochash and east along Loch Alsh to Eilean Donan Castle before heading over the single track Carr Brae, the original main road to Kyle, affording breathtaking views of the mountains and glens of the west coast.

The entrants then headed down through both Glenshiel and Glenmoriston to the village on Invermoriston where they turned northalong the iconic Loch Ness to the finish of the Tour back in Inverness where both DG Heather Stuart and Prostate Scotland's Morag Idan handed out the awards.

A fitting conclusion to a day of driving one's classic car in glorious sunshine on Highland roads among some spectacular scenery…….. and raising monies for charity at the same time!