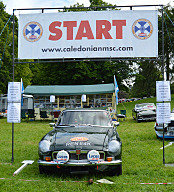 Dixon MGB on pole position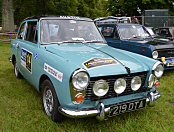 Stuart A40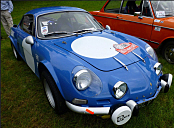 Swanston Renault Alpine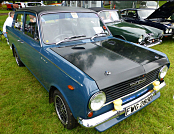 Jamieson Viva HA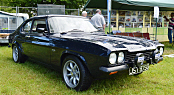 Spence 5 Litre Capri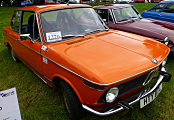 morrison BMW 2002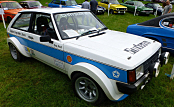 Meggat Sunbeam Talbot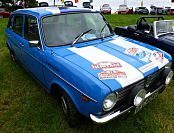 Cannaway Austin Maxi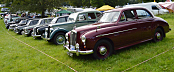 Wolsley lineup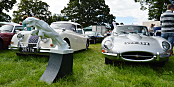 Jaguar presence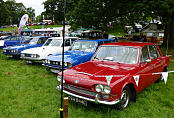 Triumph display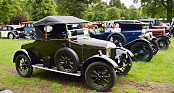 Pre-war cars too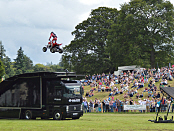 Entertaining quadbiker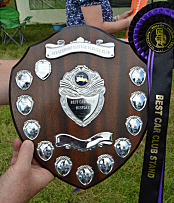 Award Shield and Rossette
See Alan Duncans photoset from the day
HERE

Glamis Extravaganza - 13 July 2014

Report Jim Paterson.
Photos Jim Patesron, Mark Hooghiemstra, Maurice Millar, Alan Duncan



The heavy rain forecast had passed over us during the night. I caught it coming home from the BBQ yesterday as I approached T in the Park at Balado. Felt sorry for those in the field, but I guess they were happy, given the volume of the bands playing.

For Glamis I took the Healey Sprite and was glad that the clouds were thinning, though the roads were still a little slippy which gave one or two understeer wakeup calls as I left. I had recently rebuilt the rear brakes to address an MoT advisory, so readjustment after bedding in had been done, and a change to Greenstuff pads on the front. Perhaps the pads were not quite bedded in that led to the understeer.

To be at Glamis for 0800 meant an 0600 pushback, a bit early for me on a Sunday! As I approached the ring road round Edinburgh what appears from a side road but a Renault Alpine. Now you don't see many of those at anytime, let alone a Sunday morning. I guessed it was Andrew Swanston who was also heading to Glamis in his newly aquired 'classic wheels'. He too was fighting with the damp roads as I noticed the tail flick about a few times.

I decided to head straight up to Perth and along to Dundee to reach Glamis castle. A good choice as the sun broke through and T in the Park caravans were refelecting brightly, needing the sunglasses to dim the glare!



Turned up just in time to meet David Heirs in his Saab who led the way to our stand, this year a joint effort between CCHMSC and the Saltire Rally Club. We had 20 cars on the stand from the late fifties right through to the late 1990's. Pride of place at the front was Ian Dixon's 1976 MGBGT which had recently successfully finished the tulip rally, which you can read about here.

The sun was now high in the sky and we had all our cars lined up, so on with the stove for a brew before the crowds turned up.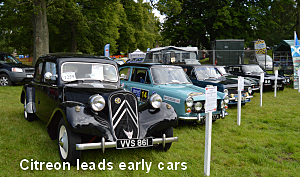 Dave had decided that we arrange the cars in age order, with the exception of Ian Dixon's 1976 MGBGT of Tulpen Rally fame. which took centre spot. Starting with Maurice Millar's 1957 Citreon Traction Avant, one of the last of the marque built in the Paris factory, we followed with John Stuart and his 1959 Austin A40 which has challenged the Rally Costa Brava a few times, and hopefully will be in Spain later this year for the 2014 event. Joe Norman brought his 1964 Mini along, having successfully driven it to challenge many rallies. Andrew Jamieson brought his 1966 Vauxhall Viva HA saloon. not many survivors of this model, but andrew brings it out as often as possible on club events. Mark Hooghiemstra is another regular in his 1966 Sunbeam Alpine S5, and won a prize for the Saturday regulaity run too. Dave spence from Inverness brought his 1968 Ford Capri Mk1 which he has just completed a V8 Mustang engine and gearbox transplant. with 5 litre capacity this car is no slouch. Look out for it on forthcoming events and will be leading the 2015 club continental tour.



The crowds were streaming in,with several thousand cars in the visitor car park. The kids as well as the dads were enjoying the sight of old cars, bikes and commercials.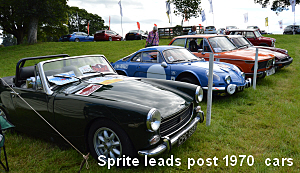 On our stand after the club gazebo, where we could relax and have the occasional bew up, there followed yours truly 1970 Austin Healey Sprite, with a display of rally plates from past events, at home and abroad. Parked next to me was Andrew Swanton's 1971 Renault Alpine which drew a lot of inteest from visitors to the stand. Andrew is hoping to enter the car in the 2015 Monte Carlo Historique. hope to see him in Glasgow for that one. Raymond Rollo was next with his 1972 Ford Capri V6 which won last years Great Glen Rally and might manage again when the event runs in September. Time for David Heirs 1974 Saab 96, another car that has a long and successful rallying history. Graeme Cargill brought his 1980 MG Midget 1500. bought on eBay this was the one that was what it said, not the usual pile of rust. Looking really good the car is a real performer too. James Meggat had his 1978 Sunbeam Talbot along. This car has been on many events both in the UK and Europe, where it has visited Monte Carlo. Not often you see an Austin Maxi still on the go, but Des Cannaway brought the 1979 example that has also been to Monte Carlo on the Heritage Run a couple of times now. Neil Morrison who is usually seen in his Healey Sprite, has now sold the wheels to concentrate on his 1973 BMW 2002i. Steven Jamieson brought the Viva HC to compliment Andrew's HA. Bringing us up to date Dave Lauder finished the line up with his 2003 MG TF.

Plenty of time to wander round the other exhibits and the Wolsley club had a good turnout as did the Jaguar stand. Austin 7's were in abundance as were Moggies MG's, and Triumphs..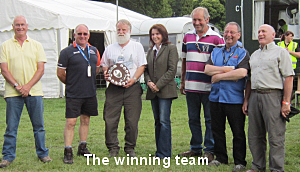 The stand also managed to collect Best Car club stand award which was collected along with the individual regularity run winners at the end of the day, after the entertaining quad bike flying display.

I drove back across the Tay Bridge and through Fife under a warm sunny sky. A great day and my first Glamis event. Would go back again if invited.


Updated 16 July 2014
Webmaster