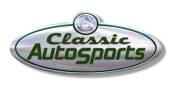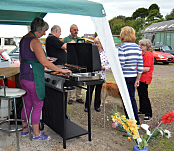 Keeping the BBQ going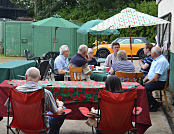 Enjoying the sunshine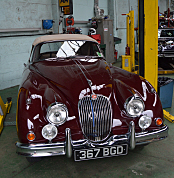 XK150 ready to go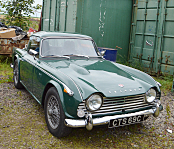 Outstanding TR4A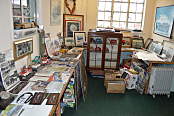 Memorobilia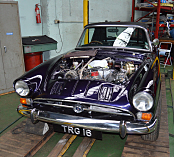 Sunbeam Tiger upgrade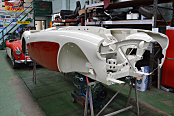 Big Healey body build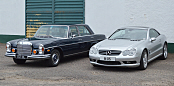 Merc boys from Aberdeen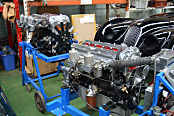 Engine test rig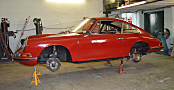 911 brakes overhaul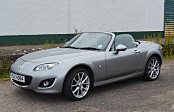 My MX rests in the sun

Classic AutoSports Barbeque -12 July 2014

Report and photos Jim Paterson



A light grey sky as I left Edinburgh could have been a bad omen as a wet front heading from the west was forecast. It didn't stop me heading up the east coast to Classic AutoSports at Inverkeilor, just north of Arbroath, with the top down on the recently aquired Mazda MX5.

The quickest route to Arbroath is over the Forth Bridge, up to Perth, along to Dundee then hug the east coast to Arbroath. However, the queue of cars heading north to the T in the Park concert at Balado near Kinross called for a quick route change, so I pulled off and headed through the Kingdom of Fife to Dundee. A wise move as it turned out as the blue sky was still hugging the east coast and temperatures soon rose to 20 degrees plus. I took some of the roads covered recently in the club's Tour of the Kingdom, so it was an enjoyable journey.

I arrived to a warm welcome and the inviting aroma of BBQ burgers, sausages etc, and a table heaving with salads and other trimmings, plus a wide range of drinks to accompany the feast.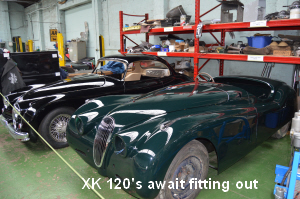 I said hello to Dave Barnett who had organised the event and we chatted about the collection of classic cars on display and in the workshop. Dave is a Jaguar specialist, and has a soft spot for XK120, 140, 150 models. He still has one that he bought in his younger years for £40. A lot of work has been carried out over the years and it is a real beauty, worth a tad more than £40 now! I also spotted a '67 Porsche 911 up on axle stands. I expected the underside to have rotted away but not so, being in remakably good condition which is unusual for 911's of that era.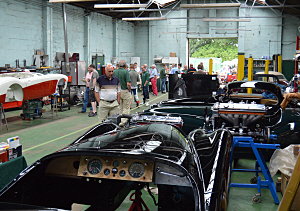 MG's and big Healey's also keep Dave and the family team busy, both servicing and restoring. With nothing but perfection offered or delivered, you can be sure of a real head turner as well as a great competition or touring car, ideal for that thrash across Europe. Over the Alps to the Cote D'Azur in an XK120. That's what I call Classic Car heaven.

A band of Mercedes enthusiasts had arrived from Aberdeen, some in modern, like the SL55 AMG flying machine. My favourite was the 1972 W108 saloon, a 4.5 litre 280SE which looked pristine in blue.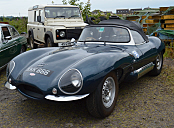 In the line up was a customers Jaguar XKSS replica, reputed to be the forerunner of the E Type Jaguar. In 1956 Jaguar had withdrawn from racing and had some 25 D Types in the factory, with nobody to buy them. Race driver Duncan Hamilton had put a windscreen and hood on his 1954 works car to use as an occasional road car, and urged Jaguar to build the cars, which sparked the idea of converting the 25 in the shop to get them sold. The model changed from the XKD to XKSS for 'Super Sports'. Unfortunately a fire at Browns Lane destroyed 9 of them and of the 16 finally completed 12 went to America, with Hollywood icon Steve McQueen owning one, 2 to Canada, 1 to Hong Kong, and 1 stayed in the UK. This car isn't one of them, but a very good replica. However I'm sure you can see that the flowing lines must have been an inspiration to the following XKE design team.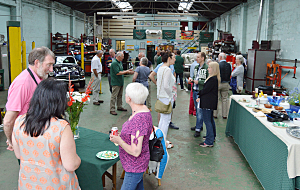 The crowd of classic enthusiasts grew as the afternoon headed towards evening. Many had spent the afternoon at the opening day of the Glamis Extravaganza, where I would visit tomorrow in the 1970 Healey Sprite to join other members of CCHMSC and Saltire Rally Club on the stand with another 19 classics of various ages.

Dave is off to America soon, no doubt to seek out some more of his favourite early XK series cars to ship back.

A great way to spend an afternoon, great weather, great workshop, great company, but most of all great host. Thanks to the Dave and the Classic AutoSports team. Looking forward to next years BBQ already.


Updated 14 July 2014
Webmaster