Gey Foxy Targa Rally

4 November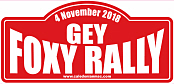 This one day Targa is based in the west of Scotland, with tests and regularities to test your concentration and driving skills.

A great shakedown for those thinking of entering the Monte Historique with tests and regularities to ease you into the big event next year.

Organiser Dave Spence has made sure there is a lot to keep you involved,



Not sure if your car meets Targa specification?

Download and read our Layman's Guide which cuts through all the small print.

Gey Foxy Layman's GuideTime to post your entry to secure a place on this new, compact, challenging event.