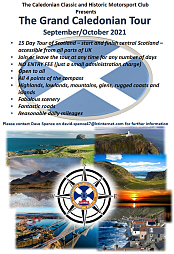 The Grand Caledonian Tour was a 15 day tour of Scotland visiting the all 4 points of the compass. Join or leave the tour at anytime, so ideal for those on a time constraint.

There was NO entry fee, other than a small admin only to cover materials, which included a souvenir roadbook with full gazetteer.

Highland, Lowland, mountains, glens, coasts and islands. Fabulous scenery, fantastic roads, reasonable daily mileages.

This was the ideal event for those with a classic or sporting car.

Day 2

WW2 Enigma machine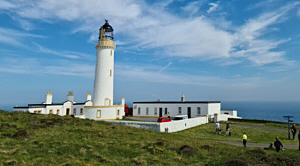 Mull of Galloway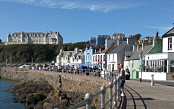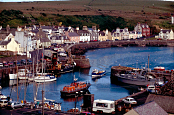 Portpatrick


Grand Caledonian Tour - 25 September to 9 October

Day 2 - Sunday 26 September ; Moffat to Portpatrick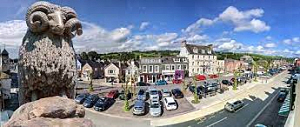 The crews gathered at the main square in Moffat for the start of our second day. Ranald Bruce and Louise Wall joined us in their BMW ready to head west through Dumfries and Galloway.

But first we went north out of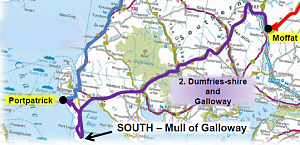 Moffat heading back up to the Devil's Beeftub, breaking left toward Greenhillstairs and the M74 motorway. Crossing the River Clyde, then ducking below the motorway we turned due west to Leadhills, the second highest village in Scotland, and famous for it's lead, silver and gold mines.

We continued through Wanlockhead, with its mining museum that offers a gold panning experience, handy to pan for some petrol money! Through the Mennock Pass where much mining and panning for precious minerals was carried out in times past.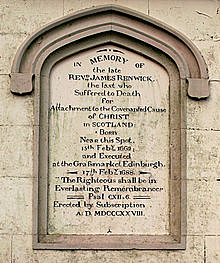 Reaching the village of Mennock it was a quick blast down the A74 to Thornhills where we once again headed west, passing through Moniaive, the 'Hill of Streams' (from the Gaelic monadh-abh), The village is where the three glens of Craigdarroch, Dalwhat and Castlefairn meet. It was also the 17th century refuge for the Covenanters, led by James Renwick, born in Moniaive. Aged 26 he was the last Covenanter to be executed in Edinburgh.A plaque marks his birthplace.

The route continued to St. John's Town of Dalry, home to many world famous people, including cryptographer Hugh Foss who worked on the Enigma machines at Blethcley Park in WW2.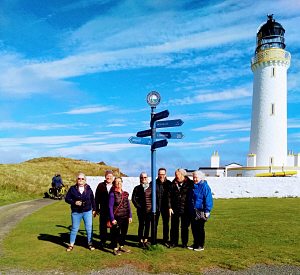 Passing New Galloway we again turn west, through the Galloway Forest to the market town of Newton Stewart.

We take the A75, the main route to the Irish ferry terminal at Stranrear. However, we jump off at Glenluce into the Rhins of Galloway, following the 'Mull of Galloway Trail' which leads all the way down to the end of the peninsula,

the southernmost point of Scotland.



Here a group of crews gathered for a quick photo opportunity at the lighthouse.

Only way out was backup the peninsula, choosing different roads where available, which are few. A short run into Portpatrick completed our tour for the day. Great weather, views and remote countryside had been travelled over to reach this western edge of Scotland..


Portpatrick
Tomorrow we head north up the west coast over to the Cowal Peninsula to Inveraray
Published 20 October 2021
Webmaster