Grand Caledonian Tour - 25 September to 9 October

story Margaret Campbell


Day 15 - Final day: Saturday 9 October ; Perth to North Queensferry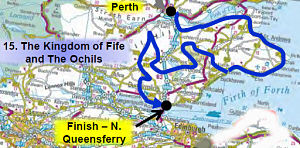 A dull grey morning greeted us for the last day of this fantastic tour and we were joined by Brian and Sheila in their Toyota MR2. We had discovered that the first few miles of our journey was subject to yet another road closure so a bit of a re-route was called for to get us back on track. We headed south out of Perth on the M90 then quickly turned east onto the A913 to Newburgh where we joined a small unclassified road that took us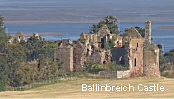 high up overlooking the Firth of Tay.
Along the road we encountered a few rather large tractors and trailers which were carrying tatties home from the fields, needless to say the roads were a bit on the muddy side. Just before the Tay bridge we headed south east and into Leuchars and on towards St Andrews but just before the town we came across a wonderful farm shop where we stopped for coffee. (Balgove is the name if you are ever in this area and is well worth a look).
Onwards round the Fife coast we went through Kingsbarns, Crail, Anstruther, St Monans and Leven where we turned inland and followed an unclassified road across to Freuchie and Falkland and another unclassified road took us to Glenrothes.
| | | |
| --- | --- | --- |
| Crail | Anstruther | St. Monans |
| Letham Glen Leven | Freuchie | Falkland & Palace |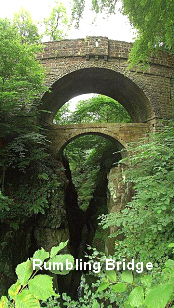 By now the rain had started and it did not look any better for the rest of the day. We stayed on small roads skirting round the south end of Loch Leven and over the M90 where once again an unclassified road took us to Kinross then on over the Ochil Hills to Dunning where we turned south again on the B934 down to Rumbling Bridge and a nice cafe for soup and coffee.
Rumbling Bridge is an unusual double bridge, which gives off a distinctive rumbling reverberation at lower levels. The "lower" bridge, without parapets, was built in 1713 and is 86 ft (26 m) above the average water level.The second bridge or Upper Arch was constructed 34 feet (10 metres) above it in 1816 and "gave it an easier gradient" by removing the steep slope down to the old bridge.
At this point we said goodbye to Kevin and Anne, Terry and Liz and John who were all going their separate ways as we headed for the final push towards Edinburgh.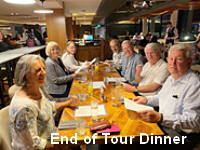 Following the A823 we left Rumbling Bridge and drove down to Knockhill and on, skirting round Dunfermline to Rosyth and our final destination - The Hilton Hotel at North Queensferry. Only three crews finished at the hotel and we were joined in the evening by Jim and Rona for a farewell dinner and an evening recounting all the events of the tour.
After over 2000 miles of wonderful driving roads, good companionship and great fun we all parted company the following morning to find our own way home. Michael and Gillian having the longest drive to Essex.
I would like to thank the Caledonian Classic and Historic Car Club for arranging this tour and I would especially like to thank Dave Spence for the fantastic and wonderfully informative roadbook which kept us all on track throughout the days. I would also like to apologise for the lateness of this story - our family came home for ten days after we got back and I'm afraid the time was spent with them.