Tour of Fife and the Ochils – 30 July.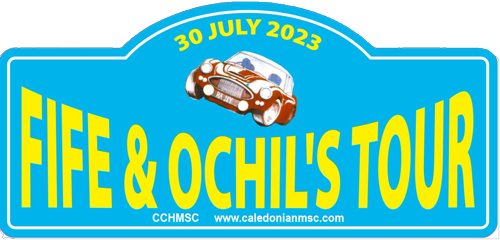 Heavy rain and surface water on way to the start of the event at Caulders Garden Centre in Kinross seemed a bad omen, but the weather changed as the sun rose to fill the sky. After morning breakfast we lined up to depart
Departure
Flagging off the crews was Norma Watson, Chris and Mary Paton in their 2000 Mercedes SLK leading the way. Charlie Young and Eddie Hawke in the first of several Audi TT's followed, closely chased by The ice blue, though I'm told it is silver, Audi TT of Brian McGarrie and Emma Paterson. It was great to see Kevin and Anne Bax make it in their '72 Jensen Healey which had just completed a repair to a severe oil leak problem on a previous event.
| | |
| --- | --- |
| Paton Mercedes SLK | Young Audi TT |
| McGarrie Audi TT | Bax Jensen Healey |
Bill McLay changed his 1963 Sunbeam Alpine for his '57 Jaguar XK150 thinking it would be wet and the Alpine is a soft top. A change of co-driver to Alan Mackie from grandson and piper Mac McLay who was travel stuck in London with rest of the Pipe Band trying to reach Edinburgh. This would prove a blessing in disguise as we found out at Ceres.
Colin and Anne Stewart swapped the '53 Jaguar 120 for the Audi TT, given the poor weather forecast (which as know was fortunately wrong!). Colin Bruce brought his blazing yellow '91 Lotus Elan, with William Miller on the roadbook. Bill and Val Pollock in their VW '92 Golf Gti would keep them in the Elan crews mirror! Reuben Phillips with daughter Hope joined with his Audi TT.
| | |
| --- | --- |
| . McLay XK150 | Phillips Audi TT |
| Bruce Lotus Elan | Pollock Golf GTi |
Tom Niven and Karen Wilson in the '05 MGF would also be close behind the Elan and Gti. Charles Rodger and Adrian Smith would be more sedate, though still capable in the '77 Mercedes 450 SLC. A delight to see Graeme and Beth Cargill in the '92 Honda NSX, such a great car, though the dogs had to stay home this time. John and Lillah Houghton exchanged their TR6 for the '75 Alfa Romeo GT 1600, looking bright and fresh in the rising sun.
| | |
| --- | --- |
| Niven MGF | Rodger Mercedes 450SLC |
| Cargill Honda NSX | Houghton Alfa Romeo GT1600 |
Mags and Don Campbell arrived in the '78 Bristol 412, affectionately known as "the fridge". John Stuart brought his 2018 Mazda MX5, with Richard Welsh on the maps. Ken McCrombie and Murray Mitchell in the '70 Lotus Cortina Mk 2, last seen on the Red Hackle followed on. Stuart and Jennifer Cobb were in the trusty '04 Toyota MR2, with Jon and Iain Huffer with top down in his '93 Mercedes Cabrio.
| | |
| --- | --- |
| Campbell Bristol 412 | Stuart Mazda MX5 |
| McCrombie Lotus Cortina | Cobb Toyota MR2 |
Not often we are graced with a Rolls Royce on our events, but Gordon and Isobel Glen brought their '55 Silver Dawn, looking 'Regal' as only a Rolls can do. Ian and Karen Lindley changed their MG RV8 for a Mazda MX5 George and Jean Shand headed off in their Seat, whilst Louis Wall and Rachel Henderson changed from Audi TT to Volvo estate to accommodate the dogs.
| | |
| --- | --- |
| Glen RR Silver Dawn | Lindley Mazdz MX5 |
| Shand Seat | Wall Volvo (with Rachel and dogs) |
| Watson Riley Elf | Lining up to be flagged off |
Our route headed west then turning clockwise around Balado airfield. In 1942, having been requisitioned by the Air Ministry to support Britain's war efforts, RAF Balado Bridge opened as a training facility for Spitfire and Hurricane pilots during WW2. From 1997 until 2014 Balado Airfield became home to T in the Park music festival, with audiences of up to 85,000 people enjoying performances from the likes of The Who, Blur, The Killers, Muse, Greenday, Beyonce, REM and Artic Monkeys.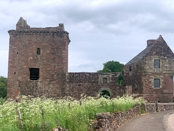 Reaching Milnathort we passed Burleigh Castle dating from the 1500s, The residence was originally reached from the west, along an avenue of trees. Originally the seat of the Balfours, Sir John Balfour acquiring the lands of Burleigh in about 1445, and his descendant Robert, 5th Lord Burleigh lost them in 1716, following his involvement in the failed Jacobite Rising of 1715. (

Ed.

Chose the wrong side it would seem!).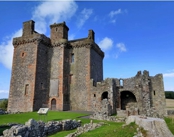 We were now heading east toward Strathmiglo, passing close to Balvaird Castle, likely built in the late 1400s, home to the Murrays of Balvaird, who extended and remodelled the property over the next 150 years or so. They eventually left Balvaird for Scone in 1658. The castle wound up as accommodation for farm labourers.

Continuing east to Ladybank we turned toward Kettlehill and on to Ceres and our first stop the

Fife Folk Museum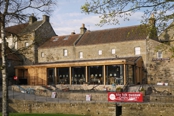 https://www.fifefolkmuseum.org/. Here we met up with fellow tourers for a coffee break, or early lunch for those who missed breakfast.

I met Bill McLay with Alan Mackie, who looks after the XK, with bonnet up trying to start what appeared to be a flooded engine. Much fettling and change of plugs failed to encourage the beast to fire up.


| | |
| --- | --- |
| Fettling the XK150 | Enjoying morning coffee at museum |
Bill tried removing a wire from a water temp sensor, and lo and behold the engine spluttered into life. The sensor signal also feeds the automatic choke, so that's on the list to convert to manual choke!

Leaving Ceres we headed north toward the River Tay, skirting Newport on Tay and driving the scenic road along the south side of the river. We passed yet more castles, Birkhill and the ruined Balllinbreich Castle. At this rate we will have to rename the event Castles of Fife tour. Even more than the famous Three Castles event in north Wales.





Lineup Lindores


I was looking forward to our nest stop and Lindores Abbey distillery, near Newburgh. On approach some early crews were returning to their cars with a bottle or two under their arms! Dating from the 1100's (The abbey, not the distillery) it was 1st June 1494. that the earliest written reference to whisky making in Scotland is recorded in The Exchequer Roll: "To Friar John Cor, 8 bolls of Malt, wherewith to make Aqua Vitae for King James IV". A fascinating history which you can read at https://lindoresabbeydistillery.com/our-story/ . As it is my Birthday in August my wife Rona bought me a bottle of Aqua Vitae, to which I added a special bottling of what they call 'Chapter One'. That's me setup for a while...

No time to waste so on to nearby Jamesfield Garden Centre for lunch and refreshments. The afternoon run headed west toward Dunning then south over the Ochils heading toward Kelty and Dunfermline, for our final visit to the Scottish Vintage Bus Museum.

| | |
| --- | --- |
| lots of buses | Even more.... |
| line up at bus stop | waiting for a bus |
This hidden gem housed at Lathalmond, a 45 acre ex-Royal Navy stores depot, since 1995. There are around 190 vehicles housed at the museum, with short bus tours a feature of open days. I was taken by the Guy Victory double decker built in 1980 and shipped as a Knock Down Kit to Hong Kong for the China Motor bus company. It ran the same route until retired and shipped back to the UK by First Bus, who promptly donated it to the museum. Only issue the museum staff had to drive it up from London!
Read more about the museum at https://www.svbm.online/

Our finish venue at the Forrester Park Resort at Cairneyhill, outside Dunfermline, put on a splendid high tea. https://www.forresterparkresort.com/
A great day had by all, still under a blue sunny sky.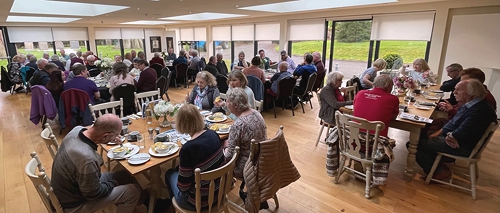 Forrester Park Resort high tea



Our next event

Rally of the Borders on 24 September

explores roads not covered on our previous skirmishes, visiting new places of interest, some historically important too. Put the date in your diary,

Regs out soon

.