Quarto Stadio - Bormio to Brunico. The Stelvio challenge. - 26 September


Lunch stop that would beach the Porsche.

Woke up to a cooler start in Bormio, but sun soon broke through. The route out of Bormio to our first pass should have been straight forward, but the Spence BMW and Main Mercedes took a wrong turn right into the centre of Bormio, down some very narrow streets, attracting amused looks from the locals. Now these streets may have been fine for horses but the Mercedes was almost scraping the door mirrors on the walls at each side. Never trust a satnav I hear you say?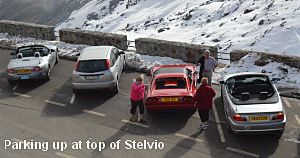 We soon caught up and started the climb to the Stelvio at 2757m (9045ft). Only 2 degrees at the top, with snow at the sides of the road, so kept our jumpers on. Maureen found something warmer for her ears!.
While looking around we were privileged to see some real 'old timers' coming over from the north side. A 1934 Bugatti T55 in yellow was followed by a 1937 Bugatti in traditional blue. A beautiful 1927 Frazer Nash in grey came over with its 1479cc at full throttle. Some of these 'old timers' were so quick we had no time to catch the make, with a silver 1500cc 1923 car being one of them. How did we know the year? By the Registration plate, and a bit of googling.
| | | |
| --- | --- | --- |
| 1927 Frazer Nash | 1934 Buggati | 1937 Buggati |
Quick coffee then down the north side where temperature climbed to 20 degrees by lunch stop just past Merano. The Porsche failed to restart after lunch so we all set to and pushed car and crew down the hill, where it fired up in no time. Had it overheated, or fuel evaporation? Time will tell.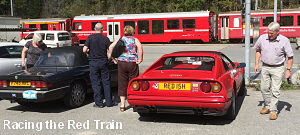 Full steam ahead toward the Jaufenpass Passo Giovo at 2094m (6870ft where we stopped to take in the view. It was back in 2013 that our TransItalia took this route and stopped here as well, before descending to overnight in Brunico.
Once again sunshine and blue skies meant soft tops were down all day.
Giving the cars a day off and taking the water taxi's and other marine transport.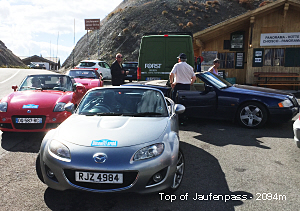 Tomorrow we head due south to our rest day in Venice.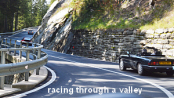 Quinto Stadio - Brunico to Venice. 27 September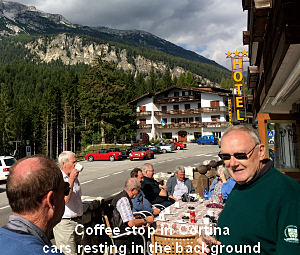 Bright and fresh at 7 degrees as we fuelled up and headed south on SS51 through the gorges to Cortina, which gave its name to that famous Ford saloon. The sun was shining in a clear blue sky as we took our morning coffee break, looking at the mountains towering all around us.
The Porsche starting problem from yesterday did not thankfully reappear.
The mountains receded in the distance as we headed south. The temperature rose swiftly reaching 26 degrees as we crossed the plains to the Mediterranean and Venice.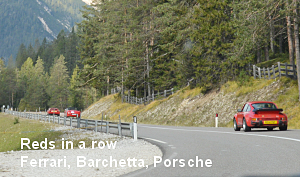 One week into our tour already, and 1500 miles under our belt, since leaving Edinburgh, just over 1000 miles tour route.
Tomorrow is a rest day for us to visit the islands of Venice. The bus stop is right outside our hotel, giving the cars a day off and taking the water taxi's and other marine transport.