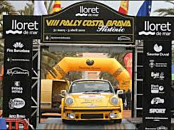 Who said that weather in spain is all sunshine and Sangria? CCHMSC member John Stuart felt right at home up in the mountains around Loret de Mar as the snow came down. He thought he had left it behind in the UK !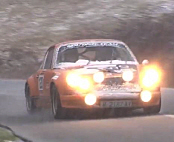 Car of choice Porsche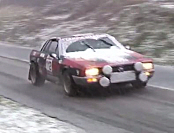 More snow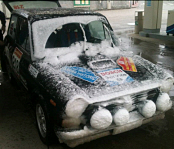 John stops to clear the windscreen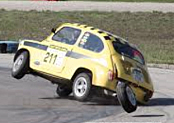 Oops - keep your wheels on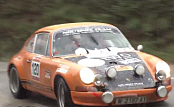 Heading south for the coast

Rally Costa Brava - 13 & 14 March

Story John Stuart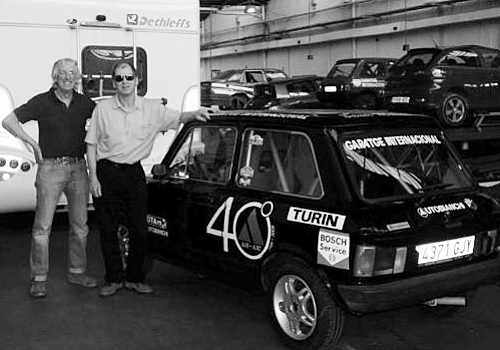 Peter Collier (Left) and John Stuart (with shades) collect their Autobianchi



A last minute entry saw club member John Stuart sitting on the start ramp of the Rally Costa Brava at the wheel of a hired Autobianchi A112 Abarth with Peter Collier navigating. The Rally Costa Brava (RCB) is several events in one and is a round of the FIA European Historic Stage Rally Championship and a round of the FIA European Regularity Championship as well as several Spanish championships.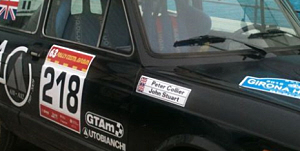 We were one of 24 crews entered in the FIA Regularity class running at the tail of the field. The rally is run over 12 stages on closed public roads with 4 stages on Friday night and 8 on the Saturday


The cut off date for cars eligible for historic in the FIA stage championship is 1990 so the entry included several Lancia Delta Integrales, Lancia 037s, Sierra Cosworths and of course numerous Porsche 911s of varying vintage.

102 cars lined up on the seafront in Lloret de Mar in warm sunshine for the 5pm start before heading north to the stages near Girona. For the later crews like us, all would be run in the dark. There were many spectators out cheering on their favourites and they remained in place for our passing. I was really pleased with the handling of the A112 which turned in so much better than my A40. This was my first competition in a left hand drive car and I had no problem with this apart from pulling off the gear lever knob in the second stage which may have been related to inexperience! This was a sphere
and trying to find the right way up to refit it was not easy in my gloved hand. We
thoroughly enjoyed the twisty stages and finished the night with no real incident
arriving at parc ferme in Girona.

Saturday dawned grey and wet - and unseasonably cold, but even so there were a good number of spectators at the restart. Today's stages were west of Girona and included some higher ground. There was light rain to start with, then fog and then heavy rain. The highest stage, Espinelves-Collsaplana, 23km long, was run twice and by the second run the heavy rain had turned to sleet and ultimately heavy snow the higher we got. Several cars were in ditches as conditions became very Monte Carlo like. Snow was piling up on the windscreen and the wipers could barely cope but the car handled brilliantly on its narrow road tyres. We passed several cars on less suitable rubber and I was quite enjoying the conditions as we headed downhill again.

However, after a few miles, something was wrong with the engine, there was absolutely no power. Initially I feared head gasket problems but then suspected water in the ignition system. Fortunately the road by now was generally level or slightly downhill so we could keep going but at not much more than walking pace. Then we came to an uphill section and it was obvious we would not make it. We pulled off at one of the many radio points thinking this to be the end of our rally. I expected the engine to die but strangely, and happily, after a few seconds it seemed to rev freely so off we set up the hill - and the car made it, albeit not firing absolutely cleanly.

Most spectators had wisely retreated to their cars but a few hardy 'snowmen' were to be seen. Conditions eased to wet snow then sleet as we dropped down to the valley and we finished the stage albeit with massive penalties. At the next garage, WD40 or its Spanish equivalent was sought but we never did find any. Even our Spanish service crew did not carry it.

We had no further problems as the car dried out and we went on to complete the final two stages without incident. Clearly it had been dampness or condensation in the ignition system. Our aim was to finish and this we achieved.

The FIA stage rally was won by well known Italians "Lucky" /Fabrizia Pons from fellow Italians "Pedro'/Baldaccini, both in Lancia delta Integrales.

The prize giving was a lavish affair and, needless to say, we did not feature in the
awards but what great fun we had on these Spanish closed roads.

RALLY COSTA BRAVA HISTORIC 1-4 OCTOBER 2015

Some details are beginning to emerge about this regularity rally at the beginning of
October. The organisers, Rally Classics, will again be offering a special deal for UK
entrants called the 'Golden Pack'. In the past it covered the rally entry fee, transport
of the rally car from the UK to Spain and back in a solid sided transporter, a shared
service crew, breakdown service on the event, airport pick up and drop off and 3
nights for the crew in a hotel for a fee of around 2000 euros. A range of discounts
can reduce this figure including deductions for age of the car and/or combined age of
the crew. This is a really good deal for what is always a fantastic and well organised
rally with the confidence of getting your car back to the UK no matter what. This is a
great way of doing your first foreign event.

Normally your car must be taken to the transport companies' depot in Northampton
but a local pick up in Scotland is a possibility. Of course you can always make your
own arrangements to get to Spain and just pay the very reasonable rally entry fee,
less the discounts referred to above, but with less peace of mind.

If you are interested in the Golden Pack or want more information about the rally see
https://www.facebook.com/Rallycostabravahistoric or contact me:-

John Stuart by email jostu@tiscali.co.uk


Updated 10 April 2015
Webmaster