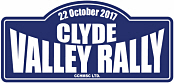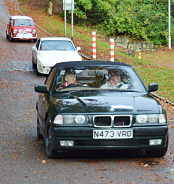 Three in a row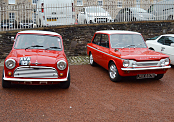 Mini meets Imp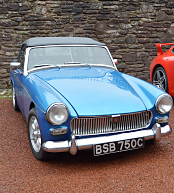 Millar/Telford Midget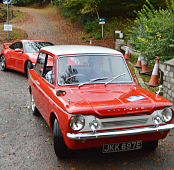 Laird /Shute Imp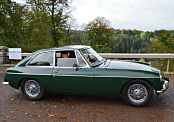 Sansome/Leeson MGB/GT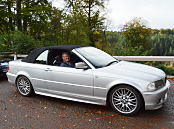 Main/Spence BMW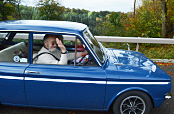 Sinclair Imp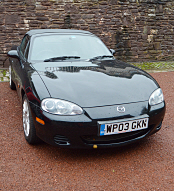 Phillips MX5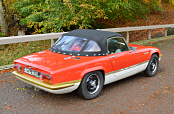 Swanston/Wyatt Lotus Elan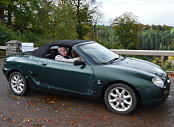 Niven/Wilson MGF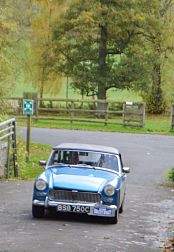 Millar on final approach over Netherurd Bridge

Clyde Valley Rally - 22 October 2017





Lineup at New Lanark Heritage Village


Storms Ophelia and Brian had left their mark with standing water and debris on many of the rural roads across the Clyde valley and beyond. This made for a challenging route for the starters of this years event. The sun did break through, with Craig and Rod Ritchie being first to took the top down on their Porsche Boxster.

The problems started early with three of our crews unable to make the start, mechanical issues affecting most either before or on their way to New Lanark.





Shiny new metal awaits their crews


Twelve of our crews made it to the start line as the blue sky made its appearance over the New Lanark Heritage Village, which has become a favourite start point for a few events in past years. Refreshed with the obligatory Bacon buttie and coffee we headed for the top car park to be flagged off on our way.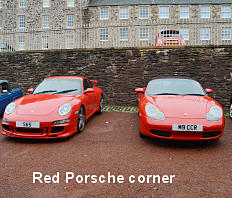 Once again we had set out a few observation codes to test the eyesight of the navigator and driver too. One of these would create some confusion, being a take on the code board at the back of a triangle, a favourite teaser on many a nav rally evening.

Leading the pack were Chris and Mary Paton in their Mini, which we saw recently on the Highland Car Club Crofterra Pandemonia in Inverness. A very tidy car and quick as well. Colin Laird was next in a sparkling red Hillman Imp, which he told me had not been specially polished for the event, but I was suspicious! Brian Shute would read the notes. George and Ann Head were yet to drop the top on their 1996 BMW Convertible, with Ann in the driving seat. Andrew Swanston changed from his VW Golf into his 1973 Lotus Elan Sprint in the iconic Red, Gold and White 'Gold Leaf' colour scheme, with a young Findlay Wyatt on the roadbook..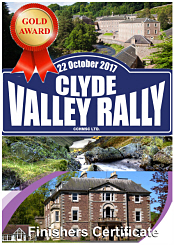 Before I knew what had happened Craig and Rod Ritchie had sprinted off in their red 2000 Porsche Boxster. This local crew thought they knew all the roads around Lanark, but would scratch their heads not too far from the start. Vaughn Taylor and Jim Campbell teamed up again in another Porsche, this time with a fixed top, so no worries if the rain re-appeared! Club committee member Tom Niven along with Karen Wilson brought the MGF along, now sporting two new front wings. So new they still wait the final top coat of paint. Our lone MGB was in the shape of a '67 GT variant with Colin Sansome and Brian Leeson.

All the way from Inverness was Roddie Main driving Dave Spence in the BMW 325Ci Sport, followed by Rueben Phillips and daughter in his 2003 MX5. Another Hillman Imp, this time a '72 blue model was crewed by Ian and Ann Sinclair. Pulling up the rear was the '65 MG Midget of regulars Jock Millar and Linda Telford, and Rueben Phillips and daughter in the 2003 Mazda MX5..

The route headed out of Lanark, hugging the side of the River Clyde as the cars made their way to Cramichael and Thankerton. Form there it was over to Symington and south toward Crawford cutting over the main west coast railway line several times. We saw a few high speed express trains heading to and from Glasgow.

Over the hills toward Moffat before turning north east to Tweedsmuir and over the hills again, passing Talla and Meggat reservoirs, both full and overflowing. It was here we met a lot of standing water, which had caught the Ritchie Boxster out earlier as it bow waved into a large pool.





All in at Netherurd


We had now reached an overflowing St. Mary's Loch, driving along the northern shore to the control refreshment stopover at the Gordon Arms on the side of the Yarrow Water. Fully refreshed the route turned north uphill to Traquair and on to Innerleithen. Anyone stop for an ice cream from the famous Caldwells ice cream shop? Every colour and flavour. A sharp left to head up the Moorfoot Hills to Middleton, taking in the staggering view over Edinburgh and the river Forth, as you reach the top the hill. From there it was across to Gladhouse Reservoir, cutting to Eddleston and the last leg of our tour.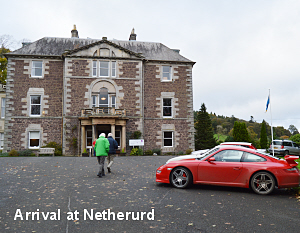 One set of hills to climb, the Meldons, leading to Lyne village and Lyne Station. From there it was a straight run due west to Netherurd where a warm reception awaited along with refreshments including a bowl of hot soup and snacks for those feeling a little more peckish.

Great route was reported by many taking part, quite a few for the first time on this type of road tour.




| | | |
| --- | --- | --- |
| Taylor/Campbell Porsche | Finish lineup | Head BMW |

More events promised for the coming year, so lookout for the 2018 calendar to be published soon.


Updated 27 October 2017
Webmaster