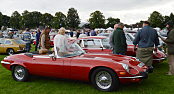 E Types draw attention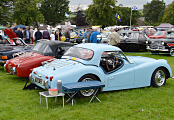 Pair of Triumph TR2's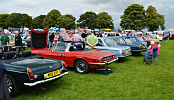 Tasilside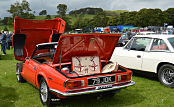 Spitfire ready for picnic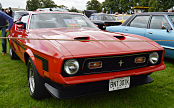 Mustang Muscle car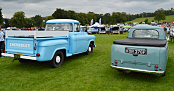 Chevy v Austin pickups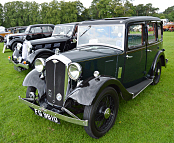 Wolseley post war models.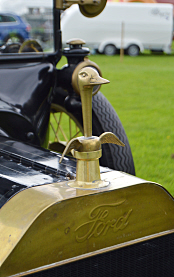 Novelty Rad cap on Ford Model T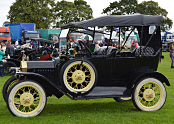 Rest of the car was perfect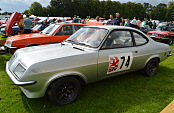 Firenza back again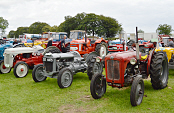 Tractors from all ages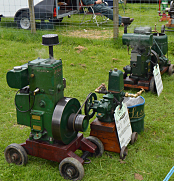 Lister pre war pumping engines, still working

Biggar Rally - Sunday 16 August

Report & photos Jim Paterson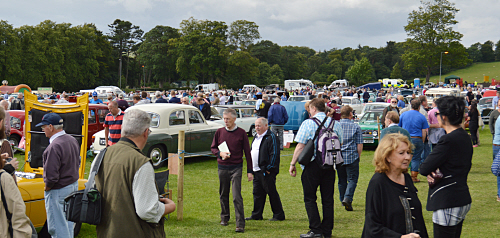 An enormous turnout for the 42nd Albion Bigger Rally. The sunshine probably helped, and the number of families with children was a welcome sight as the kids eyes popped at the sight of so many unusual cars from all era's lined up on display.

I arrived early afternoon and knew the event was well attended when I was directed to the far side of the car park, actually the adjacent field to the showground, which was almost full to overflowing. The range of accents from the crowd told me that people had travelled from Glasgow and the west of Scotland as well as nearby Edinbugh and the east. A range of border and north of England accents shows just how far this events appeal has reached.

But it was the cars and other vehicles that I had come to see, and I was not dissappointed. A wide range of classic cars were joined by veteran and vintage cars, commercial trucks and buses, military vehicles, agricultural machinery which included classic tractors and ingenious stand alone pumping engines, dating back to the thirties and forties. A few american muscle cars were also on display.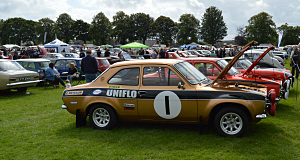 All the owner clubs were there, with Ford, Vauxhall, and BMC taking pride of place. I spotted a courful pair of Ford Corsair's, from the Corsair Owners Club, reminding me of my time with a 2000E many moons ago. Plenty of 'moggies' in all shapes and forms with some in unusual colours. Our friends at Club Triumph would have enjoyed themselves with TR6, TR7 and the odd TR2 and 3 on display. Most were from the TR Register, but we won't mention that! Joining them were Triumph 2000's and 2.5PI's, as well as the odd Stag, and Spitfires.

A few cars I spotted from last year, including the Vauxhall Firenza,still looking good, and the HC Viva, both of which seemed to have escaped the rust worm so far.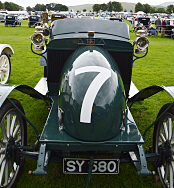 The Veteran class had Glasgow based Arrol Johnston cars from 1912, including a re-creation of a 'Light Speed Car' one of only 3 built for the 1911 European racing season, and the only example still in existence. It won the Coupe des Voiturettes at Boulogne in 1911, at an average speed of 81.5kph (50.6mph) for 7hr30m. However I would pass a couple of them in a layby on the way home with both crews looking under the bonnet of one to work out why it had stopped. The joys of driving ancient machinery to a show and back. Ford's Model T and fine old Bentley's were also in the showground, as was a 1912 Swift, looking well patinated.

Pre-war cars had there place too with an abundance of Austin 7's, Vauxhall and Lanchester to be seen.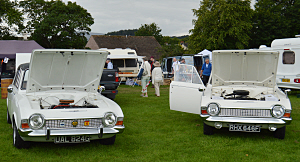 But I was drawn to more practical metal, the classic cars. Many looked as if they were actually used rather than moving from one show to another, including a selection of Mk2 Ford Consul, Zephyr and Zodiac. I started my driving life in a Zodiac of the era. More Austin cars in the shape of the A70 Hereford, and a few Riley's from various years. I guess some of the SRE guys were araound too.

The American muscle and big saloon's, and AC CobrRest of the car was perfecta's were there, taking double the space of their european counterparts, but great to see. Just how their owners manage the fuel bill to drive these cars bets me.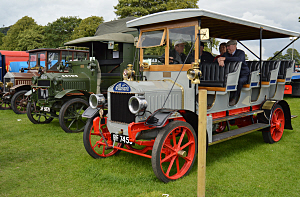 Commercial vehicles were mostly from the Albion camp. Not surprising as the Albion Trust, based in Biggar, organise this event. together with a collection of Massey Ferguson classic tractors and Lister pumping engines of all shapes, provided a welcome alternative distraction from all cars.

Talking of cars, Jaguar were well represented with early XK150's, E Types, including one of the last 50 ever made in 1974. and their Daimler badger
lookalikes.

Too soon it was time to head homeand there was a long queue to exit from the rally. The Sprite while fitted with electric fan and side vent on the wing, still found the stop start drive to the main road a bit 'warming'. The dilema is to turn off the engine and hope the fuel in the carbs doesn't vapourise, or keep running and risk overheating. I chose the former and it worked. Once on the open road things quickly got back to normal.

Meanwhile Alan Duncan had been visiting the Lochwinnoch Car Show.you can see his collection of photos from that event HERE

Updated 18 August 2015
Webmaster