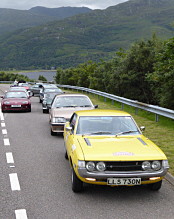 Alan's Celica leads the way.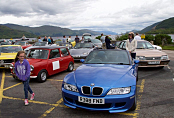 Great selection enjoy the sunshine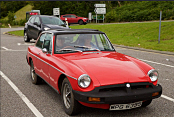 MGB/GT awaits start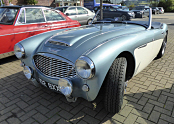 Big Healey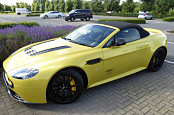 2oomph Aston !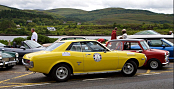 Alan Duncan Celica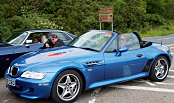 Stop to chat to Capri crew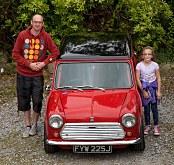 Jim Wilson Mini and crew
Viva HC

Run to Arisaig - 8 & 9 August 2015

Report by Alan Duncan. Photos Andy Thomlinson, Alan Duncan




Line up in the highlands



We arrived at Dobbies Stirling just after 9am on Saturday 8th August for breakfast. Watching the cars arrive, there were 20 at first, from a Mini to an Austin Healey 3000, and even a spanking new Aston Martin, which I was told can do 205 mph, WOW. We left Dobbies at 10am and headed up to the cafe at Glen Coe Ski centre for lunch , arriving there at 12.

After refreshments and a good look at all the cars, we started heading off north over the bridge to the Corran Ferry, where it took 3 crossings to get us all across. Once all on the other side we turned left and headed to Loch Sunart the the posh Kilcamb Lodge Hotel at Strontium. This posh place won 'Most Romantic Hotel' in the UK in 2014, which accounts for tea or coffee charge of £5.50 ! It was a lovely hotel though, and had space for about 50 cars or more, so our 20 fitted in ok.

We then headed up Loch Sunart and turned right through Stunning Moidart and on to Arisaig passing some of the best scenery in the UK. At the hotel we had a Convertible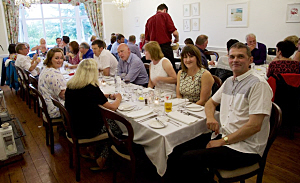 Capri join us, before enjoying a few drinks at the bar before dinner. Two large tables were set for the 40 of us, biggest dinner party I've been at for a long time.

I got up and introduced myself , and thanked everyone for coming, then got everyone in turn to stand up and introduce themselves. After dinner we had a quiz with Des Canaway winning the bottle of plonk.

There was a very loud group playing in the bar, with the younger of us dancing, and two quiet lounges for the older crew members. The night went very well with some not getting to their bed until well after 2am.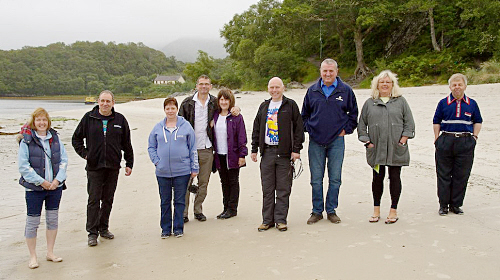 Beach line up on Sunday morning



Sunday morning it was down to the silver beaches and then up to Mora to see the Steam train. At the start of the village there was a sign, which had 'Welcome to Mora' on it. I said "why can't they welcome us today and not the Morra?" , Think we were all still in the party mood. We headed back to the Arisaig hotel for lunch with the Capri Club Scotland crews. They had 5 nice Capris with them. All together there were 26 cars for the weekend.

We started heading back home in dribs an drabs, all very tired. A well, till next year.

Thank you all for coming along, as I could not have done it without you.



Click

HERE

to see a selection of Andy's photos of the 2015 weekend

Or

HERE

to see alan Duncan's selection
Updated 10 August 2015
Webmaster