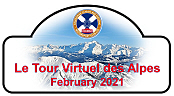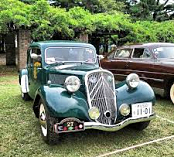 Neil Turner 1954 Citreon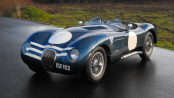 Tim Hunt 1953 Jaguar C Type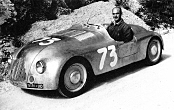 Marion Tell & Stefano Bellin braved the snow in their
1948 TELL Sport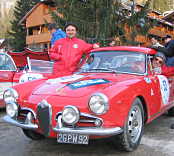 Enrico Tresoldi 1960 Alfa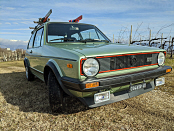 Silvano & Matteo Petrani
1980 VW Golf GTI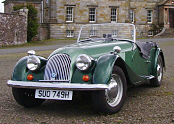 Doug & Pat Ashworth
1970 Morgan 4/4 1600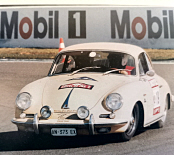 Angelo Tresoldi
1963 Porsche 356B S90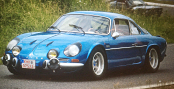 Ormond Smith
1970 Alpine A110 1600S Berlinette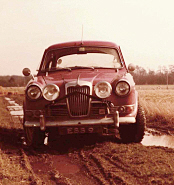 John Stuart & Maurice Millar
1960 Riley One Point Five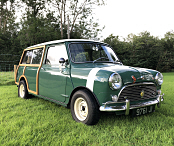 Ian & Joanne Campbell 1964 Morris Mini Traveller Cooper S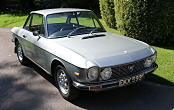 Craig McGibbon Karsten Brown
1972 Lancia Fulvia Coupé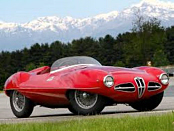 Rosella Carrero
1952 Alfa Romeo C52 Disco Volante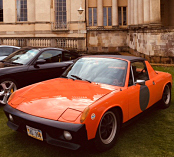 Clive Evans
1973 Porsche 914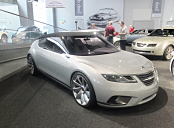 Robin Morley
2008 SAAB 9-x Air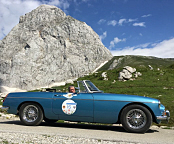 Primoz Koselj & Pia Zai
1968 MGB Mk 2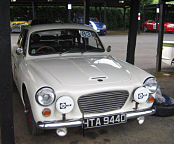 Alan Smith
1966 Gilbern 1800 GT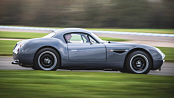 Author's Dowsett Comet
First car, but last home.
Enjoying too much 'off piste' diversions, and Apres Skiing.
Full Results
Entry List

Le Tour Virtuel des Alpes : 8th – 11th February 2021

Report by Jim Paterson

Joint winners Neil Turner and Tim Hunt secure the Gold trophy for the event.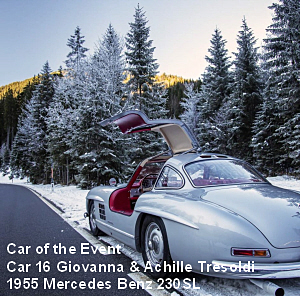 37 starters lined up in Menton on the Cote d'Azur for an alpine trip that would take us high into the Maritime Alps, crossing many famous 'cols', while passing through amazing countryside, with many towns and villages to explore on the way. The wide range of classic cars, from all era's reflected their driver's passions. From open top spyders to fixed coupés and saloons, all prepared and ready for this trip up snow covered mountains and deep river valleys.

Entries from Scotland, England, France, Northern Ireland, Italy and Slovenia gathered on the seafront in Menton on the Cote d'Azur. Many CCHMSC members are familiar with Menton, having visited the town many times on our continental tours. We have enjoyed many a 'Nuit du Mentonnais', organised by the local Club Automobile de Menton.

With no entry fee, accommodation, fuel, or covid-19 vaccinations required, this was the cheapest event to start 2021. So lets get on with it and check out the route.....

Day 1. Menton start, heading north.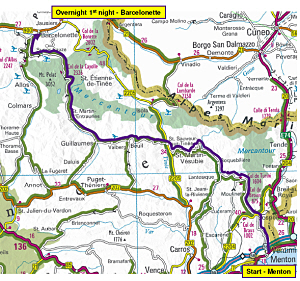 You've guessed we started in Menton, right outside the Casino, where some of us had visited the tables for a quick 'flutter' (gamble) on the roulette wheel. Flushed with success we answered the first question of the day before putting the foot down to start the climb toward Sospel. This town has played host to a number of Nuit du Mentonnais events, either as a start venue or a mid route refreshment halt.

Continuing north and our first 'real col' the Col de Brouis, on our way to the famous Turini, a favourite in many Monte Carlo Rally events. More questions to answer as we grab a 'virtual' coffee and croissant. I had to grab my dictionary to determine what petroglyphs were in answer to question4. Ski runs, how many Q5? Well, every slope you looked at as we headed north seemed to have a ski run, so adding them up was always going to be a bit tricky, easy to miss the odd one. We were driving through the Mercantour Parc National, taking care not to drive over any alpine marmot's, while completing the answer to Q6. A great drive to our overnight in Barcelonette, crossing our highest col for the day La Coyolle, at 2327m. .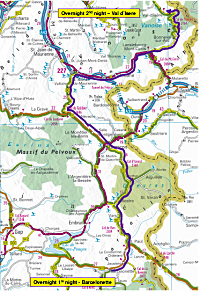 Day 2 Leaving Barcelonette I had to detour 'off piste' to visit the col de la Bonette, a staggering 2800m high pass. One of our club tours visited here and the views are outstanding. With my Dowsett Comet having 6.2 litre V8, 0-60 in 4sec, top speed in excess of 150mph, torque was not a problem. However rear wheel drive traction on snow was!

Back to Jausiers and the planned route, which continued north, passing the 'scottish' Redout de Berwick, built in 1694 to answer Q11. Swelled with success at getting the answer to the first question of the day correct I pressed the pedal to the metal, to quote a 70's tv series phrase, climbing the Col d Vars at 2109m. We were passing through another ski central, where every slope on all sides had ski runs in abundance. Answering the question required a bit of thought, with my co-driver almost missing a turn as her head was down working mental arithmetic to find the answer. Big brakes too on my Dowsett Comet. Just as well.

Soon we were passing over the Col d'Izoard 2360m, my 6.2 litre V8 swiftly passing all those Tour de France wannabe cyclists. I had to brush up on my Latin to solve Q15. The tunnel under the col du Galiber crosses from Hautes Alpes to Savoie, into Sabaudia, 'the land covered in fir trees'. The rivers we passed eventually flow into the Mediterranean Sea, a long way from where we are now.

We were on the home run now with only the big Col de L'Iseran 2764m to cross before a twisting downhill drive into Val-d'Isere for our overnight halt. I have driven this downhill in my Austin Healey Sprite and the snow melt running across these roads can make it very slippy, and soak the brakes. Not this time though as virtual brakes work perfectly every time !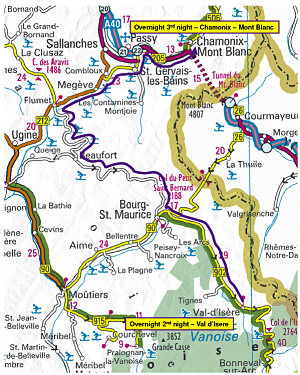 Day 3 - Waking the next morning we were on our way north again toward Bourg Saint Maurice, Les Arcs. I could have taken the train direct from London, on the Eurostar Ski Train. A little over 9 hours and I would have been there already, and on the piste with my ski's. Not today. From Bourg we headed north west over the Cormet de Roslend. Ah, that word we were tested on, meaning a col or summit. The climb has been used many times since 1979 on the Tour de France. At the top 1967m, almost 6500ft is a reservoir or lac. My big V8 again passed the uphill cyclists training with a joie de vivre, ha ha....

I nearly missed Megéve. Someone had painted out the sign on my map! Just in time for a quick coffee stop before heading east. More skiing on the slopes either side as we drove toward our overnight at Chamonix-Mont Blanc, but not before a few quiz questions about the resort, activities, needle in a mountain (I thought they were in haystacks? That took a bit of finding), and history. All solved, though likely a few errors, time for a refreshing beer and a meal with the other crews, well virtually anyway!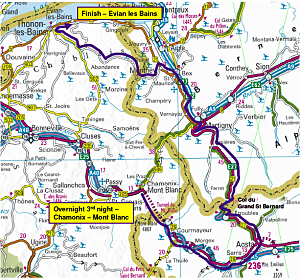 Day 4 Our final day of the tour. straight into the Mont Blanc Tunnel. At 11.6km (7.3ml) it's a long way. I have driven through a few continental tunnels and in an open top car you tend to become light headed from the fumes after a while, despite any ventilation in the tunnel. No problem this time as I chose the fixed head coupé rather than the Barchetta speedster (though I may try one on a summer tour).

We exit the tunnel in Italy, Ah you can smell the pasta and sugo, or is it ragu? All washed down with a fine Barrolo (does this crew think of anything else but food and drink?). From Aosta we go north and into Switzerland over the Col du Grand St. Bernard, once again passing ski slopes and resorts on the way to Martigny. My co-driver answers the flag of Switzerland shares a feature with the Vatican City. For a moment I thought we should have headed south at Aosta to Rome if we were looking for the Vatican. Phew, another near mistake!

Back on track we reached Martigny, north to Monthey, to turn west toward the french border near Morgins. Soon we were approaching Lac Leman on the French side, with views from the hills to Montreaux, Lausanne on the Swiss side, and Geneva just out of sight at the western end of the Lac.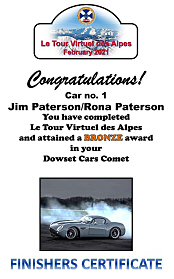 Our arrival at Evian-les-Bains signalled the end of our tour. What else to refresh us, but a glass of the mineral water that makes this place famous.

Joint winners taking gold were Neil Turner in the 1954 Citreon and Tim Hunt in a 1953 Jaguar C Type. Giovanni and Achille Tresoldi won Car of the Event award for their 1955 Mercedes Benz 300SL Gullwing.

We enjoyed this tour to places, some familiar, some new. We look forward to a day when we can once again drive the roads of Europe and anywhere in our classics, freely and with the wind in our faces. Roll on summer.....


A big thank you to organisers Dave Spence and Margaret Campbell who put this 'virtual tour' event together.