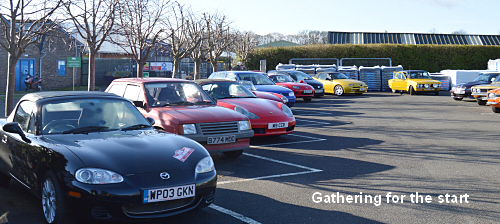 A sunny if rather chilly morning at around 2 degrees greeted the 30 starters for the club's first event of 2018. We gathered at Dobbies garden centre to the south of Edinburgh and crews fueled up on bacon or egg rolls, or for those who had travelled far to reach the start, a full Scottish breakfast.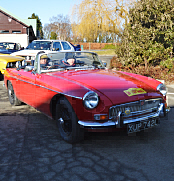 With signing on completed the cars and crews were flagged off to head south into the Scottish borders. Many of the classics were on their first outing of the year and David Alexander turned out in his MGB Roadster fresh from a complete front end suspension and brake overhaul. With son Matthew as his co-driver the pair were using this event as a 'shakedown' before heading for Ireland in the car. Don and Mags Campbell were giving their '55 Sunbeam Mk3 its first airing. A regular on club events the car and crew from the sunny shores of Loch Ness can often be seen on HCC events.
Monte veteran Craig McGibbon, who has several Monte Historique's under his belt brought his Volvo Amazon with Karsten Brown, another Historique regular, usually guiding Ranald White in his Rover P6, keeping Craig on the right road.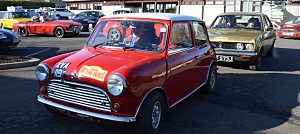 Chris and Mary Paton were out with the mini, always resplendent, but would it be so shiny come the finish, as we has some great single trackers on route, no doubt with their fair share of mud and muck! Colin Laird and Ian Paterson in their '67 Hillman Imp would feel the bumps and mud as well, being so close to the ground. Good Hillman Avengers are becoming rare and speaking to Drew Struthers I found his welding torch rarely cools down on his '71 model. Great to see this marque still active on the road.
John and Julia Mellon always steal the show in their bright orange '74 Ford Escort RS2000, which sounds as good as it looks. In the Triumph camp its always a delight to see George and Elizabeth Ferguson in their '78 Yellow Dolomite Sprint. With the alloy wheels so polished I had to be careful the sun glinting didn't crack the lens on my camera!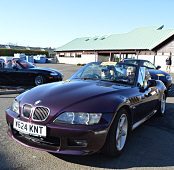 Brian and Janet Telfer arrived in the MGB/GT complete with dogs in the back. Would that be 1 woof for left 2 for right? I was tempted to push a microphone into Brian's hand to provide a running commentary at the start, something he is well known for at Monte historique starts in Glasgow and Paisley.
Chris Sturgeon and Jen Ferguson secured a late entry with an '84 Vauxhall Nova. More 'rat' than 'concours' this once common marque is disappearing fast from our roads. David and Ann Scott were in their '85 Golf GTi, While Ann and George Head started in the familiar '96 BMW Z3. Painted in a unique purple/blue metallic, this car was a limited edition. So special we had two identical Z3's in our event, how good is that? Ron and Jan Adam also have one of these rare models, both on their first outing today.
Mazda MX5's are a favourite and this event brought out a few. Vaughn Taylor and Jim Campbell sported a '98 model, Reuben Phillips a 2003 version, Charlie Young a 2007 variant, and I would follow as closing car in my 2010 folding hardtop model. The joy of one button roof up /down cannot be overstated.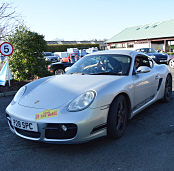 Darren McGuiness from north of England was listed in a BMW Z3 but arrived with Simon Crowe from north Wales in a Porsche Carrera, complete with a wonderful throaty roar. Another keen Porsche crew Craig and Rod Ritchie turned out in their red 2000 Boxster. The top was down as they took off the start line, and would remain so to the end, despite the odd shower they would encounter on route. Keeping with power machines, Brian and Suzanne Pringle drove their 2000 Subaru Imprezza, looking great in the instantly recognisable blue.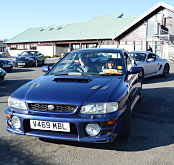 A last minute quick change switched Roddie Main from opening car to replace Maureen Spence, in Roddie's Mercedes 320SL with wife Sylvia. Maureen would drive the opening car with Dave Spence. Duncan Massie with Drew Scott drove in style in the Jaguar XK which has seen a few of the club's continental tours.
Italian cars were represented with Brian McGarrie and Sheila Anderson in a 2000 Alpha Spider. Patricia and David Robertson joined the team in their day car when the BMW convertible did not want to play.
Late entrant Geoff and Bev Ramsay managed to complete repairs to his MGB/GT and get it Mot'd with only hours to spare before we set off. Great to see such determination, to make the start come what may. Hope we see more of this team on future events. Another last minute but very welcome crew was Alan Garfagnini in another MG.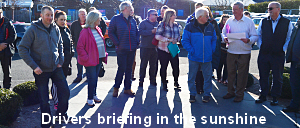 The drivers briefing complete the crews headed south Selkirk, over the country lanes. Not long before Ron Adam caught the low sun which blinded his view of an oncoming pothole. Front wheels missed it but rear clipped it with a sickening thud which ripped the wall. On with the 'spacesaver' spare, but what to do with the now flat alloy? Too big to fit i n the boot, and I'm sure co-driver Jan would not be happy with it on her lap! White Knight to the rescue in the shape of Duncan Massie who threw it in the back of his Jaguar XK. With most of the route yet to run Ron took the decision to set off for a slow journey home toward Dundee.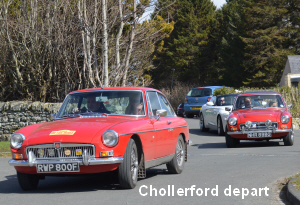 Potholes would catch Charlie Young in his MX5 later in the second leg, when it ripped out the wall of one of the rears as well. The can of 'goo' to seal the tyre was never going to work, and I met up with him just as he was fitting a 'skinny spacesaver' spare which he bought recently for just this possibility. Like Ron he decided to cut and run home, slowly! I don't need to tell you that the state of our roads is now worse than I have ever seen in some 50 years of driving. They know how to charge on road tax, but precious little ever finds its way back to road maintenance. My next vehicle will have to be a half track to survive this devastation!
Passing Keilder Forest we crossed into England to reach our lunch stop at Chollerford. A light lunch was put on for the crews and I met some of the tail enders just as they were leaving, heading to Hexham to fill up their tanks.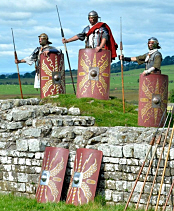 We were now heading back in time following the route of Hadrian's Wall. We passed Vercovicium, or Housestead Roman Fort built in 122 AD where barrack blocks and hospital are still identifiable, as well as the oldest toilets you'll ever see. Vindolanda, one of Europes most important Roman archaeological sites, with its newly refurbished centre, displays many artifacts from the Roman occupation. By look of the car park it was a popular attraction on a sunny Sunday afternoon.
We turned off the road that would end up in Carlisle, heading north to Gilsland, Spadeadam, toward Langholm, catching one or two sudden rain showers, hailstones when I arrived. Now where is the MX5 raise hardtop button?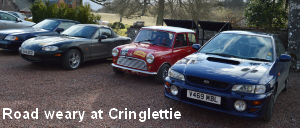 Crossing back into Scotland, leaving the Romans behind, we were on the final section taking us by Eskdalemuir, one of the coldest places in the UK during winter forecasts. Fortunately today was not one of those, as we passed the Kagyu Samye Ling Monastery. From there it was over to Innerleithen, Peebles, and our finish location at the Cringletie Hotel, set in beautiful grounds between Peebles and Eddleston.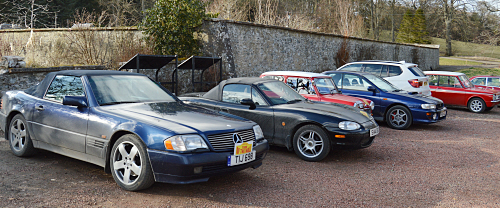 More travel weary cars at the Cringletie finish


A great run of just over 200 miles, plus the odd detour to visit the Roman forts, under mostly blue skies and sunshine made this opening tour a great way to see our outstanding countryside, learn a bit about Roman Britain, before heading 'back to the future'.
Look out for more exciting tours and events later in the year from the club on our
events
page.