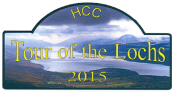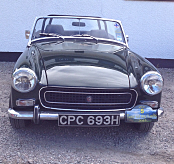 Sprite with rally plate ready
to go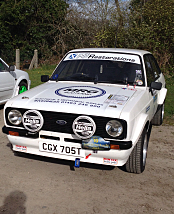 Well sorted Escort bathes in the sun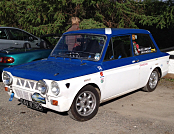 Ian Smith Imp which did not stop on route. Well done Ian.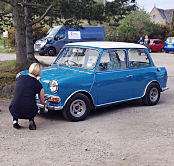 Tracy Smith Elf gets dressed up.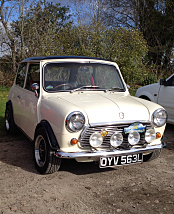 Mini looking good at the start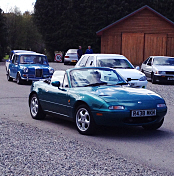 Jackson MX5 after beach trip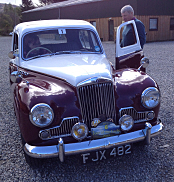 Campbell Sunbeam no longer smelling of petrol.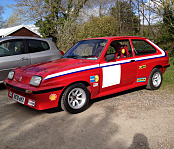 CCarmichael Chevette shines in the sunr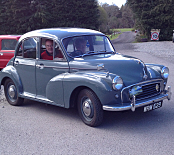 Spence Morris Minor revs up for section 2r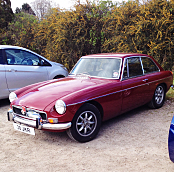 Johnstone MGBr

Tour of the Lochs - 25 April 2015
Story and photos - Jim Paterson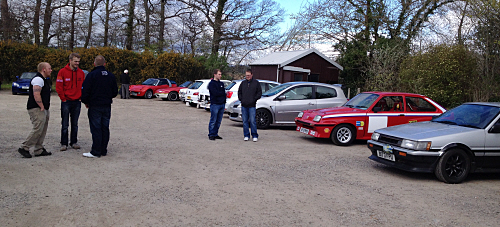 Gathering at Old North Inn


Highland Car Club's tour of the Lochs invited us to drive a route that would take in some of the many lochs hiding in the highland glens around the Great Glen. Most of us are familiar with Loch Ness, but we soon found out that there are more than a few others hidden away, just waiting for a group of classic car enthusiasts to seek them out.

I took the opportunity to take my son's 1970 Austin Healey Sprite for its first outing of the year. As it will be heading for Spain on the Montagnes e France later in the year it seemed a good shakedown event, as well as good fun. In the navigator seat was my wife Rona. In true soft top style we tried to keep the top down all the time. However heading to Inverness on the Friday the clouds darkened around Blair Atholl and we succumbed as the rain began to fall heavily.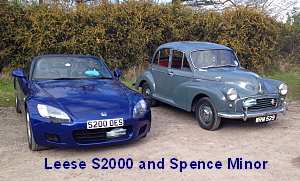 Saturday morning greeted us with sunshine and blue skies, so with top down and stowed away, we headed for the start at the Old North Inn at Inchmore, a change from HCC usual start at Fairways. Mark Forbes had put together a 175 mile tour around the Great Glen, for the 24 starters, and once signed on we were soon flagged off by Mark and entry secretary Fiona Munro.


For me it was retrace our tyre tracks back to Inverness, where we started! Soon got on to the new A82 route heading towards Fort William, along the north side of Loch Ness. Not for long though as we headed up the hills toward Blackfold on the Great Glen Way.. Felt like back in the Alps as the climb got steeper and steeper, providing great views back to the Loch Ness. CCHMSC and HCC member Dave Spence was behind us in his wife Maureen's 1958 Morris Minor. I thought this is going to be a challenge for the little car, and it was. Ask Dave if he had to go down to first gear!

We met Mags and Don Campbell in their 1955 Sunbeam Talbot 90 as we all headed down to Glen Convinth, and Kiltarlity. Onward to the River Beauly, passing Loch Bruicheach, before reaching Strathglass hugging the River Glass. Narrow tight section where eyes peeled for oncoming traffic over the hidden dips was order of the day. Simon and Shirley Jackson in their 1997 Mazda MX5 in trying to keep well into the left hooked the nearside gutter which pulled them into the ditch, leaving the little car beached, going nowhere! A queue of competitors soon built up, but many hands make light work, especially if you have tow rope in the boot. Soon dragged out, back on four wheels and everyone on their way. Oh of the joys of Classic motoring.

We were all glad to join the A831 heading back to Drumnadrochit. This fast section allowed the more competitive crews in the quicker cars to get by and blow the cobwebs away. Rejoining the A82 toward Fort William again meant a leisurely drive with the visiting tourists, enjoying the views across Loch Ness.

At Invermoriston it was time to take to the hills again, through Glen Moriston, alongside the River Moriston. We caught a glimpse of Loch Cluanie, then Loch Loyne, before going over the hill to reach Loch Garry, on our way down to Invergarry, back on the north shore of Loch Ness. A free run up to Fort Augustus on the A82 got us to our lunch halt at Stravaigers Lodge, but not before the Sprite crew, and quite a few others, missed the turn and headed straight out of Fort Augustus. Why are all these rally cars coming at us I wondered? The penny dropped and soon we turned round and were welcomed with hot soup and sandwiches, plus a lot of banter from the other crews.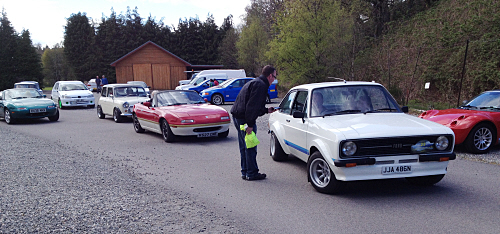 Mark at the Stravaigers Restart


Fully refuelled we lined up as Mark flagged us off again at 1 minute intervals on the second section. Good idea to prevent us all dashing off together, creating a giant procession.

We were now on the south side of Loch Ness, and climbing up into the hills passed Loch Tarff, Loch nan Eun, Loch Knockie, and Loch Mhor as we headed east. Loch Kemp, at Whitebridge was really out of sight, so not sure if that counts! I was running out of paper to keep track of the lochs which started to come thick and fast. Loch Ruthven was next up on our left then we circled round Loch Duntelchaig. now does that count twice, as Loch Ashie was in between the two sightings?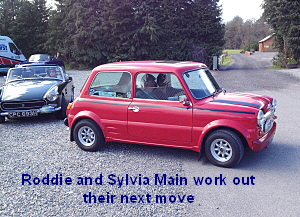 The downhill descent to the A9 at Daviot took us along Strathnairn, before a quick crossover the A9 to head for Cawdor Castle. A loop round to head back west to Inverness we passed Culloden and the battlefield. Over the Kessock Bridge to the Black Isle and along the north side of the Beauly Firth took us to Muir of Ord. Nearly finished, with a quick drive to Beauly and back to the Old North Inn, for a buffet meal at the finish.

Well I make it 12 lochs on route, and more if you count second sightings. Amazing views, great scenery, fabulous roads, great company, good stopovers (if you can navigate to them Ahem!)

Well done to Mark and the HCC team for a fantastic event. Just as well it was Saturday, as my drive down to Edinburgh on the Sunday was greeted with snow over the Slochd summit. Definitely had the top up then. The Drive It Day event out of Inverness got its fair share too. Read all about it - Drive It Day

Can't wait for the Crofterra in September when once again we will get to drive some more terrific highland roads. .


Updated 2 May 2015
Webmaster