RSAC Three Lochs Classic - Sunday 21 August 2022

Story Jim Paterson. Photos Andy Thomlinson


'

Back to the Future

'

was the catchphrase as the Three Lochs Classic returned to Royal Northern and Clyde Yacht Club at Rhu on Sunday 21 August. This venue was the start in the early years of this event, with this year marking the 20th running of the Three Lochs. Entrants welcomed the return to Rhu.

As usual the RSAC organising team provided Two routes a full length route of some 79 miles and the traditional 'Wee' route for the older more fragile vehicles of some 49 miles.

Eight classes covered all the entrants, with an 'open' class for modern cars included for the first time. As a special treat for the crews a run up the 'Rest and be Thankful' old military road was included for both routes. A big thank you to Steven and Diane Kinghorn at the Rest for welcoming us.

The weather was kind to us with blue skies and sunshine around for most of the trip.
The long route headed over to the A82 to run up the west side of Loch Lomond. The turn into Glen Douglas climbed back over to Loch Long, and the road to Arrochar, where we met the short route crews from Helensburgh. On to the A83 westbound to head for the Old military road and the Rest and be Thankful in Glen Croe.
.
Our photographer Andy Thomlinson found the 'hotspots' to take a great selection of photos of the cars as they headed up the old hillclimb road.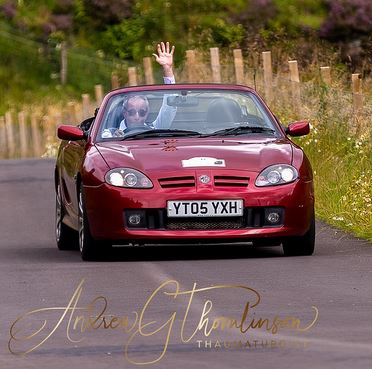 The long route crews headed through 'Hells Glen' taking care to lookout for vehicles coming the other way, a not uncommon occurence on this mostly single track twisting section. A right turn at the end took us north back to the A83 heading east back to Tarbet where we joined the A82 back down the side of Loch Lomond. We headed over Glen Fruin toward the Gare Loch, then south toward our finish back at Rhu.

Back at the yach club the 'Concours de Elegance' judges got to work, selecting a winner in each class, plus first and second overall, who won the Provost's Trophy and Albion Cup.
You can download the winners of each class and overall on this link

A great day for all the crews, and a wide selection of cars entering the event made this anniversary year event a big success.

See the full set of photos on the 'Rest'