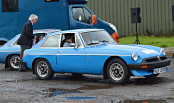 Reunen Phillips MGB/GT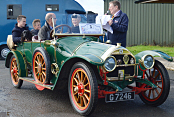 Meek Family Darracq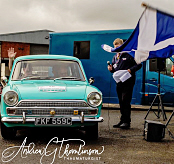 John Beattie Cortina
Robin Ord MGA roadster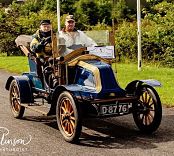 Hamish Wilson Renault 8AX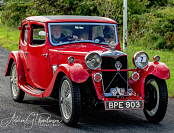 Mitchell Sorbie Riley Kestrel 9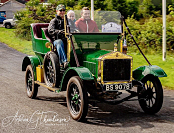 Dover - Alldays and Onions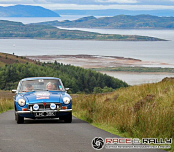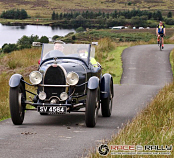 Branislav Sudjic Bugatti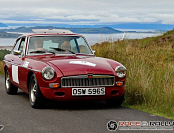 Telfer MGB/GT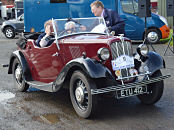 Ronnie Johnston Morris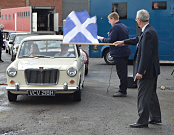 Wallace MG 1300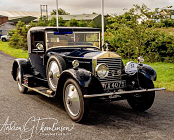 McDougall Rolls Royce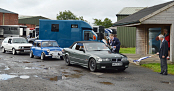 BMW, Mini and Golf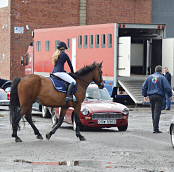 make way for horses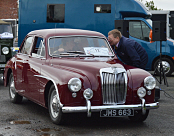 Ian Wright MG Magnette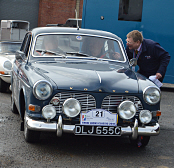 Craig McGibbon Volvo 122S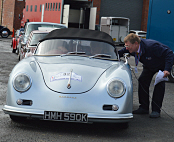 Beaton Chesil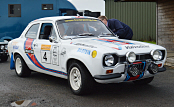 Robertson Mk1 Escort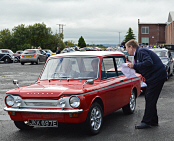 Laird Imp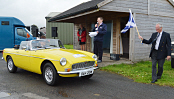 Duncan MGB Roadster

Three Lochs Classic - Sunday 19 August

Story Jim Paterson. Photos Jim Paterson, Andy Thomlinson, Frank Love

The RSAC Three Lochs Classic headed for new territory for the 2018 event. Over 50 classic and sporting cars lined up at the Morris Equestrian Centre, just north of Kilmarnock, to challenge the all new big and wee routes, each taking in 3 new lochs. Veteran, vintage, classic and sporting cars drove either the big 75 mile route, or the 60 mile wee route. The overcast skies melted to let the sun shine down on the crews as they set off on their run.

As one of the Concours d'Elegance judges I arrived just in time to see the starters head out on to the byways of Ayrshire. The big route crews set of first, with organiser Jonathan Lord having a short interview with each of the starters. They were flagged off on their way by Mike Gascoine, who would also join me as a concours judge later on.

I caught up with the starters just as Margaret Healy in her blue 1955 MGA, complete with hamper on the bootlid, looking forward to a picnic later on, somewhere with a good view. Margaret told me later that her husband rebuilt the mechanicals while she refurbished the interior. This attention to detail would win her 2nd overall, The Provost's Trophy, at the awards presentation.

It was an MG line-up that followed with Reuben Phillips '78 MGB/GT, also in blue, followed by Ian and Ann Mackie in an earlier '71 MGB/GT, yet again in blue. The bonnet was covered with rally plates from various previous events, including some Monte Heritage runs. No it can't be. not another blue MGB? Oh yes, though this time a '72 roadster crewed by Ian and Michelle Caldwell. We continued the MGB departures, but a change of colour to a yellow '81 roadster with Danny Duncan at the wheel.

Everybody loves a Frogeye Sprite and Susan Gold looked delighted to be at the wheel of her '61 example. A change of Marque to Ford, and the fine example of a '65 Cortina Mk1 Estate driven by John Beattie. Hillman rolled up to the start line, with Colin Laird at the wheel of his '67 Imp. Robin Ord set off in his '59 MGA roadster, one of three red MGA's on the tour, with Craig McGibbon in his Volvo 122S, a veteran (the car that is) of several trips to Monte Carlo on the Historique event.

As an equestrian centre the venue had a fair selection of horses moving around and our crews had to keep a sharp eye on them as they progressed toward the start flag. A Jaguar E Type led the Jaguar club entries, followed by Fulton Beaton crew in their Chesil 356 Speedster. Brian and Janet Telfer set off in their MGB/GT complete with canine assistance in the rear.

Driving in the opulence of a '71 Bentley T1 was the Robert Kelly crew, dressed in period attire, Robert complete with outrageous flares, with turnups! He would win the Best Dressed Gentleman award. Well deserved too. Following a Morgan we were back to the MGA's in red. This time the '59 Twin Cam of Donald Laing.

Heading back in time was Christopher Broom-Smith in his resplendent 1930 Rolls Royce 20/25 convertible. In stunning yellow this car was once owned and driven by Henry Royce himself on the French Riviera. Christopher told me that the car was recently recommissioned after ending up in four feet of water when the local river burst its banks into his garage. Thank goodness for agreed value insurance. Christoper would collect 1st overall for this magnificent machine at the award presentations.

Jaguars with leaping cat followed with John Brockie in his 2006 XJ350, with the bright yellow 'Dolly' of George Ferguson in the '78 dolomite Sport following on. The BMC 1300 range are now few and far between, so we were lucky to see this well restored '69 MG variant driven by Moira Wallace, which would collect 1st in class award. Moira would also collect the Best Dressed Lady award for a very flower power outfit, complete with colourful headband. Going to be tricky to beat that one for next year.

Following another Jaguar XK8 was George Head in his '96 BMW convertible, often seen on club tours. A Mini is a must, and Ian Duncan brought his '93 example. He would be joined by Chris and Mary Paton in their outstanding bright red 1960 Mk1 example, seen on many club tours across the country.

David Scott arrived in his '85 Golf GTi, and Mike McCormick in his ex funeral director Jaguar XJ limousine. Last of the red MGA's took of with George Rome at the wheel of his 1960 car. George would collect first in class for his well prepared car. A colourful 1970 Mk1 Ford Escort, with many decals to its name took off with Robbie Robertson at the wheel.

Graham Runcieman took off at the wheel of his '71 Alpha Romeo 1750 GTV, followed by Iain Wright in his '56 MG Magnette. Andrew Paterson arrived in a '57 Landrover Series One, complete with army regimental markings.

Alpha Romeo, this time a '99 916 Spider with Alan Johnston at the wheel, was followed by Joe McColl in his '60 Jaguar XK150, which won the Jaguar Class award. Colin Bruce brought his bright yellow '91 Lotus Elan SE, which we saw recently at the club Gymkhana. The '78 MG Midget of Carrick Hewitson set off in pursuit after Colin. Charlie Young was at the wheel of his '07 Mazda MX5. Charlie is pruning the VSMA tour in October, so check out the CCHMSC website for details.

Back to style and the wheels of Prime Ministers past, the '73 Rover P5 of James Walker, with the diminutive '34 Riley 9 Kestrel of Mitchell Sorbie looking on top of the world riding on white spokes, the car and crew collecting first in class. Peter Christie was looking regal in his '36 Austin 12/4 New Ascot, with Alec McDougall in a a blue Rolls Royce looking just as regal.

Pulling up the veteran and vintage cars was Hamish Wilson in his 1912 Renault 8 AX. Some of the hills would force the crew to stop and let the coolant cool down, much like the Meek family 1913 Darracq which would win First in Class. Richard Dover was also high up in the seat of his 1912 Alldays and Onions 12/14, another car that we often see out and about during the summer months.

Branislav Sudjic brought one of his Bugatti's, this one his 1927 example, with Ronnie Johnston in his '38 Morris roadster. Finally the rare 1928 Triumph Super 7 Boat Tail, only two left in the UK, of Arthur Harvey took off. Arthur showed me the dickie seat at the back which can seat a 6 footer he told me. a wonderful car. To end the start parade was William Craig in his 1987 Mercedes -Benz 420SL which won him the class award for special cars.
Leaving The Equestrian centre the crews headed west then north toward Stewarton and Dunlop, on their way toward Barrmill and Beith. A quick run up to Lochwinnoch saw us pass Barr Loch and Castle Semple Loch on our way to Greenock. The climb up toward Largs on the west coast passed Loch Thom on our right and Gryfe Reservoir No 2 on our left.

Outerwards Reservoir was next on our right, so plenty of water on this trip. South from Largs, hugging the west coast on the road to Irvine, we turned inland on the Dalry Moor Road, where photographer Frank Love was waiting at the summit near Glenburn Reservoir, to capture superb shots of the cars with a stunning background.

We passed several more reservoirs before reaching the A737. For those gasping for a coffee there was a stop at Dalgarven Mill highlighted on the road book.


The home run took us back through Stewarton and Kilmaurs, on the Fenwick road back to the Equestrian centre. Some 75 miles for those who didn't miss a turn.


The Wee route made a couple of 'cut and run' direction changes to reduce the mileage and ease the strain on the older veteran cars, without missing the main features, and still meeting the photographer at Glenburn Reservoir.


Hamish Wilson in his 1912 Renault 8AX and the Meek family in their 1913 Darracq TT13 reported a tough climb, stopping to let the radiator cool down. The joys of early motoring. At least it was dry and the views spectacular.










Jonathan Lord presented the awards after a welcome meal at the end. A great day over this new area of Scotland for the Three lochs Classic. I'm sure we will be back here next year.
Published 23 August 2018
Webmaster