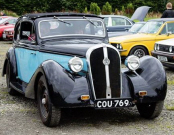 Sudjic Hotchkiss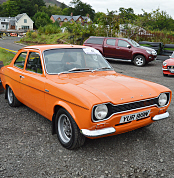 Mellon Escort RS 2000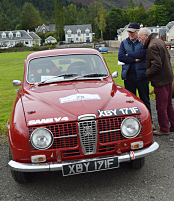 MacDonald Saab V4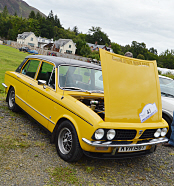 Ferguson Dolomite Sprint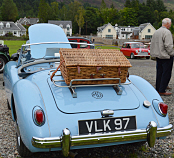 MGA ready for picnic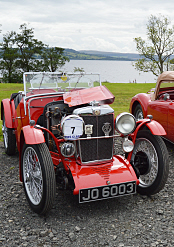 Runcieman MG J2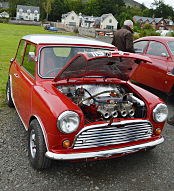 Paton 'hot' mini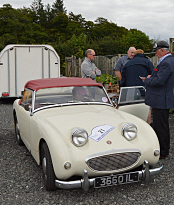 Fotheringham Sprite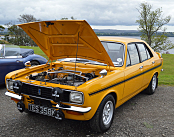 Anderson Avenger Tiger
Walker Rover P5B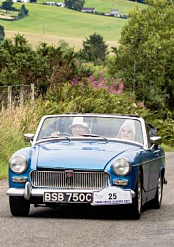 Millar in MG Midget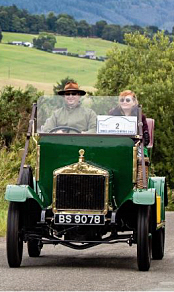 Dover in Alldays and Onions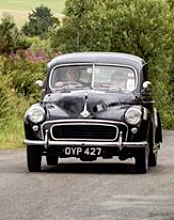 Heron in 1954 Moggie


Three Lochs Classic - 20 August 2017

Story - Jim Paterson. Photos - Paddy MacKay, Jim Paterson

Balmaha, on the shores of Loch Lomond, welcomed 60 starters for the 2017 Three Lochs Classic on Sunday 20th August. The inbound hurricane Gert was thankfully delayed over the Atlantic making it a dry if at times cool run across the roads of the Trossachs. With a shorter 'wee' run of 58 miles for the veteran class, and 75 miles for the rest, this year featured two lochs and a lake. The Automotive University of Rhu once again provided degrees for those entering the light hearted 'examinations', and a Concours d'Elegance completed the day.

Mike Gascoine flagged off the starters with Jonathan Lord getting them to line up in order. Later Mike, Gordon Hood and myself Jim Paterson would do the Concours d'Elegance judging.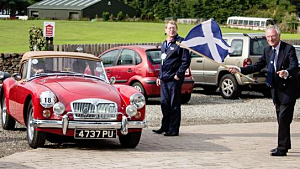 The pre-war classes covered veterans, with Hamish Wilson sporting a 1912 Renault 8AX, which he regularly drives to France for Renault reunions, and Richard Dover returning in his 1912 Alldays and Onions 12/14 hp, which is an ongoing labour of love to keep running smoothly. The Meek family arrived in their immaculate 1913 Darracq TT13, which would end up taking top place in the class.

The vintage class listed two 1930 Rolls Royce 20/25 but Allan Lapsley was the only one that turned out, and a fine car it was too, which meant it won the class, and the overall award of the day..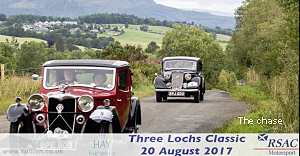 Taking us to the and of the pre-war post vintage class, spanning 1932 to 1938 was a selection of Riley, Wolseley, Austin, Morris and MG, names that were common on our roads for many decades, in the. Graham Runcieman in his fine example of a 1932 MG J2 won the class prize, and second overall award.

We moved into the 1950's and the Classic car period. Class 1 featured the 1954 Big Healey 100 of Kevin Begen, Steve Heron's 1954 Morris Minor, and Margaret Healy in her 1955 MGA. Margaret collected the class prize.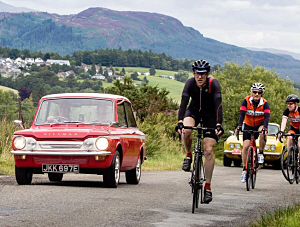 The sixties classics were well represented with a great show of MGA's from Donald Laing in a 1959 twin cam, Robin Ord in a 1959 Roadster, and George Rome in his 1960 pristine example of the marque, which won him the class prize. CCHMSC members Chris and Mary Paton bought their well presented 1960 Mini which we will see on the forthcoming Crofterra Pandemonia in September. David Fotheringham brought his 1961 Austin Healey Sprite frogeye, and the crew would win best dressed, while Donald Gordon is having great fun in his 1963 big Healey 3000 B37, securing second in class. Craig McGibbon in his 1965 Volvo 122S still carries the Monte Carlo Historique decals, celebrating one of several runs he has made to the Cote d'Azur in the car. CCHMSC member Jock Millar enjoyed the run in his 1965 MG Midget, which he reported was too quick for many of the entries today.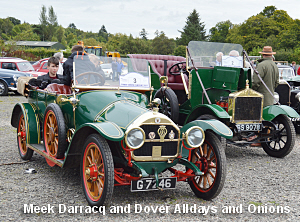 The late sixties and early seventies were so well represented that they spread over two classes. Class 3 was difficult for the concours d'Elegance judges with too many fine examples. John Beattie had made a superb restoration of a 1965 Ford Mk1 Cortina estate, a car I remember driving in my early days. Colin Laird 1967 Hillman Imp was a beauty too. Iain MacDonald in a 1967 Saab 96 V4, was joined by Linda Adams in her Morris 1800 Mk2, and Ron Smith in a 1968 Triumph TR5. Wilma and Fulton Beaton returned in their 1971 Chesil Porsche 356 Speedster, a practical and more affordable way to drive this iconic Porsche. No classic entry would be complete without a Morgan, and Donald MacDonald obliged with his 1971 4/4 example.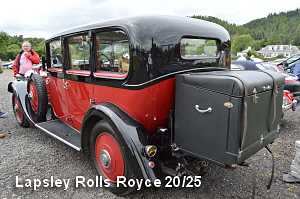 Still in 1971, Jim Simpson sported a morris Traveller, while Guthrie Anderson had an exemplary example of a Hillman Avenger Tiger, which all the judges agreed had to be the class winner. The 1972 cars included Dan Gardner's Volvo 1800ES, Ian and Michelle Calder MGB/GT, and Marion Hopkins in another Morgan, this time a +8.

Classic Class 4 took us to the end of the seventies with James Walker in his 1973 Rover P5B Coupé taking part in its first ever event. Bought in 2002 in a series of crates, having being in storage sine 1986, he has worked steadily on the rebuild. The chrome was so immaculate you needed sunglasses on to shield you from the sun sparkle. Of course all the judges had no problem awarding James the class prize. Brian Johnston 1974 Reliant Scimitar GTE was joined by John Mellon in his 1974 bright orange Ford Escort RS2000, recently seen on the CCHMSC Grass Gymkhana. George Ferguson in his bright yellow 1978 Triumph Dolomite Sprint drew lots of interest, including club member and fellow 'Dolly Sprint' owner Karsten Brown, looking for hints and tips as he rebuild his own. Brian and Janet Telfer had their MGB/GT rounded up the class.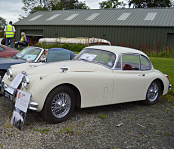 Over 10 Jaguars had their own class, with the Jaguar Drivers Club presenting the winners award. The Three Lochs judges had also selected the same winner, Bill Ross with his immaculate 1950 XK150 SE. You have to be dedicated to keep chrome wire wheels as clean as he does. Or is that bonkers?

Finally there was a 'Special, or Open Class' introduced this year, for post 1982 cars of particular interest. Cars from 1985 to 2007 entered, with David Shedden in his 2007 Porsche Boxster S collecting the class award. David Scott had a clean 1985 Golf GTi, with David Marshall seen again with his Peugeot 205 Rallye 1.3, a regular on events. George Head had a 1996 BMW 320i convertible, while Alan Johnston arrived in a 1999 Alfa romeo Spider. Pulling up the rear, but not least Charlie Young in his 2007 Mazda MX5.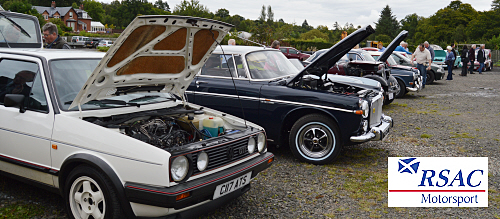 A great day enjoyed by all. What will 2018 bring for the event. Watch this space.


| | | |
| --- | --- | --- |
| Donald Gordon Healey 3000 | Allan Lapsley collect overall award | Best dressed crew |


For more photos of the day from Paddy Mackay see:-

Published 23 August 2017
Webmaster