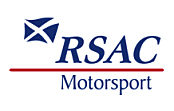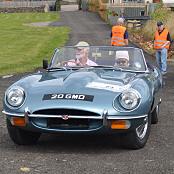 Arriving in style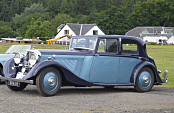 Kelly Bentley T1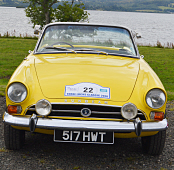 Leslie Sunbeam Alpine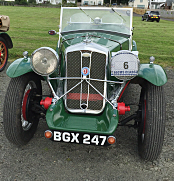 Harvey Daytona Special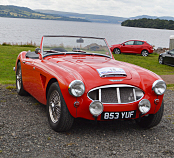 Big Healey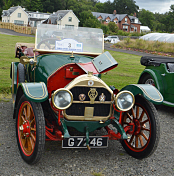 Meek family Darracq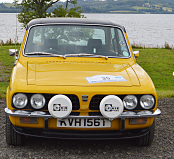 Ferguson Dolomite Sprint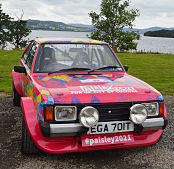 Meggat Sunbeam - Paisley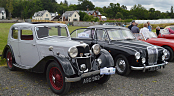 Riley meets Magnette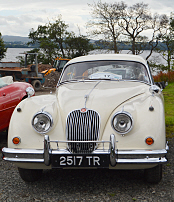 Ross Jaguar XK150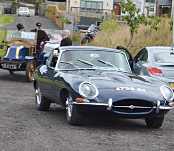 AX chases E-Type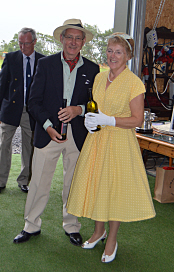 Best dessed
Bill & Ethel Ross


RSAC Three Lochs Classic - 6 August 2016
Story and photos Jim Paterson.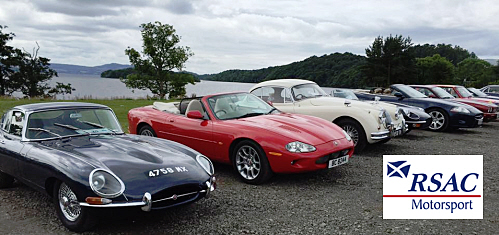 Line up of Jaguars as they return to Balmaha



A change of venue to the east side of Loch Lomond at Balmaha for the 2016 running of this annual favourite in the historic and classic car events calendar.

44 cars across 8 classes entered the event, the oldest harking back to the very early years of motoring in the shape of a 1912 Renault AX proudly owned by Hamish Wilson.

The new venue enabled completely new routes to be presented. In keeping with past years a choice of the full route of some 60 plus miles, plus the affectionately known "Wee" route of 40 miles is offered for the more elderly cars in the veteran and vintage classes.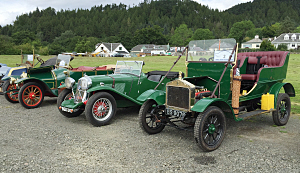 Hamish Wilson in his 1912 Renault AX in the Veteran Class as joined by Richard Dover in his 1912 Alldays and Onions, and the Meek family 1913 Daracq TT13. I last saw the Daracq at the Monte Carlo Historique start earlier in the year at Paisley. It didn't head off to the south of France but it did provide a colourful sight amongst the other starters. The crew would secure the Class prize at the end of the event. Richard Dover told me that his Alldays was running well and later this year he will be rebuilding the steering, with many of the parts being hand made by him for this 104 year old machine.

Following them was the Vintage Class with the sole entry, David Gray in his 1925 Delage DISS. No guessing who would win this Class prize, but well worth it as he still had to make it round the 'wee' course.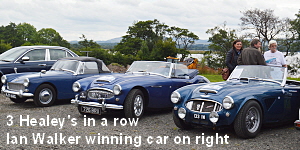 We moved into the 1930's for the Post Vintage Class, with Graham Runcieman driving a magnificent 1930 MG J2. I was fooled into thinking it was an MG TA, but this model preceeded the TA by some years. Arthur Harvey sported a 1934 Wolsey Hornet Daytona Special, which would go on to win the Class Prize. Alan Stuart Forbes was travelling in style behind the wheeel of his 1935 Bentley 3.5 litre saloon. William McReath was close behind him in his 1936 Riley Falcon. Always good to see some of the Scottish Riley Enthusiasts out with their cars. They're an active bunch with Gordon Allan organising many exciting trips across Scotland, the islands, and beyond. The class was completed with Willam Jardine in the 1937 MG VA Tickford.

Moving to the post war cars, Classic Class 1 had a 1946 MG TC driven by Iain Wright, a 1950 Daimler with Hamish Dickie, the first of the 'big Healeys' in the form of Kevin Begen in a Healey 100, who would secure the Class prize. Geoff Douglas brought along his 1954 Daimler Dauphin and Margaret Healy drove her 1955 MGA. Having just completed a 4 year total rebuild the car looked outstanding in the original Iris blue, more commonly called sky blue. The body off rebuild showed the full pedigree of the finish being as clean underneath as above. Not surprisingly they won The Oak Tree Trophy first overall in the Concours d'Elegance prize for the event.



We were into the late 50's and early 60's cars for Classic Class 2, with Chas Batchelor in his very tidy 1958 MG Magnette. Bill Ross and his 1959 Jaguar XK150 has been on this event before and prepares his car immaculately, as did Andrew Paterson with his 1962 E-Type. David Leslie broke the Jaguar hold with a fine 1964 Sunbeam Alpine Series IV, with Terry and Lindsay Paterson arriving in an MGA Roadster. George Rome brought a resplendent 1960 MGA and won the Class prize for his efforts.

We had three more 'big Healey's' in this class, all '3000's. Anthony Davey in a 1960 model, Donald Gordon in his 1963 car, and Ian Walker in a 1959 variant, which would win The Provost's Trophy second overall in the Concours d'Elegance prize.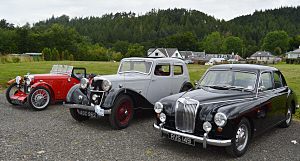 Moving on to the late 60's and early 70's cars for Classic Class 3, George McDougall in one of the many resplendent Jaguars lined up, his being a 1969 E-Type. Keith Mainlnd drove his Austin Healey Sprite, one of my favourites, having one in the garage at home. A 1969 Ford Cortina 1600E, arguably one of the most elegant Ford models ever produced at the time had Jim Crawford behind the wheel. Jame sWalker had a Rover P5B, then back to E-Types and Cliff McKinnon who brought his 1970 model along. Another 1971 Bentley T1 was driven by Robert Kelly, whilst a very tidy 1971 Morris Traveller, with excellent woodwork, a weak spot on these models, looked the part with Jim Simpson at the wheel. Fulton and Wilma Beaton brought their 1971 Chesil Porsche 356 Speedster which is always a welcome sight. No line-up would be complete without an MGB Roadster and Ian Caldwell brought his, and won the Class prize with it too.

Into the late 70's and early 80's for Classic Class 4 with John Mellon and a terrific 1974 Ford Escort RS2000, much sought after these days. James Meggat had his 1978 Chrysler Sunbeam in full Paisley 2021 livery, followed by Robbie Bulloch who tends his 1978 Ford Escort Mk2 with pride, and can be seen on many classic car runs across the country. Alex McWilliam completed the MGB linep with his 1980 roadster but it was George Ferguson in his very smart 1978 Triumph Dolomite Sprint who stole the Class prize.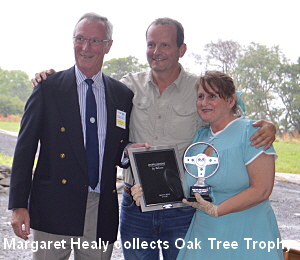 The late 80's and onward entries were in an Unclassified or Open Class, with a great selection. David Scott had a 1985 Golf GTi, Blair Colquhoun 1998 Jaguar XKR, Alan Johnston 1999 Alfa Romeo Spider, John Brockie 2006 Jaguar XJ Sovereign, Mike McCormick 1994 Jaguar XJR6 X300, Cliff McKinnon a 2006 Jaguar XK, and Andrew Hastings with a real flyer in the shape of a 2013 Jaguar F-Type. David Marshall collected the Clas prize for his period rally liveried 1989 Peugeot 205 Rallye 1.3.

The success of the Balmaha venue was expressed by all those who entered, and is likely to be repeated from here for the 2017 Three Lochs Classic if all goes to plan.

Updated 16 August 2016
Webmaster