Strathmore Classic Car Tour - 26 June 2016

Report and photos Alan Cairns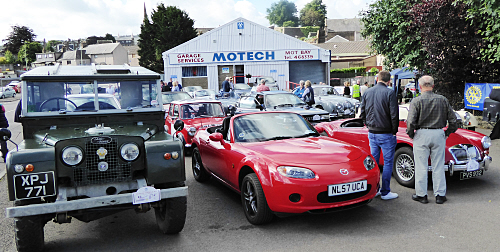 On Sunday 26th of June The Rotary Club of Forfar held its first Strathmore Classic Car Tour in aid of Scotland's Charity Air Ambulance. There was no entry fee but entrants were asked to raise a minimum level of sponsorship.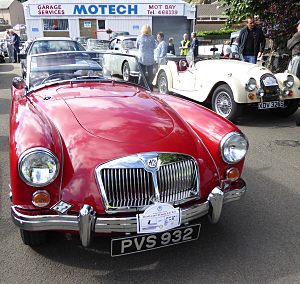 As the cars arrived at Motech in Forfar for registration and a 10 o'clock start the sun broke through the clouds. At registration the route book, using tulip diagrams, a goody bag and an observational quiz were handed out to the entrants. There were a total of 63 entrants. The oldest entrant was a 1930 Rolls Royce Phantom Continental Tourer. The entry list included many classic cars and sports cars from the sixties, seventies and eighties as well as some more modern sports cars.

The route headed west from Forfar along the minor roads of Angus towards Alyth. From Alyth the cars headed north over the hill to Glen Isla then on to Glen Prosen and Glen Clova. After a lunch at the Clova Hotel the drivers and their navigators were able to relax in the sunshine, and admire the great variety of cars entered, before setting off again.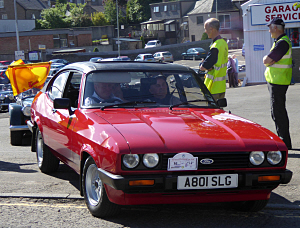 The afternoon route headed down the east side of Glen Clova then at Cortachy the cars turned east towards Memus and then on to Edzell via the Brown and White Caterthuns. The cars then passed under the A90 and on through Brechin heading for Arbroath before turning west again shortly after Froickheim. They then worked their way across country and finished the day by driving down the driveway to Glamis Castle. Fortunately most of the cars arrived at Glamis before the rain started. The total mileage for the day was about 125 miles.

Prize giving was held after a High Tea at Glamis Castle and everyone headed off home by six o'clock.

The event raised over £15,000 for Scotland's Charity Air Ambulance. The Rotary Club of Forfar is very grateful to the event's sponsors and all the entrants and their sponsors for helping the Club to raise so much money for a very worthy cause. The total was way, way beyond our wildest dreams.



A date of Sunday the 25th of June 2017 has been set for the second Strathmore Classic and Sports Car Tour.