SACC Appoints its First President - July 2014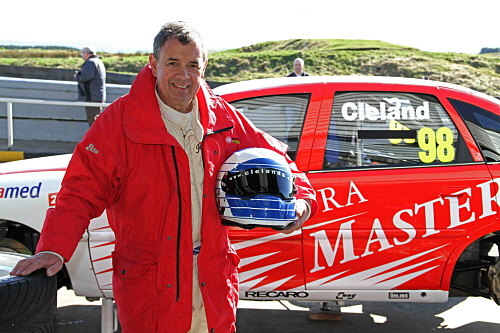 John Cleland has been appointed the first President of the Scottish Association of Car Clubs (SACC). The twice British Touring Car Champion will assume his new role with immediate effect.

Representing over 50 amateur motor sports and car clubs throughout Scotland the SACC meets regularly to discuss rule changes and common issues, and works closely with motor sport's London based UK governing body the Motor Sports Association (MSA).

Commenting on his appointment, John Cleland said: "Scotland has achieved huge success on the world stage of motor sport, from Jim Clark and Jackie Stewart to Andrew Cowan and Louise Aitken Walker, and from Allan McNish and Dario Franchitti to Colin McRae and Robert Reid, but what each and every one of them had in common was the fact that they started their career by joining their local car club."

He added: "These car clubs provide the backbone of the sport and without their thousands of enthusiast members, the 3,500 competition licence holders in Scotland would have no events in which to take part. Every weekend throughout the year there is some form of motor sporting activity taking place from autotests and navigational rallies to motor race meetings and cross country endurance events – and they are all organised and marshalled by amateur enthusiasts who are passionate about their sport."

"I joined my local car club when I was 17," recalled John, "and have taken part in just about every form of motor sport over the years - and enjoyed every single moment of it, well almost. Like any other sport, the fun, enjoyment and huge 'highs' are often countered by extreme disappointments and the inevitable mechanical failures. But that's all part of the fun!"

The SACC fulfils a vital role between the Car Clubs and the sport's governing body and has two seats on the MSA Regional Committee which comprises representatives from all 15 regional associations covering the whole of the United Kingdom.

SACC Chairman, Roger Reed said: "The Association has never had a President, but we believe there is a need to do more to promote Scottish Motor Sport and raise its profile nationally. Having a figurehead with the right skills is seen as one way of achieving this."

"John Cleland was the unanimous choice of all of us around the table and we are delighted he has accepted this new position. With his help we hope to further promote the vital role that car clubs play, assist enthusiasts in their endeavours, help attract new members and encourage new participants to the sport. John is the perfect example of what car clubs can do and individuals can achieve in this sport," concluded Roger.