Border Reivers - 7 April 2019

A full line-up of forty classics turned out at Eddleston for the start of the 2019 opening event in the club calendar. Though the skies were heavy, as the scots would say 'dreich', it did nothing to spoil the terrific route club members Ranald Bruce, and Louise Wall put together.

After refuelling with tea, coffee and the obligatory bacon roll, after the signing on, the crews set off from the Scots Pine Bistro toward Eddleston where the hung a right over the Meldon Hills on their way to Stobo Castle.

First away was Ian Lindley and Alan France in a bright red Lotus Elan S3, followed by the 1970 Volvo Amazon of Peter Holmes and Andrew Isherwood. This car is a Monte Carlo historique veteran so should be fine in the Scottish mist. Lindsay Smith and Anne Johnston took of in their more modern Mini, with Ron and Jan Adam in a 2000 BMW Z3 hot on their heels. Vaughn Taylor brought his latest 1972 Saab 96 acquisition. Co-driver Lewis Irwin told me it can hold its own even on these slippy roads.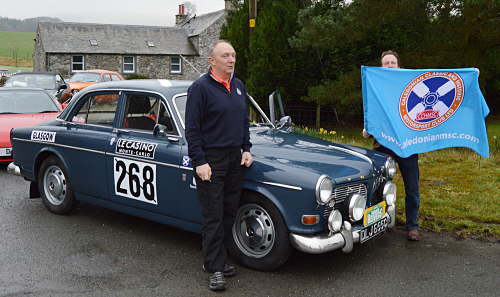 Craig McGibbon with Volvo Amazon. Ranald skulking behind start flag!


Time for another Volvo Amazon with Monte Historique provenance, this time with Craig McGibbon at the wheel and Owen Ferry reading the route. Criag tells me that this car will be up for sale soon, so if your interested drop me an email. Charlie Young is usually at the wheel of his Mazda MX5, but yesterday the steering / front suspension played up making it impossible to drive, so turned out in the day car with wife Netta in the CRVr. Graham Morris and John McDonald brought a 2014 Vuaxhall Corsa, chased by the '78 Triumph Dolomite Sprint of John and Elzabeth Fergusson. This bright yellow example is a regular at our events and certainly stands out.

Another regular, David and Anne Scott in their '85 VW Golf headed out, with Malcolm McLeod in his 2008 MX5 with co-organiser Louise Wall on the maps. The bright orange '74 Mk1 Escort RS2000 means it has to be John and Julia Mellon, another regular at club events. We also had two Subaru Impreza's, Gary and Angela Douglas in their '96 model, and Brian and Suzanne Pringle in the 2000.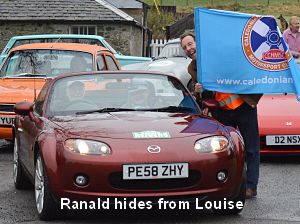 A real trip back in time to see the 1959 Porsche 356 of Simon and Paddy Whittley. Wonderful to see this rare machine out on the road. Wheelspin galore as the '91 Honda NSX of Graeme and Beth Cargill took of on the damp surface. This car and crew have driven all across Europe on the clubs continental tours, so this is a short jaunt for them today. Sean and Derek Reynolds next in their '85 Porsche 944, in red of course! You have to have an MGB, and Reuben Phillips brought his '85m MGB/GT with John Smith in the left seat. Maude Donkers with daughter Eleanor followed in thir '85 Mercedes 380SL The car would hit a pothole later on, throwing the car onto some mud and into the ditch. Can report crew OK but car will need a fair bit of TLC.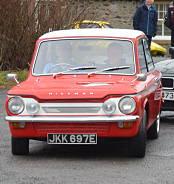 Another red car, this time the 1967 Hillman Imp of Colin Laird and Brian Shute, was followed by regular crew Ann and George Head in their '96 BMW convertible, keeping the hood firmly up today. Known to all our entries, Chris and Mary Paton in that lovable but rapid Mini. Look under the bonnet next time you have a chance. Fantastic.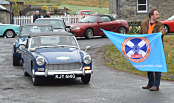 A favourite of mine, having one in the garage, a '69 Austin Healey Sprite crewed by Keith Mainland and John Baird. Bill and Val Pollock brought the '65 Triumph TR4A in preference to their TR2. Good choice given the weather. Charles and Catherine Donkers, the other half of our Dutch team, in the 2003 Porsche 911 Turbo, which did survive the run in one piece.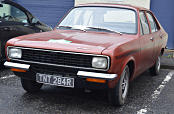 Tom Niven and Karen Wilson set off in Tom's new '05 MGF, recently acquired and getting an early run. Craig and Rod Ritchie always cut a dash in their 2000 Porsche Boxster, complete with top down. They make them brave over in the west. Hillman Avengers are becoming more scarce and it was great to see Drew Struthers and Elizabeth Cooper in their example. Maureen and Dave Spence, all the way from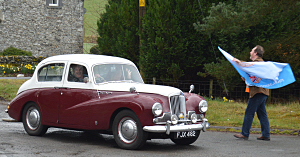 Inverness, followed in their Renailt Megane. Richard and Yvonne Bartniczek, also from Inverness, normally arrive in their '68 Alfa but the day car BMW X1 was pressed into service today. Duncan Massie and Jenny McKay drove in style in the Jaguar XK, whilst Scott Clements and Liz Junor squeezed into the smallest car on the event a '72 Clan Crusader. Another crew all the way from Inverness were Donald and Mags Campbell in the affectionate 1955 Sunbeam Talbot 90, oldest car on the event.

From sedate motoring to outright racer, in the shape of a 2016 Lotus Exige Club S Racer, crewed by Peter Mackay and Lucinda Coomber. The

Toyota-sourced, supercharged, 3.5-liter V-6 engine, which Lotus claims the track-ready sports car hits 62 mph in four seconds and has a top speed of 170 mph.

Soon be up the front then?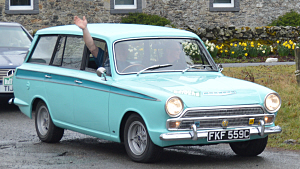 Maintaining the sporting car class, Stuart Cobb brought his 2004 Toyota MR2 with Rob Wood in the left seat. Tom and Marianne Dromgoole were in typical top down mode, as always, in their 2001 MGF, with John Beattie and Charles Galloway 1965 Ford Cortina Mk1 Estate chasing. Last but not least Roddie Main and John Start in the Mercedes SL320, another car often crossing Europe in the continental tours.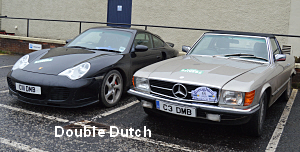 Passing Stobo we met the A701 turning toward moffat, but taking the Talla turn at Tweedsmuir. From the tops this reservoir is a great view, but not today perhaps. On the other side we head for Selkirk passing St. Mary's Loch and the gordon Arms Inn recently re-opened. Climbing again, this time over the 'swire' to the Ettrick Valley. We hugged Ettrick Water on the way to Hawick, passing Alemoor Reservoir another great view on a clear day, and Roberton.



line-up at Hawick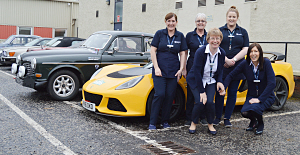 We arrived in Hawick at Johnstons of Elginn Hawick Mill for our lunch stop, and for some refuelling the cars as well. Always a problem with pre 1970's cars, small petrol tanks. 5 gallons with an average 30mpg does not take you too far compared to today's 50mpg plus cars.


Johnstons girls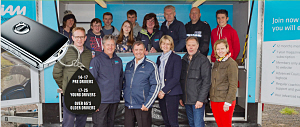 Fully refreshed we headed east out of Hawick crossing the A68 to reach Roxburgh, and the market town of Kelso. Onward to Greenlaw on the A697, cutting off toward Charterhall Airfield, where ex touring car champion John Clelland was running the DriveWise programme for pre-drivers 14-17, young drivers 17-25, and older drivers over 65's elderly drivers to improve their driving skills in a safe environment. drivewiseborders.co.uk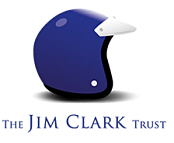 Through Hutton we were reaching the highlight of our visit, a visit to see the Andrew Cowan collection of rally cars. We were met by Doug Niven, Ian Calder and Ben Smith from the Jim Clark Trust jimclarktrust.com. The collection is not open to the public, and only through the connect with organiser Ranald Bruce was this once in a lifetime visit made possible. We were delighted when the man himself, Andrew Cowan, came over to see and speak to some of our crews, often exchanging tall tales of glory days past.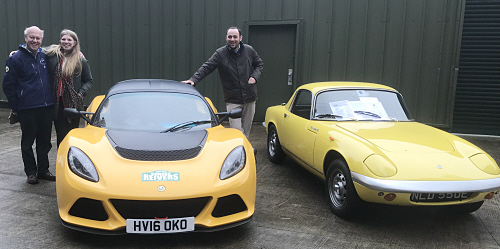 Lotus Twins - Doug Niven with Lucinda Coomber and Peter MacKay with Lotus Exige S Club Racer beside Jim Clark's Lotus Elan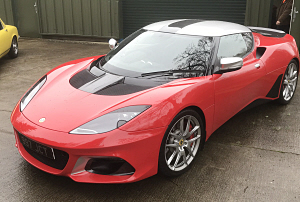 We also saw on display the £100,000 Lotus Evora GT410 Sport. Officially the 100,000th Lotus ever built. Exclusive livery replicating Jim Clark's famous 1964 Lotus Elan. Jim Clark signature and Scottish tartan cloth interior (0-60 4s, top speed 190mph) Offered as a prize in a competition to raise funds for the Jim Clark Museum build in Duns. Our crews bouight 48 tickets at £20 each, so adding £960 to the pot. You can buy a ticket on line. jimclarklotus.com

The club extends a their grateful thanks to Andrew, wife Linda and the Jim Clark members for allowing and supporting us during this unique visit.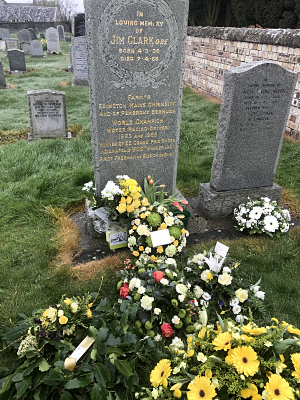 As our tour was taking place on the 7 April, the day in 1968 of that fateful crash at Hockenheim that cost Jim Clark his life, the club laid a wreath at the grave of Jim clark in Chirnside church. A poignant moment for us as we remembered the memory of one of the great racers of all time.

We were now on our final leg heading north east toward Gifford. Heavy mist fell on the some of the hilltops making progress somewhat slow over the narrow twisty roads on our route.


The Goblin Ha Hotel put on a fine meal for us, with each finisher receiving a certificate showing Andrew Cowan's London Sydney Hillman Hunter in action in 1968. Ranald thanked all the competitors for their support, which was rewarded with a thank you back from the crews for a great day, one to be remembered for a long time.