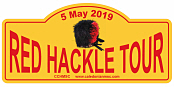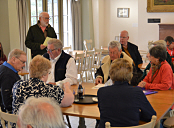 Ron Adam drivers briefing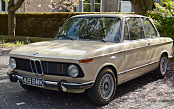 MacKinven BMW 2002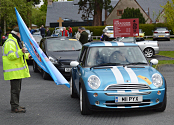 McGarrie mini Cooper

Taylor Saab 96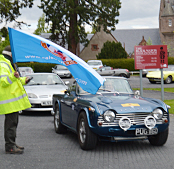 Pollock TR4A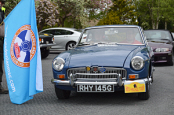 Sheridan MGB/GT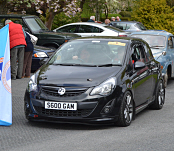 Morris corsa
Barlow Royale Sabre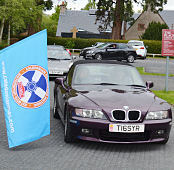 Robertson BMW Z3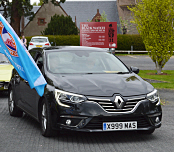 Spence Ranault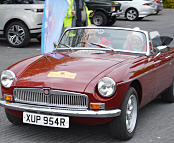 Watson MGB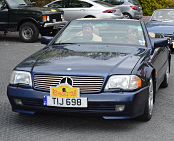 Main Mercedes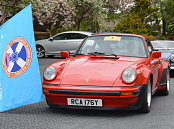 Norman Porsche 911 Turbo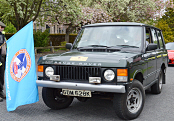 Phillips MGB./GT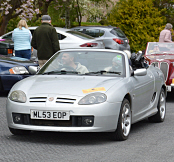 Birtwhistle MGTF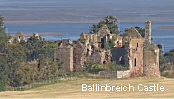 Ballinbreich Castle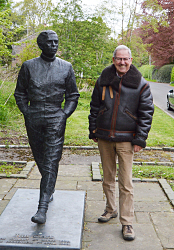 Author takes it in his stride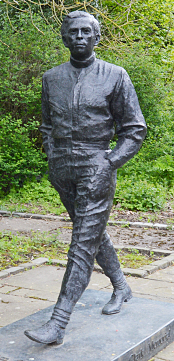 Jim Clark at Kilmany

Red Hackle - 5 May 2019
Story and pictures Jim Paterson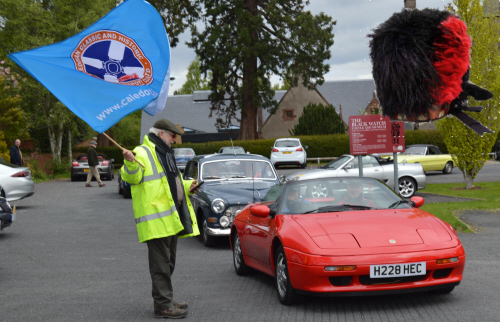 Twentytwo starters arrived at Balhousie Castle Perth, home of the Black Watch Regiment museum, for the start of the 2019 Red Hackle Tour, on Sunday 5 May. The bitter cold mornings of previous days soon warmed up as the sunshine broke through the clouds. Our route that took in some spectacular countryside with amazing views around Angus, Perthshire and Fife that delighted the crews. A visit to the birthplace of racing ace Jim Clark at Kilmany to see the monument erected in his name, continued the 'Jim Clark' theme of the Border Reivers event.



Brendan and Eileen MacKinven jumped to the top of the queue and got away quick in their 1974 vintage BMW2002. Brian McGarrie and Sheila Anderson arrived in their 2004 Mini Cooper, complete with go faster stripes. Vaughn Taylor in his 1972 Saab 96, seen on the recent Border Reivers teamed up with Jim Campbell this time, while Bill and Val Pollock brought the 1965 TR4A again. Bill has been having a few problems and the gremlins would once again force a change of car later on to a trusty MX5. I should know having entrusted many a tour in mine. Stuart Sheridan with Alasdair Dunn were weather independent in the 1968 MGB/GT, with Margaret and Donald Campbell turning up in the classic Range Rover, the 1955 Sunbeam undergoing some TLC in the bodyshop after some self inflicted damage reversing out of the garage. Hope to see it later in the year.

Ian Lindley brought his 1991 Lotus Elan S3 with john Blacker in the left seat this time. Roddie and Sylvia Main had the top down from the start in the Mercedes 320SL which we have seen on numerous occasions, here and on the continental tours. Maureen and Dave Spence had hoped to bring the 1966 ford Cortina Mk1 that Dave has built, but electrical gremlins crept in a few days before the off, so the day car was pressed into service. Dave tells me it will be out on the Hills Dales and Passes. Fingers crossed.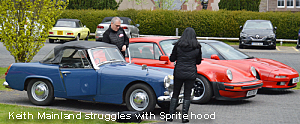 Keith Mainland and Angelica Fuentes flew up from home in London to join in their 1969 Austin Healey Sprite. The car lives up here saving what would have been one horrendously long drive just to get to the Perth start. I sympathised with Keith a he struggled to put the hood down. Having done it many times, it never gets any easier!

Graham Morris and John McDonald from the Border Reivers, once again turned out in the 2014 Vauxhall Corsa. Graham drives these roads on the day job so he shouldn't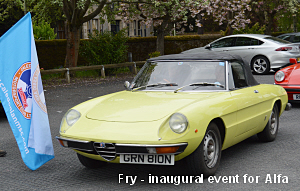 get lost, or might he? We welcomed roger Fry, one of the CCHMSC team, in his 1975 Alfa Romeo Spider, with Catharine Feeney reading the maps. This was the inaugural run for the car, having been in rebuild for a good few years. Not used to manual gears Roger found the clutch getting too heavy and would later retire the car, though managed to get back for the high tea at the finish.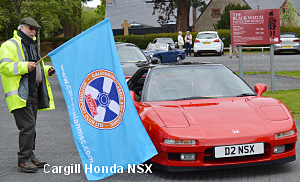 Graeme and Beth Cargill kept us in suspense wondering what car they would arrive in. They selected the 1991Honda NSX once more, a great choice as we don't see many of these supercars nowadays. Stuart Cobb brought his great little 2004 Toyota MR2, with Rob Wood once again on the roadbook.

Jim and Norma Watson are regulars on the club events and today were in their MGB Roadster. Craig McGibbon teamed up with Karsten Brown in the 1965 Volvo 122S. This car is on the club for sale pages, so if your looking for a great example of the marque this is one to look at.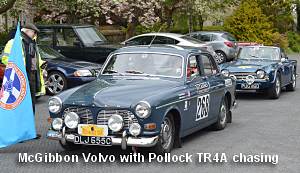 David Barlow and Keith Butler arrived in Dave's Royale Sabre. This kit car he built is based on Ford Sierra underpinnings. Looked great swanning along the country lanes with top down.

Always good to see Joe and Hazel Norman, who this time arrive din their 1983 Porsche 911 Turbo. The pair will also be out on the Hills Dales and Passes in June, so remember this one yourself, link below.

Patricia and David Robertson were in their BMW Z3 and I would meet them on route as the pair of us took slightly 'off piste' reroutes, meeting each other going in opposite directions. We both managed to reset our compasses and find the right roads.

Last but not least were Colin and daughter Holly Birtwhistle who joined our crews in Colin's 2003 MGTF.

Our route was divided into three legs, with the first leg taking us south east out of Perth before turning west toward Dunning and Auchterarder. Here we turned south by Gleneagles "anyone for a round of golf?", through the glen to Gelndevon and Yetts o' Muckhart. Turning north we were heading back over the hills to Dunning, where we turned east heading for Glenfarg village, up through the glen to Aberargie and the south side of the river Tay for out lunch stop at Jamesfield, some 60 miles covered, not counting and deviations made.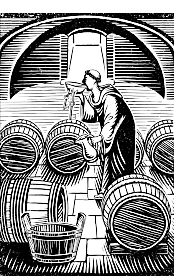 Refreshed we were on to Leg 2. continuing toward Newburgh,along the southside of the River Tay we passed Lindores Abbey distillery, where monks were making whisky (Aqua Vitae) as far back as 1494. The views over the Tay were outstanding and we passed the ruins of Ballinbreich Castle, a Scottish three storey tower house castle which was built in the 13th century by Clan Leslie. Pressing east we could see Dundee on the north side before cutting inland to Kilmany, the birthplace of racing legend Jim Clark. We stopped off for a view and photo opportunity at his statue, erected in his memory by local craftsman.

Over the Tay Bridge to Dundee and a visit to the Dundee Museum of Transport brought us to the end of leg 2 on our tour. With a collection of unusual and some very rare vehicles which we had a chance to explore, with a cup of coffee to refresh us it was off again on our final leg.

Out of Dundee it was west along the north side of the River Tay toward Perth. Passing through Liff, Fowlis and Knapp we were climbing the hills offering amazing views across the Tay from this side. now that the sun was bright the temperature had moved into double figures, a real treat for those like me in my Mazda MX5 with tops down.

We weaved our way to Pitcur then back around Kings Seat Hill toward Collace and Saucher. Crossing the main A94 we looped toward Stanley before heading south to Old Scone, past Scone Palace and back into Perth and Balhousie Castle for our finishers meal and awards.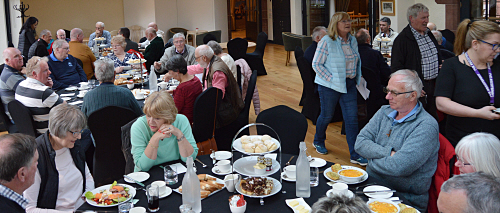 Finishers meal and awards


Our 125 mile trip had taken us to places rarely seen, though never too far from civilisation, offering great views over the Fife plain and the Tay valley.




Remember our next tour that takes us into the Yorkshire Dales and Lake District




Hills Dales and Passes tour 8 and 9 June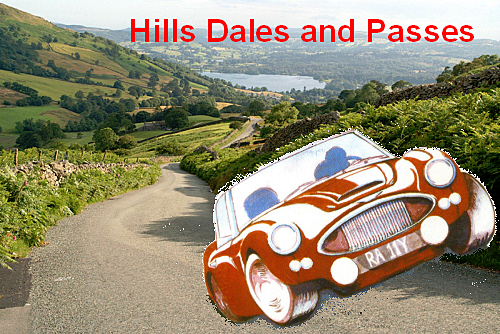 updated 7 May 2019
Webmaster