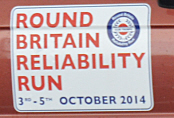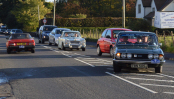 TR7 departs while 2000 and Vitesse arrive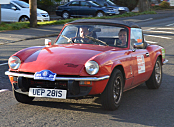 Spitfire dried out after rain storms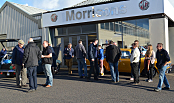 Crews swap stories at Morrisons Garage control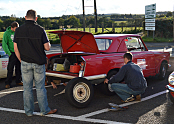 Keith Bennett and Sam Shattock Herald Coupe undergoing running repairsl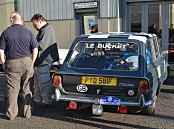 'Le Bucket' checkover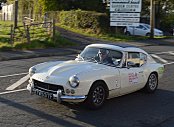 GT6 fuelled up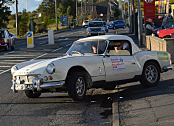 Spitfire departs south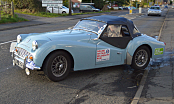 TR3A departing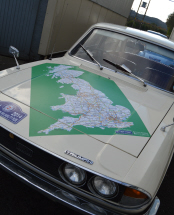 No roadbook? no problem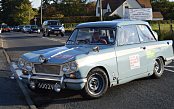 Vitesse arrives

Round Britain Reliability Run - 3 to 5 October

Story and photos - Jim Paterson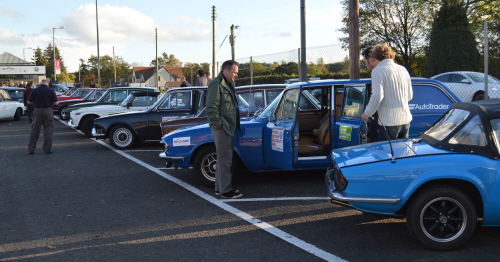 Lineup at Stirling


Some 106 starters departed The Plough at Enfield at 1830 on Friday 3rd October for the 24th running of the Round Britain Reliability Run, possibly one of the longest endurance events across the UK organised by a Motorsport Club.

The crews headed north on the A1 towards the first control at Blyth services, near Doncaster. Leaving Enfield at 6.30pm on a Friday was perhaps in retrospect not a good idea as all the cars headed straight into heavy rush hour traffic. However nothing daunts Club Triumph enthusiasts. Organiser Tim Bancroft who was keeping me up to date with progress by text, ran into trouble at the start when his GT6 suffered oil starvation problems just after leaving Enfield. By time he reached Blyth I had a text to tell me he had been forced to retire.

My plan was to visit the crews at Edinburgh Airport, where they were due at around 0120 on the Saturday morning. However the weather had turned nasty, and Ellis Stokes, in the Dale and Matt Barker crew, told me that after crossing the border at Carter Bar the heavens had opened causing his Triumph 2000 to aquaplane and slide about quite a bit.Horizontal rain was how he described it, just on his stint of driving too. Drawing the short straw comes to mind!

The weather did improve as the crews headed north to Alness, north of Inverness on their way to John O'Groats for breakfast at 0750. Good going to make it in just over 12 hours from London in a 1960's and 70's cars.

It was soon time to head south toward the next control at Conon Bridge, still on the north side of the Beauly Firth, for lunch at 12.20. By now I was getting ready to head over to Stirling to meet them later in the afternoon at 1645.

The run to Stirling from Edinburgh was under bright sunshine, so I dropped the top on the MX5 to enjoy the autumn warmth. Got caught short with a couple of showers, but then that is what open top motoring is all about.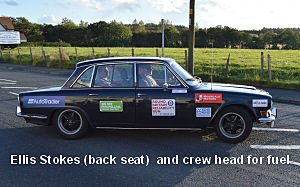 The crews were arriving though I heard some more had been forced to retire, including a couple at John O' Groats. Long way home on a recovery trailer to London.

Time for a quick service and any running repairs. fortunately the time control was at Morrison's Garage and Logan allowed crews the use of the ramp for access to undersides. At least one Triumph 2000 crew took up the offer as their diff mounting had come adrift. Not sure if welding was required but they headed off to the south with the rest off the crews.
.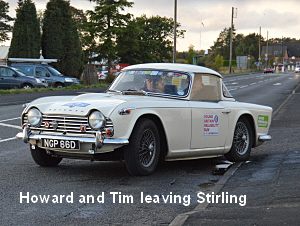 I met up with Club Triumph Vice Chairman Tim Hunt who told me this was his 20th time on the RBRR in his Triumph TR4A, this time with Howard Pryor sharing the driving. We have met a few times on past International Autoecosse events, so Tim knows the roads in Scotland pretty well.

I'm told big saloons are best for this event as a crew of three allows one to sleep in the back as the crew rotates during the 48 hours event. Tim's TR was running well, and after they fuelled themselves, on Stirlings best 'Scotch Pies', and the car, they were off again towards the border at Gretna before reaching their next control at Tebay.

Form there the route would take them through Wales before heading through Cornwall to Lands End for breakfast on Sunday morning. You would think they were almost home but it is a long way across to London from Lands End, well over 300 miles according to my Googlemap.

Survivors hopefully received a warm welcome at The Plough in Enfield having completed 2020 miles this year, plus any 'unofficial detours. Well done to them all, even though you need to be a bit bonkers for this one.'


For more information visit Club Triumph www.club.triumph.org.uk


Updated 6 October 2014
Webmaster