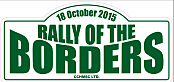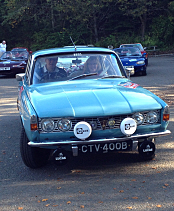 Ranald and Majorie White in Rover P6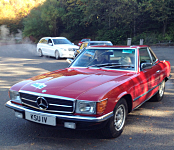 John and Carol Forsyth in Mercedes SL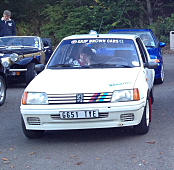 David and Marion Marshall in Peugeot 205 Rallye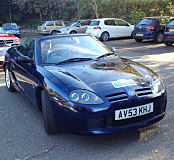 Dave and Val Lauder in MGF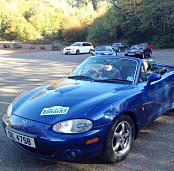 Bill Barr and Harry Merry in Mazda MX5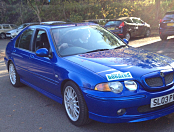 George and Jean Shand in MGZS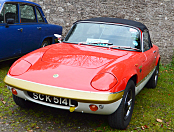 Andrew and Ann Swanston in Lotus Elan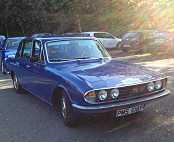 Fred Douglas and Tom Niven in Triumph 2.5PI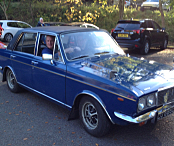 Steven and Keith Inch
Humber Sceptre

Rally of the Borders - 18 October 2015

15 crews arrived at the New Lanark Heritage village for the inaugural running of this event, enjoying a hearty breakfast at siging on in the Café. By time we were ready to depart the early morning mist was burning back to reveal a bright, if now chilly, sunny morning.





Start line up at Lanark Heritage Village


I met up with Ranald and Majorie White in their Rover P6, a veteran of previous Monte Carlo Historique runs. Ranald had just completed some repairs to the rear brakes and water pump and thought the run would be a good shakedown. Committee member Tom Niven left his MGF at home and took the navigator seat with Fred Douglas driving the Triumph 2.5PI. Andrew Swanston often seen in his Renault Alpine brought his beautiful Gold Leaf colour scheme Lotus Elan, while Steven and Keith Inch had a very respectable 1972 Humber Sceptre.

The route out of Lanark avoided the town centre and got us quickly to Hyndford Bridge, which we crossed and headed south on the Ayr road. The navigators had to be on their toes to catch the unsigned turn right before crossing the Carmichael Burn only 1.1 miles down the A70. Meandering along narrow coutry roads looking for a telephone box seems straight forward, but what if it is round a bend. This caught a few folks out. Then drive through a farmyard? Would you think you had wrong slotted if you ended up in a farmyard? Well the public road did actually run right through, passing farm machinery and barns.

Soon we were back to the A70 near Rigside and crossed right over on our way to Roberton, where we picked up the A73 heading south toward Abington. But Ralph Forbes had slipped in a sneaky unsigned left turn just after a bend which I, like many others, overshot. Quick 3 point turn and soon back on the right track, running alongside the River Clyde to meet the A702.

More quick turns from Ralph as we crossed the Clyde and immediately turned right, hugging the other bank of the Clyde through Cold Chapel to Crawford, crossing under the main railway line several times, trying to confuse the navigator.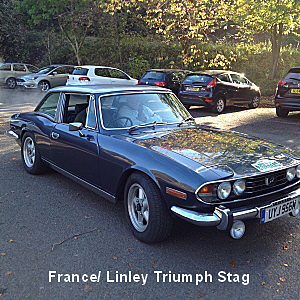 Ducking under the M74 Motorway pushed us south west to Leadhills and down the vally to Mennock and the A73, hugging the River Nith toward Thornhill where many took advantage of the Café for a coffee stop. It was here that Alan France and Ian Linley ran into trouble when they returned from their coffee break. Their Triumph Stag would not start. Ian told me that it had been "popping" a bit, so sounded like induction problems. Eventually the pair got it going again, and in true Classic Car driving, limped it back to Biggar to swap it for Ian's MGF to complete the remainder of the run. Alan has an MGF too but that also suffers the BL malaise too much heat and not enough cooling in the right places.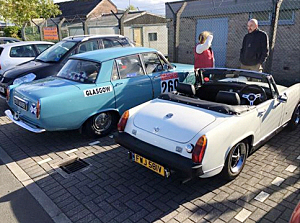 Clear of Thornhill and back into the hinterland heading for the forest of Ae, through Ae village and down to the A701 at Wester Parkgate, continuing our cross country jog to Lochmaben and Lockerbie. A fuel stop here was essential for the small fuel tank classics, as no more fuel would be available on route after this. Ranald and Majorie took time out to grab some lunch and met up with Mark Cuthbertson from Hightae Inn in the car park with his MG Midget.

Into the Castle O'er Forest to Paddockhole, using little used roads toward Eskdalemuir and the Samye Ling Monatery and Tibetan Centre, where some of our travellers called in for a break.

Long flowing roads through Eskdalemuir Forest taking us to Ettrick, were a welcome relief after the narrow roads and tight turns we had been experiencing so far. We headed over the hills to the Gordon Arms which is being restored after a recent fire took out the roof, and most everything else!

Heading along to St. Mary's Loch we turn up toward Talla at Cappercleuch, a route used by many classic tours, including the Flying Scotsman on a few occasions. Passing Meggat Water reservoir I was surprised to see just how low the water level was. After our wet summer, it was hard to believe.

Reaching Tweedsmuir heralded the final leg of our tour, up through Broughton to Blyth Bridge and Netherurd House. Run by Girlguiding Scotland the facility offers great outdoor activities for all young people, regardless of their abilities. We were treated to a great buffet meal at the finish, and a time to catchup on experiences of the day.





All arrived at Netherurd House Blyth Bridge


This event was aimed at classic car owners who have never done an event before but fancied something simple but interesting. Ralph Forbes, who knows the area well designed a great route and for a £10 entry fee would certainly not break the bank. Everyone enjoyed themselves, so perhaps this type of event is something your club should repeat in the future. Watch this space.

Updated 24 October 2015
Webmaster