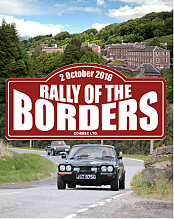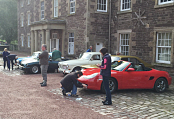 dressing the cars for the start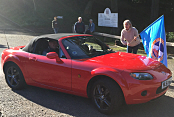 Charlie Young and Eddie Hawke in MX5 lead off the crews. Top down soon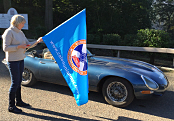 Ken Gray/Derek Kemp E-type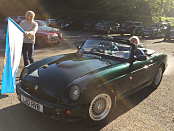 Ian Lindley/Alan France
MGB RV8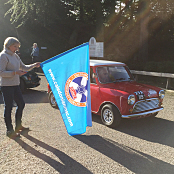 Chris and Mary Paton set off in mini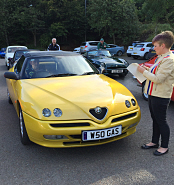 Brian McGarrie and Sheila Anderson Alfa Spider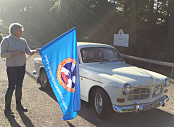 David Halsall and Dave Campbell Volvo Amazon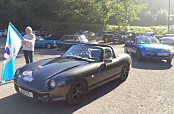 Frank and Julie Irvine TVR leads Raine MX5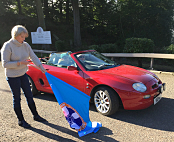 Tom and Marianne Dromgoole set off in MGTF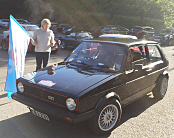 Andrew Swanston and Findlay Wyatt Golf Gti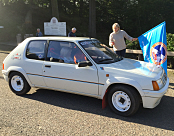 David and Marion Marshall Peugeot 205 Rallye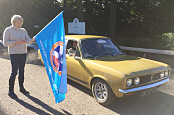 Drew Struthers and Paddy Shannon Avenger GT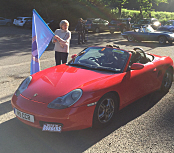 Ritchie Boxster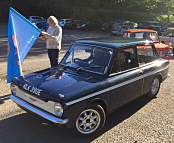 David Charles / Scott Clements 1967 Imp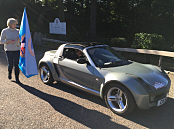 Rod and Svetlana Ritchie in Smart roadster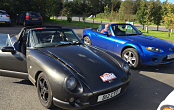 Irvine TVR & Raine MX5 rest at Lockerbie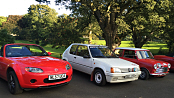 Arriving at Netherurd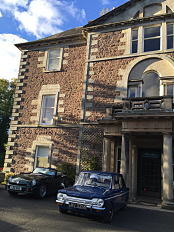 Ian and Ann Sinclair bag prime spot for Imp at front door of Netherurd House, next to Lindley RV8

Rally of the Borders - 2 October

Story - Jim Paterson. Photos Jim Paterson, Chris Paton

Le Mans start?

Twenty three crews in a wide range of classics started the second running of Rally of the Borders on Sunday 2nd October from the New Lanark World Heritage Village. Spectacular early morning mist filled the valleys around New Lanark, but the sun had burned it back by time crews were signed on and ready for the start.



Prepping up at the cars at the start


A couple of no shows, which I knew about, thanks for your texts, were filled by new crews entering on the day, a feature we offer on these 'value for money' events.

We once again 'spiced up' the fun by placing ten 'route observation boards' along the correct route to be spotted and recorded. Stops the navigator getting bored!

Tempting to have a Le Mans start, but I thought the local residents may get a bit upset with revving engines disturbing their Sunday morning slumbers. So we stuck to the established start from the top car park, well away from the houses. Using our new club flag for the first time, we set the crews off at one minute intervals. Linda on the countdown and flag wondered if the new flag was a bit too big, but I said it will look just fine in the photos.

The crews set off at the usual one minute intervals. We kept strictly to the countdown to stop early 'bunching', especially on the first single track section, just a mile or two from the start.

We had a good selection from 'team imp' with no less than four, Dave Charles and Scot Clements, who is a regular at these events. Keith McCurrach and Colin Ford, Joe McMillan and Thomas Halliday,
together with Ian and Ann Sinclair made up the foursome group Three of them lined up one after the other. I just hoped the first one knew the way, as I had the feeling they would possibly follow each other. I try to remind all navigators that the first rule of navigating is, 'never follow the car in front'!

Charlie Young and Eddie Hawke led the way in their 2007 Mazda MX5. The pair are also organising the Veterans of Scottish Motorsport Association Autumn Run, on October 23rd. Charlie told me that their event is joining hands with Jock's Run on the same day. See our home page for details, regs and entry forms. Other MX5 enthusiasts were newcomers Bryan and Janette Raine in their 2005 model. I would join them later, making a threesome on the event.


David and Marion Marshall brought their 1989 Peugeot 205 Rallye, both regular motorsport enthusiasts. Vaughn Taylor in his newly acquired 1980 Porsche 914 was missed when electrical gremlins got a grip before the start. The first of two MGTF's set off with Douglas and Catherine Smith in their 2004 model being joined by regulars Tom and Marianne Dromgoole in their 2001. Tom and Marianne always drive top down, come rain hail or shine. Today would be kind to them, and all the crews, as the sun and blue skies provided a fantastic umbrella to our day.

Quentin Gray and Dorita Orr who farm in East Lothian brought their 1954 Swallow Doretti. These cars are few and far between and usually in pristine condition. I asked Quentin if his rather well worn version was a 'barn find' or just well used and in original 'patina'. 'Oh it s a barn find" replied Quentin, my barn!

Bright yellow reflected the sunshine well, as Brian McGarrie and Sheila Anderson took off in their 2000 Alfa Romeo Spider.

Chris and Mary Paton joined in their fabulous 1960 Mk1 mini. Having just completed an East Ayrshire 200 mile tour the day before, and the Crofterra Pandemonia last month could almost be accused of being 'gluttons' for punishment. I did ask Mary if she had a headache, mini's not being the quietest of cars. Hoped she got round still headache free! Chris told me the car had seen more use in the past two months than the rest of the year.

Charles Donkers and Jamie Hope did it in style in the 1985 Mercedes 380SL, while Pat and David Robertson joined us again in their 2000 BMW Z3. Ian Lindley and Alan France have challenged a few CCHMSC events, this time choosing the MGB RV8. Not many of these around, and boy does it sound good and throaty as the V8 burbles into action. Joining them in the big V8 stakes were Frank and Julie Irvine in their magnificent 1994 TVR Chimaera. The pair are just back from a trip to Goodwood Revival, visiting friends in London, and Scarborough during the trip. Frank told me that most people think of TVR as a point and squirt sports car when it really is a long legged GT cruiser, ideal for those long straight French and continental roads.

Jock Millar and Linda Telford crewed Jock's 1965 MG Midget, which we see a fair bit of during the year. Jock is a sprint and hillclimb champion, but an oncoming tractor appearing round the bend on a single track section needed quick reactions. Deciding to take to the left side verge should have been the easy option, had it not been for the ditch hidden in the long grass. The left side dropped right down to the bottom of the ditch said Jock afterwards. Had I stopped it would have been curtains, so I gave it full throttle and drove along the ditch to pass the tractor, then back up on to the road. apart from lots of mud and splatter, no damage done. Just as well no boulder hidden in the ditch then Jock!

Craig Ritchie was teamed with Rod Ritchie in the 2000 bright red Porsche Boxster, but Rod decided he wanted to drive too, and with Svetlana brought their 2003 Smart Roadster as well. Andrew Swanston brought Findlay Wyatt to navigate, his first ever motorsport event, in the VW Golf GTi. A good event to dip your toes into the sport. Hope the pair come back for more.

A very tidy white 1965 Volvo Amazon driven by David Halsall, with Dave Campbell on the roadbook looked spectacular in the morning sun, while a Hillman Avenger GT ( Ed - not too many of these around now) driven by Drew Struthers and guided by Paddy Shannon got off to a good start. Mechanicals started to plague the pair as a text reported uncooperative gearbox, forcing retirement. The pair still got to the finish venue, and collected an award for their efforts.

Arriving at the last minute, some may say what else would you expect, were Kenneth Gray, yes relation to Quentin, with Derek Kemp driving the Jaguar E-Type.

As the crews headed off into the rising sun, we followed them to meet some of the crews again at the refreshment stop near Lockerbie, and again at Netherurd House at Blyth Bridge, well known to those who have joined some of our earlier events.


Great route over great roads, super weather, and fine company made for lots of tall tales as we enjoyed our snack and received our awards at the finish.

We head for full leaded winter rallying on 19 & 20 November when the Caledonian 200 takes to the hills from Stirling. Not for the faint hearted, but join us if you like a bit of adventure. See more Caledonian 200 Winter Rally

The 140 mile route headed east from New Lanark to Hyndford Bridge before driving our first narrow road 'taster to the village of Carmichael.

Back on the fast road to Rigside, before heading due east to Wiston, then down the side of the River Clyde.

We turned west on narrow twisting roads skirting Duneaton Water, and over the rolling border hills to Crawfordjohn, where a tricky junction with a sign post with the name written on the opposite side made navigators think a bit.

Continuing over the hills and down the glens we were lucky to see any other vehicles, so quiet are the roads in this part of Scotland.

We climbed to Leadhills, the second highest village in Scotland at 450m above sea level. Once famous for not only mining lead, but also gold, going back to Roman times. Even today the landscape is pretty barren.

Reaching Mennock provided a quick squirt down the A76 to Enterkinfoot, where another unsigned sneaky junction could easily be missed. A tight twisty section led us to Durisdeer Mill, and on to Durisdeer through a fast flowing, but thankfully shallow river ford.

Back up into the hills as headed for the Ae forest and loch Ettrick, passing through the village of Ae, which also played host to a bike ride the same day.

Crossing the A701 at Parkgate, we continued our route to Templand finding another tricky left turn heading north to Johnstonebridge. It was on this section that Jock Millar met his oncoming tractor. Soon we reached the Lockerbie Truck Stop for a welcome cup of coffee and cake, or a full plate of pie and chips for the hungry crews.

Moving on east we passed Sibbaldbie, Boreland, then north to Dumcrieff near Moffat.

Turning east toward St. Mary's Loch we passed the Grey Mare's Tail,


a 60m hanging valley waterfall, made famous in Sir Walter Scott's poem Marmion.

We were on the home run now cutting north at Cappercleuch around Meggat and Talla reservoirs, where Chris Paton took time out to capture the stunning view over Talla.


Reaching Tweedsmuir it was a swift drive up the Tweed valley to Broughton, across to Skirling, taking the twisty road from Candy Mill to Elsrickle, again traversing a river ford, before heading east again on the Roman road toward Kirkdean and the Netherurd House finish.




Doretti at Netherurd




E-type at Netherurd




Organiser, and closing car Ralph Forbes in his Fiat 128 arrives at the finish.







Updated 6 October 2016
Webmaster