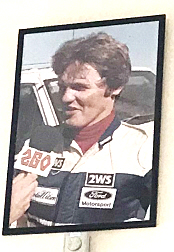 A young Malcolm Wilson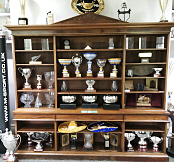 A selection of trophies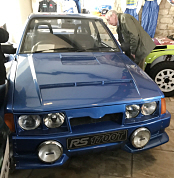 Ford 1700T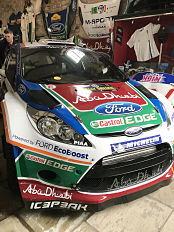 Latvala Focus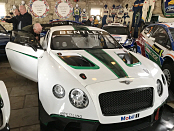 early Bentley GT3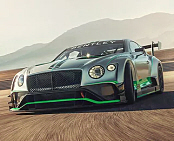 current Bentley GT3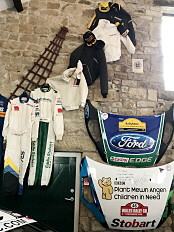 Rally suits and bonnets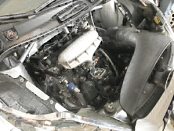 Fiesta R5 power unit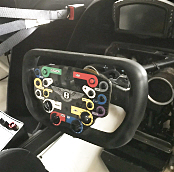 Bentley steering wheel. colour coded, but requires twenty fingers!!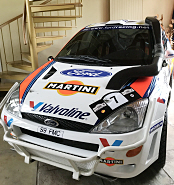 McCrae Focus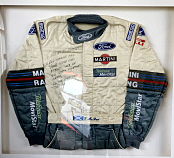 McCrae rally suit with message to M-Sport team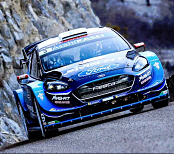 Fiesta WRC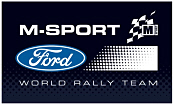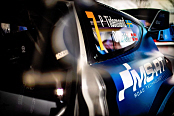 CCHMSC visit M-Sport - 16 August

Story and pictures Jim Paterson

Some thirty CCHMSC from across the country, one crew driving their Austin Healey Sprite from London, to join the club visit to M-Sport at their Dovenby Hall workshops in Cockermouth, to see how they build WRC winning cars.

We were privileged to see not only the history of the Malcolm Wilson led facility, bringing back memories of the sixties and seventies, but also see current WRC and Bentley GT3 R&D, manufacturing, car build,and preparation happening in front of our eyes.

We gathered at the 'Pit Stop' for a coffee and bacon roll before meeting our tour guide Roger Fisher in the trophy room in the main house.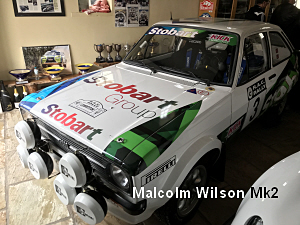 Dovenby Hall served as a private residence (1154 – 1930), and a mental institution (1930 – 1997), before being bought in 1998 by Malcolm Wilson, and turned into a multi-million pound development owned by M-Sport.

After the introductory briefing we headed for the museum to see a range of rally and race cars from Malcolm Wilson's M-sport past. Easily recognised was Malcolm's Mk2 Ford Escort using technology that most of us were familiar with. A Mk3 Escort RS1700T was right behind the MK2, being only one of 6 road going cars produced in 1982, alongside the Grp B Rally version... These cars were rear wheel drive turbocharged, exported to South Africa in 1983. Imported back to the UK in 1986, Malcolm Wilson acquired this one in 1998. The car has never been started since!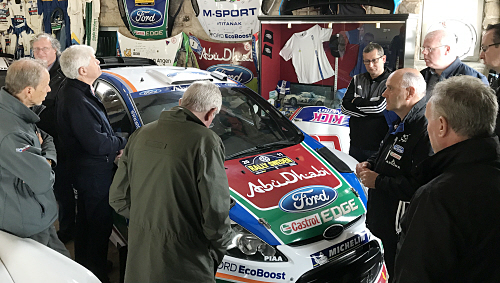 I want one of these cry the members on our tour.


An example of a Ford Focus WRC car was displayed, driven by Finnish driver Jari-Matti Latvala, and co-driver Mikka Anttila. It did experience some trauma on the 2009 Rally de Portugal, crashing out on SS4.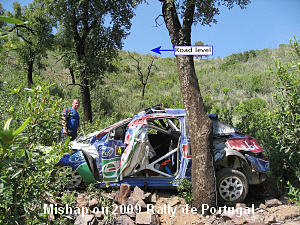 FiA rules change and the focus was replaced by the Ford Fiesta to comply with new specifications. Roger told us M-sport build 3 version, a 2 wheel drive club sport type at a mere £60-70k each. These are built in the M-sport facility in Poland. The AWD version at £300-400k and the full blown WRC version AWD starting at £600 - £750k. I guess there are optional extras you can add if you have any spare cash!!

Finally we saw an early Bentley GT3 race series car. Based on the Bentley Continental it comes with a 4.2 litre V8 power plant. We would see the latest versions in the workshop later.

Moving on to the workshops we were introduced to some of the uprated aluminium parts for the Fiesta and Focus suspension parts. We assumed they were machined castings, but found out they are milled from solid billets of Aluminium. X-Ray and crack testing ensure they are flawless after completion.

We then moved on to the gearbox and diff building workshop. This area, like the last and the rest are all spotless, no sign of oil on the floor or dirty rags anywhere. some of the builds are done with white gloves on, they are that particular about cleanliness of the products. We heard of the restrictions to changing items in the field, how the units are wired, sealed, and bar coded. This would apply to the 1600cc engine power units, which we were next taken to see. An engine, gearbox and diff system must be used in 4 rallies before being changed and stripped. Any change in field will, like F1 race cars, incur a heavy penalty.

Time to head to the main assembly workshop where we saw some 12 cars in various stages of preparation. Two Bentley GT3 cars were in various stages of construction, with crates of major mechanicals awaiting fitment. I addition to customer Fiesta's in build there were two M-sport WRC cars being completed after rebuild following the Finnish WRC round, going on to the German round the following week.

We were interested to note the lack of any four post lifts. Roger explained that the cars are on stands in the workshop, just as they would be in the service areas on stage. As the workshop build crew go with the car on stage if they can build it lying on their backs under the car in the workshop then they will be in a familiar place in the service area.

If you want to see what a service is like in the field see how the Toyota Yaris team work, watch the WRC Night Service of Ott Tanak's Rally Car - WRC Australia 2018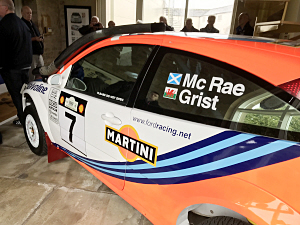 Before we returned to the main house we stopped off to see S9 FMC, the Ford focus driven by Colin McCrae on the 1999 Sfari Rally. The first win for a Ford focus at WRC level.


At the main house we heard about the extension to the facility that more than doubles the workshop size to enable more work on the Jaguar all electric iPace racing preparation, and manufacturer prototype testing on the adjacent test track to be carried out.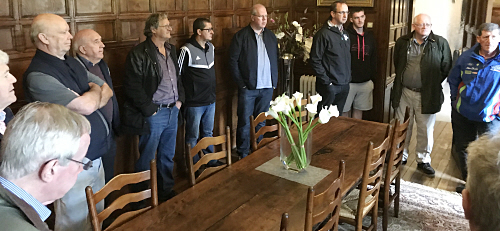 Final talk from Roger at the end of our extensive tour.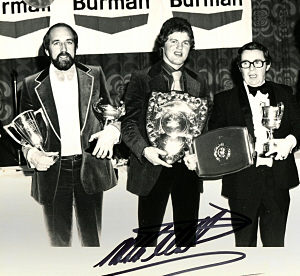 A great day out for everyone, with club member Bill Barr meeting Malcolm Wilson himself and having him sign a photo of him and his co-driver Eddie Hawk receiving a trophy from Malcolm at Lanarkshire Car Club around 1977 / 78.


A young Malcolm Wilson presents silverware at LCC 1977/78








Published 19 August 2019
Webmaster