130 GIRLS GET ON TRACK WITH MSA & D2BD AT SILVERSTONE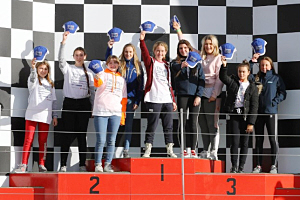 The MSA and Dare to be Different (D2BD) got 130 girls behind the wheel at Silverstone yesterday (28 October) as part of the FIA's Girls on Track, an international initiative aiming to promote and develop young women in motorsport.

The girls, aged 13 to 18, had registered online for the free opportunity, with all available places filling up in just three days after a surge of interest.

Once at Silverstone the girls set timed laps around a kart track, and the top ten from each session were interviewed for the chance to take part in the European final at Le Mans next spring. Three girls were selected to go through and will be announced on the MSA's social media channels at 16.00 on Wednesday (31 October).

Not only were the girls able to hit the track, but they also gained an insight into various aspects of motorsport through a series of challenges. They included STEM (science, technology, engineering and maths) activities, while the Renault Sport Formula One Team challenged the girls to change the wheel of an F1® car in the same garages used by teams at the British Grand Prix.

Tobii Pro ran a road safety-based activity, using eye-tracking glasses to highlight the negative impact of everyday distractions on awareness and attention to surroundings. The data collected from the event will be used to aid future research projects.

Meanwhile PerkinElmer showcased the science behind the sport, challenging the girls to analyse three fuel samples and identify the problematic one. The F1 in Schools programme was also on hand to test reactions with a practice race start activity and a BATAK machine.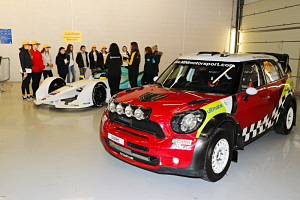 Dare to be Different ambassadors Jamie Chadwick, Louise Goodman, Nathalie McGloin, Cristiana Pace, Natalie Pinkham, Alice Powell and Kathryn Richards joined the girls for the day, offering advice from their own motorsport careers and experiences. There were show cars, too, including a Nio Formula E car and a Mini WRC machine, which were used to inspire the girls and highlight the fact that a motorsport or engineering career is both achievable and desirable.

Jamie Chadwick, the British F3 race winner and D2BD Ambassador, said: "The Girls on Track event was a great opportunity for lots of young girls to get involved and enjoy their first taste of motorsport. It was brilliant to see so many girls enjoying the karting and all the other activities on offer – it's an opportunity I wish I'd had when I was starting out!"

Among the girls taking part was 13-year-old Fern Mangeveld, who said: "My favourite part was the karting; it's not something you get to do very often, so it was really fun to get the opportunity. My dad competes in motorsport as a hobby and I'd love to continue in the sport and follow in his footsteps."

Suze Endean, MSA Development Manager, added: "The event at Silverstone really opened the girls' eyes to everything that motorsport has to offer, not only as an accessible and fun sporting activity but also as a potential career choice. It was really rewarding to be able to introduce so many young women to new ideas and possibilities, and to see so many smiling faces at the end of the day."