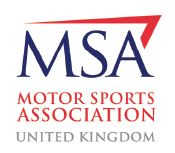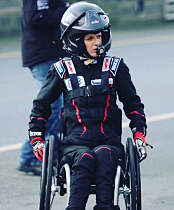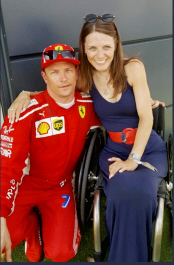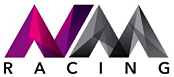 Billy Monger meets winners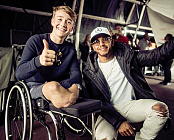 Also at the Silverstone F1, as a guest of Lewis Hamilton, was 18 year old Billy Monger, who lost both lower legs in an horrific accident racing in F4 at Donnington in April 2017, but is back in the seat of a race car.
He also joined Sebastian Vettel and Kimi Raikonnen at the event.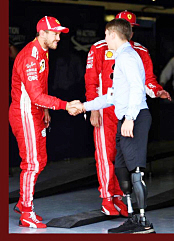 Nathalie McGloin presents F1 trophy at British GP 2018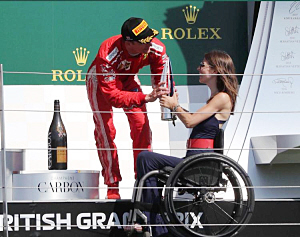 A strong signal by MSA Chairman David Richards CBE to nominate Nathalie McGloin, the only female tetraplegic in the world to be racing cars, present the third-place trophy to Kimi Raikkonen, which he warmly received.

According to long-established protocol, the Chairman or President of the host National Sporting Authority (ASN) presents the trophy for the final podium place after each Grand Prix. After assuming the role in January 2018, this year's British Grand Prix was due to be Richards' first time performing this duty, however instead he has elected to invite McGloin to present the trophy. Nathalie is President of the FIA Disability and Accessibility Commission and a consultant to the MSA in respect of disability in motorsport.

In order to allow access to the podium Silverstone has installed a permanent lift, which will ensure all disabled competitors will be able to visit the Grand Prix podium in future, something that has not been possible until now.

In 2017 Nathalie was appointed the inaugural President of the new FIA Disability and Accessibility Commission by Jean Todt. In her new role Nathalie aims to promote the inclusive nature of Motorsport as The Commission works to continue to ensure the global safe participation of disabled competitors in Motorsport.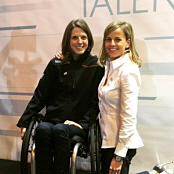 Nathalie is an ambassador for Dare to be Different. Founded by Susie Wolff and funded by the Motor Sports Association (MSA), this initiative aims to inspire, connect, showcase and develop female talent in male-dominated environments such as motorsport.

Nathalie is a friend of the spinal injuries charity Wings for Life and speaks at events as their representative.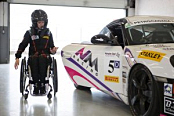 She co-founded the charity Spinal Track, enabling disabled drivers to enjoy track day experiences at Silverstone in a hand-controlled Golf GTI. Participants don't have to pay a penny because the entire cost is covered by charitable donations. The charity is supported by Williams F1, and Claire Williams OBE attended the launch.

Richards said: "We're committed to promoting the unique opportunity that motorsport presents for people of all backgrounds, whether male or female and able bodied or disabled, to compete together on a level playing field. On behalf of the MSA, I'm pleased to take this opportunity to demonstrate my personal commitment to inclusivity, and would like to thank both the FIA and Silverstone for their support in making this possible, not just in raising awareness of the accessibility of our sport but in providing a lasting legacy at the circuit."

McGloin said: "The MSA has supported me brilliantly in my new role as President of the FIA Disability and Accessibility Commission, and now for David to gift me this opportunity is humbling beyond words. For the Chairman of the British ASN to make this gesture reinforces the message, to a global audience, that this is a sport for all and in this respect the UK leads the way. The sense of pride I'm feeling is enormous, although I'm slightly worried about getting soaked in champagne!"

McGloin, aged 35 from Towcester, was involved in a road traffic accident aged 16 and has since been a wheelchair user. She first got on track in 2015 with Mission Motorsport, and now competes in the Porsche Club Championship. McGloin helps others with disabilities get behind the wheel through Spinal Track, a charity she runs with her partner, Andrew Bayliss. She is also an ambassador for Dare To Be Different.

Nathalie races in the Porsche Club Championship. This is top-level club racing and is a highly competitive series. Nathalie races a Porsche Cayman S on slicks in class one. Her championship includes seven race meets with two races per weekend. She races at all the major national circuits including the revered GP circuits of Silverstone and Brands Hatch. On race days, you'll find her in her open-house garage where you are welcome to meet her, look at her car and control set-up, and take photos.

| | |
| --- | --- |
| Nathalie in her Porsche Cayman | Billy Monger |
Read more about these amazing athletes Nathalie McGloin Billy Monger


Updated 10 July 2018
Webmaster